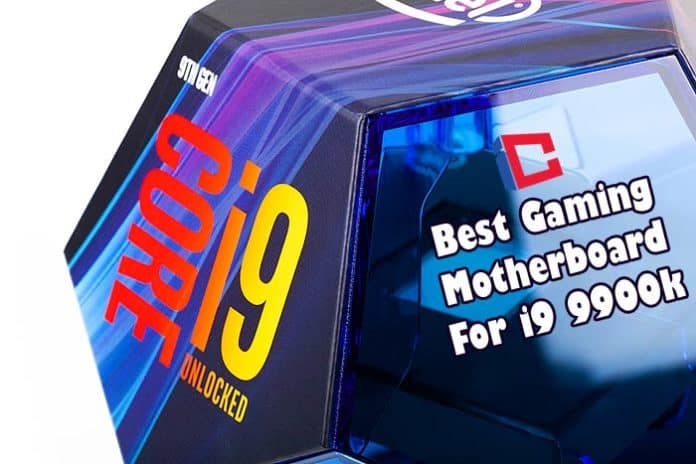 Setting up a new computer with a blazing fast processor? Then you likely want to use the best gaming motherboard for i9 9900k. What makes this processor unique? Among many other things is the ability to overclock it to near burnout but without similar models' problems.
Sale
Best Gaming Motherboard For I9 9900K
Our Pick
The ASUS ROG Strix Z390-E Gaming Motherboard has many features that work well with the Core i9-9900K processor, making it our top pick. It has high-quality components, advanced overclocking support, and a solid BIOS. There is even a built-in WiFi connection in case you can't connect your PC.
We ♥ honesty! Info Cellar earns a commission through the following hand-picked links at no extra cost to you.
This processor is a must-have for everyone in the gaming and design industry. Since it's available at incredibly affordable prices these days, all you need is the proper MOBO to take advantage of all it has to offer. Here, you will learn about the best gaming motherboards for the i9 9900k processor.
Best Gaming Motherboard For I9 9900K – Comparison Table
CPU Support
8th and 9th Gen Intel Core Processors
8th and 9th Gen Intel Core/Pentium gold/ Celeron Processors
8th and 9th Gen Intel Core/Pentium/ Celeron Processors
8th and 9th Gen Intel Core/ Pentium/ Celeron Processors
8th and 9th Gen Intel Core/Pentium/ Celeron Processors
Graphics Interface
1 x PCIe 3.0 x 16 + 1 x PCIe 3.0 x 8 slots

Does a Motherboard Affect the Performance of a Gaming PC?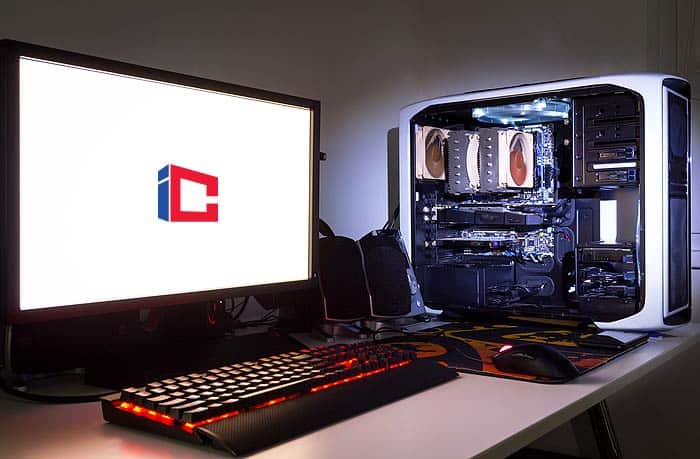 The short answer is no. A motherboard doesn't matter when it comes to pure gaming performance.
Often, some people have the general idea that the motherboard matters when it comes to how many frames per second you get or how fast a game loads your PC.
This is simply not true. A motherboard is primarily responsible for ensuring that all parts of a computer can connect and communicate with each other.
The motherboard is more like the foundation of everything. Without the motherboard, the graphics card and the processor would not connect to your system and therefore do not offer any gaming performance.
If you wonder if a motherboard can improve your PC's performance, you should consider overclocking your hardware.
Suggested Reading:

Gaming Motherboard vs Regular Motherboard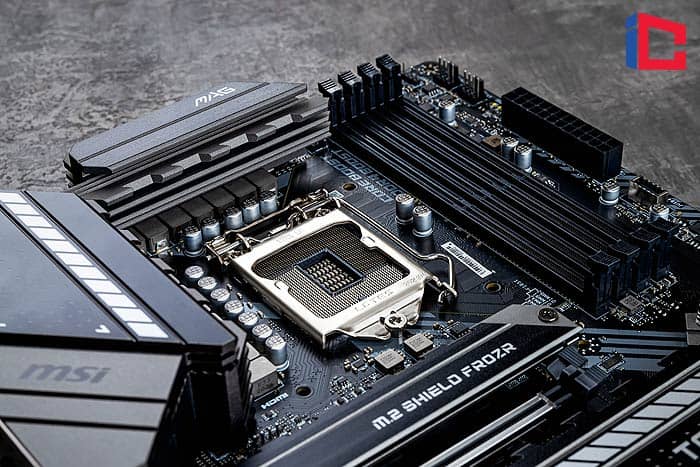 The motherboard format you are using can be critical as it supports various parts necessary for your computer to function.
You can choose between a gaming motherboard or a regular motherboard. A gaming motherboard is designed for high-performance PCs. It is intended for models running large-scale multimedia programs.
The functionality between a gaming motherboard and a regular model goes beyond the applications for which the motherboard is suitable. You should compare the two options to see which one suits your needs.
A gaming motherboard will be more powerful and potentially have more features, but that does not mean it's necessary for everyone. You need to consider how well you are using a computer and what setup you might need.
There are many questions to consider when finding a motherboard that will suit your needs and give you the control you deserve over your work. How much RAM do you need for your programs? How fast should the processor be? What type of graphics card are you using, and what connector is required for this card to work correctly?
A gaming motherboard may be ideal for the most powerful programs. Still, a regular motherboard is ideal for basic computing operations. Make sure you know what works for you when choosing a motherboard that is suitable and easy to use.
Suggested Reading:

Can Motherboard Affect Gaming FPS?
No, but it can affect component performance in many ways.
If the motherboard supports PCIe 2.0 only, graphic cards that support PCIe 3.0 will perform worse. This means that the older motherboards will perform quite poorly with the newer motherboards.
Even if a motherboard only supports 2400 MHz of RAM and you have 3200 MHz of RAM, the FPS does not improve above 2400 MHz of RAM because only a frequency of 2400 MHz is used.
With a good motherboard, you can overclock your processor, which can significantly impact FPS.
Suggested Reading:

Are ITX Motherboards Good for Gaming?
No, ITX motherboards are not suitable for gaming. This is because ITX-sized motherboards are too small for a gaming PC. You can make one with an ITX MOBO, but we think the tradeoffs you have to work with are not just worth it.
Suggested Reading:

What to Look for?
The motherboard is inevitably the cornerstone of any good gaming PC build. It is the motherboard that determines how efficiently you can use the other building blocks of your system.
A) Processor
Processors are typically installed on a motherboard using sockets.
You only need to buy a motherboard that has the correct socket for your CPU.
Starting with the 9th generation Intel i9 9900k, an LGA 1151 socket must be installed on a motherboard.
So, before opting for a motherboard, ensure it comes with a compatible LGA 1151 socket for the processor.
Suggested Reading:

B) Size
To offer you the size flexibility to build your gaming PCs, cases and motherboards are available in three form factors.
If you don't have space limitations for your game setup, you can build a full-size gaming PC.
However, if you plan to put your rig in your room, you may only be able to use a Mini ITX or Micro ATX form factor due to lack of space.
Large ATX motherboards generally offer more features than mini or micro ITX motherboards. Based on this, you can decide which option is best for you.
Suggested Reading:

C) RAM
While the CPU is essential to performing computing tasks, RAM primarily stores all temporary information and is critical to speed in games and applications.
Most modern games and apps require a lot of memory to function correctly. Before choosing a motherboard, ensure it meets your PC's memory requirements.
When shopping for the best gaming motherboard for i9 9900k, you will most likely consider the designations of the type of RAM as well as the bus speed it supports;
For instance, DDR4-4200 MHz or DDR3 3200 MHz. This indicates the bandwidth and the build speed.

D) Storage
Since many modern computers use solid-state drives (SSD) for storage because of their high speed, you need to ensure that the motherboard has the flexibility and ability to install multiple storage options.
Although most basic motherboards offer storage options through SATA ports, the latest NVMe storage ports deliver blazing speeds over PCIe connections.
Depending on your needs, consider storage ports and their types when choosing the best gaming motherboard for i9 9900k.
Suggested Reading:

E) PCIe Connectors
To get the most out of your gaming motherboard, you must decide which features are necessary for your next PC version.
First, you need to check the PCIe connections. The PCIe slots will determine how many dedicated video cards you can use at the same time and at what bandwidth speed.
Since many modern video cards are heavy, you should also make sure that these PCIe slots are metal reinforced.

Best Gaming Motherboard for i9 9900k
Here are the top 7 best gaming motherboards for i9 9900k processors on the market today:
1. GIGABYTE Z390 Gaming X Motherboard Review
Enhance your gaming experience with the Gigabyte Z390 GAMING X Motherboard. Designed for content creators, enthusiasts, and gamers, this unit is powered by the Intel Z390 chipset.
It makes full use of the bandwidth of the PCIe 3.0 data to provide high performance for tasks such as 3D rendering, and video editing.
Up to 128 GB of two-channel DDR4 RAM can be installed in 4 memory slots, which reach 4266 MHz when overclocked.
The ATX motherboard also offers advanced cooling and supports about 2 M.2 SSDs and 6 SATA III storage drives placed in various RAID configurations.
The PCIe 3.0 x 16 slots with two slots provide space for AMD CrossFireX configurations to maximize your system's graphics capabilities for high frame rates, the connection of 4K monitors, and faster video playback times.
The GIGABYTE Z390 GAMING X Motherboard also has a Gigabit Ethernet connection optimized for cFosSpeed ​​. It delivers impressive and deep 7.1-channel surround sound via the Realtek ALC892 codec.
Pros
The large-area heat sink ensures improved cooling.
AMD CrossFireX support
Immersive sound
Fully compatible with Core i9-9900K.
Good overclocking
Cons
The second PCIe x16 slot only has four PCH lanes.
No USB3 Gen2 on the front panel.
Check Price on Amazon

2. MSI MPG Z390 Gaming PRO Carbon Gaming Motherboard Review
Fully geared towards gaming and performance, the MSI MPG Z390 Gaming PRO has the resources to take full advantage of the i9-9900k CPU and RTX 2080ti GPU.
In short, MSI has focused only on integrating all the features of the modern playing field with this motherboard.
This gaming motherboard comes with two integrated m.2 slots with Intel Optane Ready technology in terms of memory.
With Intel Optane technology, SSDs can transfer data between them at a speed of approximately 32 Gbps.
Thanks to the dual-channel memory slots with 64GB DDR4, you can overclock this motherboard to 4.4GHz on the memory side.
This best gaming motherboard for i9-10900k offers 6 PCIe slots, and the main PCIe slots provide up to 16 times the bus speed.
When it comes to the I/O box, MSI is taking the lead by expanding the heat sink to cover the I/O module, which is excellent for heat dissipation.
The Z390 chipset offers seven PWM fan connections. One of those PWM connections even has a water pump.
So, if you are looking for a custom water-cooling build, you have come to the right end. The I/O port provides four USB 3.1 Gen 2 ports capable of transferring data at 5 Gbps.
Furthermore, it comes with a DVI input, an HDMI input, and 8-channel audio connections.
Pros
Supports up to 64GB at 4400MHz RAM.
Compatible AMD Crossfire
Dual m.2 slots
Built-in I/O module heat sink.
Cons
Does not support NVidia SLI.
Addressable RGB connector missing.
Check Price on Amazon

3. MSI Z390-A PRO LGA1151 Gaming Motherboard Review
Declaring the MSI Z390-A PRO motherboard as the best entry-level motherboard for the i9-9900k processor would not be an understatement.
The motherboard has four DIMM slots for a 4400MHz clock speed with a capacity of up to 64GB.
The heatsink on the VRM offers enough cooling to dissipate excess heat. The aesthetic has an excellent design.
While it doesn't have the gun's matte, metallic black finish, it does look pretty good on the coffee-brown circuit board.
Unfortunately, this unit doesn't offer much of the fancy LED or RGB lighting to enhance your gaming PC's aesthetics.
This gaming motherboard wobbles in memory and only offers a single m.2 slot. However, the PCIe NVME socket m.2 SSD can boot with turbo transfer speeds of up to 32 Gbps.
Considering its price, the MSI Z390-A PRO motherboard is a bit limited in its ability to achieve great overclocking results. Still, it packs a punch in its store.
Pros
Supports up to 64GB at 4400MHz.
VRM heat sink
Reasonably priced
Cons
No RGB lighting
Single M.2 slot
Compatible with Micro ATX form only.
Check Price on Amazon

4. Asus Prime Z390-A Motherboard Review
ASUS simply offered a perfect balance between affordability and a feature-packed motherboard with the Prime Z390-A motherboard.
Essentially, this is a motherboard that has all the essential features at a reasonable price.
This unit has 4 DIMM slots that support up to 64GB DDR4-RAM and can be overclocked to 4266MHz.
Storage-wise, the motherboard has two m.2 slots. These slots are integrated with Intel's Optane Ready technology and can exchange data at an impressive 32Gbps.
Ideally, both slots have heating pads for better heat diffusion.
The motherboard is ahead of its competitors in the cooling department. The m2 slots and the chipset are equipped with a separate heat shield or heat sink.
There are also 7 fan connectors. The connections are compatible with Asus AURA Sync.
In other words, RGB components can easily synchronize colors. Aesthetically, there are 2 RGB bands. The shields are made of solid silver, and the circuit board is matte black.
The only drawback is that it does not have a protective backplate or an addressable RGB port.
Pros
Supports up to 64GB at 4266 MHz.
Dual m.2 slots
Perfect for overclocking
Compatible with Asus AURA.
Cons
Lacks protective backplate
Addressable RGB connector is missing.
Check Price on Amazon

5. Asus Prime Z390-P LGA1151 ATX Motherboard Review
The ASUS Prime Z390-P LGA 1151 ATX motherboard is powered exclusively by 8th and 9th Gen Celeron, Pentium Gold, and Intel Core processors.
This mobo maximizes speed and connectivity with M.2 slots, Gen 2 USB 3.1 ports, and ASUS OptiMem II for optimal DRAM stability when overclocking.
Also, 5X Protection III safeguards at the hardware level with LANGuard, SafeSlot Core, and surge protection ensure the components' reliability and longevity.
Furthermore, the FanXpert 4 with an AIO pump head offers advanced fan control for unrivaled system cooling.
The SafeSlot Core and its robust PCIe slots prevent damage from heavy graphic cards.
Thanks to the 8-channel HD audio with the Realtek ALC887 codec, the Asus Prime Z390-P delivers impressive sound.
This gaming motherboard is aimed at everyday users and content creators with a balanced specification and feature set.
By combining the advantages of Intel processors with basic design and engineering from ASUS, the Prime Z390-P offers various options for optimizing performance through firmware and software functions.
To deliver clear and crisp graphics, this motherboard supports Intel High-Definition graphics with DisplayPort and HDMI outputs.
Pros
General energy efficiency
Flexible cooling control
Smart protection
Fast connectivity
Supports up to 64GB of RAM.
Check Price on Amazon

6. Asus ROG Strix Z390-E Gaming Motherboard Review
For the price, no other motherboard offers the quality of the Asus ROG Strix Z390-E Gaming Motherboard.
As the best budget motherboard for the i9 9900k processor, this superb unit takes quality to another level.
Despite the cost, you can take advantage of the FanXpert 4 5-way cooling optimization system.
To make this motherboard even more secure and overclockable, it comes with a Gamer's Guardian feature. This feature increases slot security, adds ESD protection, and protects the DRAM.
You also get an M.2 heatsink to help keep the SSDs cool, a water pump head for efficient cooling system installation, as well as a fan expansion head and MOS fan bracket.
When you add the excellent SupremeFX LC1220 HD sound system and the impressive Intel Ethernet and WiFi connectivity, it is sure to become a top model.
Finally, you can take advantage of Aura Sync RGB for an extra touch of lighting customization.
Pros
Fantastic overclocking for the price.
High-quality audio
Ultra-cool operation
Extremely secure performance with Gamer's Guardian.
High-quality connectivity with WiFi and Ethernet.
Check Price on Amazon

7. ASRock Z390 Taichi Motherboard Review
ASRock never disappoints: although it is an inexpensive brand, it still delivers quality without sacrificing results.
And the Z390 Taichi is hands down the best ASRock i9 9900k motherboard you will find.
First, it can handle a lot of i9 9900k processor power through its Hyper BCLK Engine II system.
This ensures that you can overclock it as needed. It goes well with the 4 DDR4 slots, which can handle overclocked RAM up to 4200MHz.
With the ability to expand storage with 8 SATA3 slots and 3 Ultra M.2 ports, you have enough to build your server.
However, it manages to deliver decent sound with a Realtek ALC1220 chip compatible with DTS Connect and Purity Channel.
For connectivity, you get a special Gigabit LAN connection and an Intel 802.11ac WLAN adapter.
Besides the Bluetooth 4.2 system, you benefit from exceptional connectivity. Finally, you can add three PCIe devices and a flexible PCIe according to your needs.
Pros
Decent overclocking
Plenty of storage space with M.2 and SATA3 slots.
Great sound with ALC1220 chip.
High-quality connectivity with Bluetooth and WiFi.
Practical RGB system
Check Price on Amazon

Sale
Top-Rated Gaming Motherboard For I9 9900K
Our Pick
Our top pick for the best gaming motherboard for i9 9900k is the ASUS ROG Strix Z390-E Gaming Motherboard.
It is not only an affordable motherboard for all its features, but it's also a solid choice for the Intel Core i9-9900K processor with stable overclocking improvements, high-quality components, an excellent and straightforward BIOS, and other valuable benefits such as dual M.2 slots.
Intel's new processor is designed to be compatible with the Z390 chipset. Many advanced users and gamers are looking for new motherboards.
Hope this article has given you a wealth of information on what to look for when it comes to the best gaming motherboards for i9 9900k.

Key References
"Does A Motherboard Affect Gaming Performance? – PC Builds On A Budget". Accessed April 06, 2021. Link.
"Does Your Motherboard Matter for Gaming? (2020)". Accessed April 06, 2021. Link.