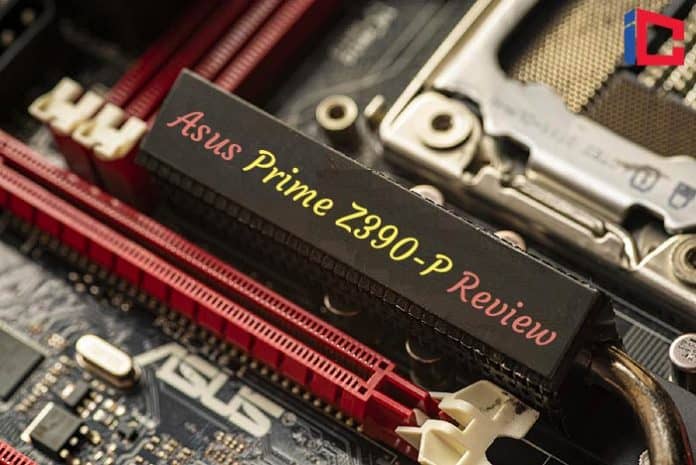 Asus Prime Z390-P Review: Professional gamers looking for a good gaming system know that performance is everything. And nothing affects performance more than the motherboard. If you have a good motherboard and a good PC, you can enjoy your favorite games. The ASUS Motherboard brand has showcased some of the best motherboard models on the market.
We ♥ honesty! Info Cellar earns a commission through the following hand-picked links at no extra cost to you.
In this page, we will be reviewing one of the ASUS Prime series – the ASUS Prime Z390-P Motherboard. This motherboard is specially designed to introduce new users to the sophisticated world of gaming. In fact, the fact that the motherboard is affordable makes it an attractive option.
Let's look at the motherboard specifications and features to see if it's right for you.
Asus Prime Z390-P Motherboard Review Summary
With the industry-leading i9-9900k processor, the ASUS PRIME Z390-P natively supports speeds up to 2666MHz and overclocked up to 4266MHz. It can handle graphics-intensive applications as it supports AMD CrossFireX technologies that connect multiple GPUs. Also, there are many technical innovations, improvements, and a wide variety of storage solutions.
Build and functionality
4/5
Battery and power output
3/5
Positives
Trouble-free installation
Improves system performance
Up to 16GB/s data transfer speeds
Easy to overclock
Negatives
Comes with just 4 SATA ports
Check Price at Amazon
Asus Prime Z390-P Motherboard Technical Specifications
| | |
| --- | --- |
| Chipset | Intel Z390 |
| Socket | LGA1151 |
| Form factor | ATX |
| Supported Memory | 4x DDR4 (2666MHz, up to 4266MHz via OC) |
| Maximum Supported RAM | 64GB |
| RAM Slots | 4 |
| CrossFire Support | Yes |
| RAID Support | Yes |
| Wireless LAN | No |
| PCI-Express x16 Slots | 2 |
| PCI-Express x4 Slots | 0 |
| PCI-Express x1 Slots | 4 |
| SATA Express Ports | 0 |
| SATA 6Gbps Ports | 4 |
| M.2 Ports | 3 |

Asus Prime Z390-P Motherboard User Manual
Here is the user manual for Asus Prime Z390-P Motherboard: (PDF).

Detailed Asus Prime Z390-P Review
A) Design
ASUS Prime Z390-P comes in white, silver, and black. On top of the heatsink is a white rear panel with integrated RGB and support for AURA Sync.
A white pattern design on the circuit board adds a bit of aesthetics and makes it slimmer than other Z390 options.
This motherboard also offers many connection options. It has three full PCIe 3.0 slots for x4, x8, and x16.With this feature, this motherboard supports 3-way multi-graphics card configurations.
The design and functionality of the motherboard make it ideal for everyday use.
Without a doubt, a properly constructed system needs pleasing aesthetics. And the Z390-P didn't disappoint in this area.
Like the other versions of this line of ASUS motherboards, this model offers complete control of RGB lighting with various preset functions.
Also, there are strips connected to the RGB headers, which makes it look amazing. But the fun part about all of this is the fact that it synchronizes very well with the ASUS Prime Z390 hardware.
It's the beauty of a very simple motherboard with all the features you need to play your favorite games and get a lot done efficiently and quickly.

B) Compatibility
The storage capacity is large enough and compatible with various types of processors and PCs. It has four RAM slots with a 64GB maximum capacity and supports DDR4-4266.
The ASUS Prime Z390-P motherboard has approximately 8 USB ports, including 2 USB 2.0 ports, 4 USB 3.0 Type-A ports, 1 USB 3.1 Type-C port, and 1 USB 3.1 Type-A (Gen2) port connector.
The combo mouse connection, a PS/2 keyboard connection, and the DisplayPort and HDMI are located on the back panel. The ASUS Prime Z390-P is equipped with 6 audio ports that work with HD audio codec by Realtek.
These functions help add excitement to your gaming activities. The motherboard supports the 8th and 9th generation of the Intel processors, so you get the newest performance support.
Suggested Reading:

C) AI Overclocking
While the Z390 motherboard does not have full functionality, it supports AI overclocking is an immense advantage for professional gamers and other users alike.
The software is a core feature of the motherboard due to its clever work. It can determine the quality of the installed processor and find the ideal voltage frequency for your computer.
With this feature, you don't have to bother about under-powering or frying your computer. The overclocking feature is an important safety feature that can protect your rig from damage.
Fortunately, despite its affordable price, this motherboard has the feature.

D) Connectivity
If you have a motherboard that can support data transfer speeds of up to 16GB/s, you will have no trouble multitasking or gaming.
With its reversible USB 3.1 Type-C drives and backward-compatible USB 3.1 Type-A drives, you can enjoy unprecedented connectivity speeds.
With these connections, you can enjoy a high data rate of around 10GB/s. The PCI 2.0/3.0 x4 bandwidth is ideal for an OS or application reader, especially if you want fast data transfer speeds.
Prime Z390-P uses an audio codec that works in conjunction with Realtek. It also comes with an incredible 120 decibels signal-to-noise ratio for enhanced output.
This ensures the precise and resonant audio quality. Furthermore, there is a circuit that independently detects obstacles to audio performance.
The software can adjust the gain to the optimum volume level for the headphones automatically. You can upgrade the functions to Universal Audio easily.
Suggested Reading:

E) Other Specifications
The ASUS Prime Z390 also has MEMOK and OptiMem II, the former of which is a feature exclusive to ASUS motherboard hardware.
It allows users to quickly repair DRAM-related system failures. On the other hand, OptiMem allows the system to maintain signal integrity for better memory overclocking.
OptiMem II is an integrated T-topology platform that provides time warp signals. As we mentioned before, this is the brain behind maximum efficiency when it comes to overclocking settings.
The OptiMem platform examines storage paths on all map layers to reduce pathways and add shielding zones.
The motherboard is also equipped with the Fan Xpert 4 function. This is another safety feature that keeps the system in good working order.
The primary function is to adjust the fan speed if it is detected that the GPU is starting to overheat.
With Fan Xpert 4, you can be sure that the components in your system will do their job and stay relatively cool in the process.
If you want to enjoy gaming with no problem, the temperature level must be correct. Luckily, this Fan Xpert 4 fan is very helpful in making this possible.

Pros of Asus Prime Z390-P Motherboard
Robust power delivery for an entry-level motherboard.
The overclocking function works well.
Works well with 8th & 9th generation Intel processors.
Supports faster memory, giving users quicker system performance.
Very flexible fan control.

Cons of Asus Prime Z390-P Motherboard
Comes with only four SATA ports, so it might not be suitable for mining.

Models Similar to Asus Prime Z390-P Motherboard
The ASUS Prime Z390-P is quite similar to the ASUS Prime Z390-A.
However, the Z390-A is a better choice for more stable overclocking and more integrated features.
In terms of value for money, however, the Z390-P is the way to go.
Both motherboards have similar specs with a few differences in slots, headers, and ports. Still, ultimately both are good for their prices.

Frequently Asked Questions about Asus Prime Z390-P Motherboard
Q: How many RAM slots does the Asus Prime Z390-P have?
A: The Prime Z390-P's ATX format supports up to 64GB of DDR4 RAM in 4 dual-channel slots or 16GB/slot at speeds of up to 4266MHz non-ECC unbuffered memory.

Q: Does Asus Prime Z390-P Support NVME?
A: Yes, the Asus Prime Z390-P supports NVME M.2 drives, and you won't lose any SATA ports once NVME drives occupy the M.2 slots.

Q: How Many Fan Headers Does the Asus Prime Z390-P Have?
A: According to the manual, the Asus Prime Z390-P has 4 configurable fan headers. Each header can reference 3 thermal sensors dynamically. Via Fan Xpert 4, users can map the temperature of compatible ASUS GPU to optimize cooling for CPU and GPU-intensive tasks.

Final Thoughts
Undoubtedly, computer hardware makers have stepped up their game to bring robust hardware and systems to the gaming community. The ASUS range of motherboards is one of the top-rated motherboards today for its compatibility with the latest Intel processors. This gives them blazing speed and performance superior to so many other options on the market.
The ASUS Prime Z390-P is no exception. While it might not seem as complete as other high-end motherboards, there are more than enough features to give gamers and other users precisely what they're looking for.
More importantly, the overclocking features outperform all other features. Interestingly, it is still reasonably priced. If you're looking for a budget-friendly motherboard that provides good speed and various connectivity features, the ASUS Prime Z390-P motherboard is a superb choice.
Check Price at Amazon