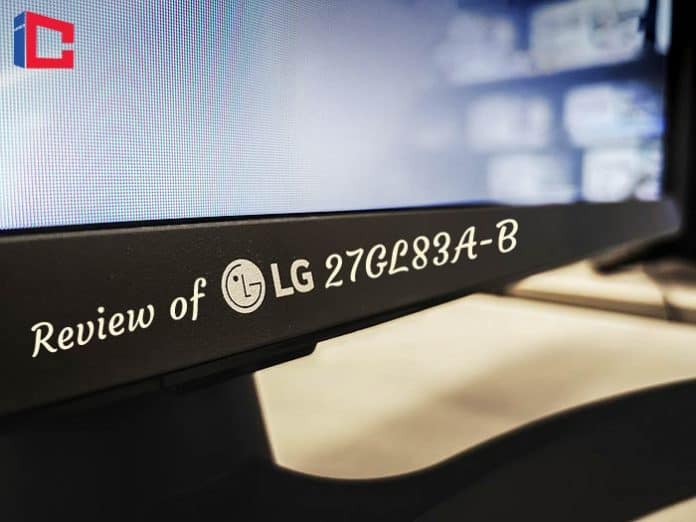 LG 27GL83A-B Review: Now that more people are working from the comfort of their homes, monitors like the LG 27GL83A-B are likely to become even more popular. For a gaming model that you can also use for work, this 27″ monitor does not focus on stretching the aspect ratio or adding pixel density like its competition. LG thought differently with this monitor, and there is a lot to be said for a large, color-accurate screen that allows you to easily view the most convenient angle.
We ♥ honesty! Info Cellar earns a commission through the following hand-picked links at no extra cost to you.
The result is a Quad HD monitor with an impressive 144Hz refresh rate and a one-millisecond response time that looks great in every way. Even if there is a lot of action with this screen, nothing will be missed, and there will be no noticeable problems.
Combined with a robust design and powerful gaming appearance, all of this makes this monitor an excellent choice for your gaming viewing needs. Let's go further to see if it is worth the price.
LG 27GL83A-B Review Summary
For its price, it's hard to go wrong with the LG 27GL83A-B. You get one of the fastest IPS panels on the market for a blurry-free gaming experience, while the beautiful colors and 1440p resolution ensure impressive image quality.
Positives
Vibrant QHD display
G-Sync enabled
Impressive response time
Excellent factory calibration
Low input lag
Negatives
Lacks built-in speakers
No USB ports
Check Price at Amazon
LG 27GL83A-B Technical Specifications
| | |
| --- | --- |
| Screen Size | 27-inch |
| Resolution | 2560×1440 (WQHD) |
| Panel Type | IPS |
| Aspect Ratio | 16:9 (Widescreen) |
| Refresh Rate | 144Hz |
| Response Time | 1ms (GtG) |
| Adaptive Sync | FreeSync (48Hz-144Hz)(48-100Hz HDMI) |
| Ports | DisplayPort 1.4, 2x HDMI 2.0 |
| Other Ports | Headphone Jack |
| Brightness | 350 cd/m2 |
| Contrast Ratio | 1000:1 (static) |
| Colors | 1.07 billion (8-bit + FRC) |
| HDR | HDR10 |
| VESA | Yes (100x100mm) |

LG 27GL83A-B User Manual
Here is the user manual of the LG 27GL83A-B: (PDF).

Detailed LG 27GL83A-B 27″ Monitor Review
A) Design
The LG 27GL83A-B is sleek, aggressive, and beaming with RGB lighting on the back. This is proof enough that LG puts the needs of gamers first.
Ideally, we can't decide which one is more attractive here, the vivid 27-inch display with 2560 x 1440 resolution or the mesmerizing LED lighting on the back of the panel.
No matter what excites you, your friends and colleagues will have a thing to say about the LG 27GL83A-B, whether they are behind or in front of the monitor.
The flexible lights (also known as Sphere Lighting 2.0) are on the back of this unit, so you can see them. However, the lights will become bright enough to bounce off adjacent walls and even off your desk surface.
Along with the colorful flashes of light, the monitor housing is made of textured black plastic. In contrast, the cylindrical arm is made of sturdy metal.
Despite the modern design, the screen is quite thick at 2.3″ at its widest point.
The display offers swivel, height, and tilt adjustment so users can adjust the vertical angle up and down.
Suggested Reading:

B) Image Quality
The LG 27GL83A is factory calibrated and, out of the box, covers about 99 percent of the sRGB color space.
Colors are precise and crisp and even suitable for some basic color-critical tasks.
The 1440p resolution guarantees crisp detail and plenty of screen space on 27-inch monitors, thanks to the pixel-to-inch ratio of around 108 PPI, meaning no scaling is required.
As with all IPS panels without local dimming, the contrast ratio hardly exceeds 1000:1, which means the black spots are not as deep as with VA panels, which of course, have other drawbacks.
VA displays have a more excellent static contrast ratio of about 3000:1, but not vivid colors and good viewing angles than IPS options.
They also have slower response times, which lead to noticeable spots in fast-paced games, at least in this price range.
Another downside of IPS panels is IPS brightness. When watching dark scenes in a dark room, you may notice a "glow" in the corners of the screen.
With IPS panels, this downside is expected, and it is manageable.
There is no perfect monitor, particularly in this price range, so you have to make concessions.
If you want fast pixel response time and excellent image quality, IPS panels are your best choice.

C) Performance
The LG 27GL83A-B is one of the fastest IPS monitors with a pixel response time of 1ms (GtG), averting ghosting in high-speed games.
To get the specified speed of 1ms, you need to set the Overdrive option for the response time in the monitor's On-Screen Display (OSD) menu to "Faster". However, this leads to an inverted ghost image, also known as pixel overflow.
Fortunately, with the overdrive option set to "Fast", you won't get overshoot or visible traces behind fast-paced objects.
The speed is technically not "1ms", but fast enough to keep the pixels at the 144Hz refresh rate.
The LG 27GL83A-B input lag is just around 4ms, resulting in an imperceptible delay between the result on display and your actions. AMD FreeSync supports a Variable Refresh Rate (VRR) range of 48 to 144Hz via DisplayPort and 48 to 100Hz via HDMI for ripping-free gaming.
This unit is certified by NVIDIA as being G-SYNC compliant, so FreeSync works seamlessly with supported NVIDIA graphics cards.
Suggested Reading:

D) Features
The LG 27GL83A-B monitor has many valuable functions for gaming, including a black stabilizer that enhances the visibility of objects in dark rooms, a crosshair for custom crosshair overlays, and pre-calibrated image presets (RTS, FPS, sRGB, player mode, and two customizable player profiles).
Navigating the OSD menu is child's play, thanks to the five-way joystick under the display's bottom bezel. In addition to the standard picture settings, there are 4 gamma modes and a fine adjustment of the color temperature (in increments of 500K).
The monitor backlight does not flicker, and there is a built-in filter for weak blue light.

E) Connectivity
Connectivity options on the LG 27GL853A-B include 2 HDMI 2.0 ports, DisplayPort 1.4, and a headphone jack. HDMI and DisplayPort support 144 Hz at 1440p. However, if you enable FreeSync, the refresh rate via HDMI is limited to 100Hz. Unlike the LG 27GL850, the 27GL83A-B does not have a USB hub.
Suggested Reading:

Pros of the LG 27GL853A-B
Stylish and ergonomic design.
Accurate and consistent colors.
G-SYNC/FreeSync compatible
Fast response time and excellent motion handling.

Cons of the LG 27GL853A-B
Limited range of FreeSync over HDMI.
Poor contrast ratio

Models Similar to the LG 27GL83A-B
The LG 27GL83A-B and the Gigabyte M27Q are pretty similar in that they are both 27″ IPS gaming monitors with a resolution of 1440p.
Regarding gaming performance, the significant difference is that the M27Q has a 170Hz refresh rate higher than the 27GL83A-B's 144Hz, but has a slightly slower response time.
The Gigabyte is better suited for content creation, as it has a much better HDR and SDR color gamut.
Also, it has other features like picture-by-picture and picture-in-picture modes, as well as a USB-C port that DisplayPort Alt mode supported.
However, the LG 27GL83A-B has wider viewing angles, so you'll have to share your screen frequently and can rotate in portrait orientation, which the Gigabyte cannot.

Frequently Asked Questions about the LG 27GL83A-B
Q: What is the difference between LG 27GL83A-B and LG 27GL850-B?
A: The LG 27GL83A-B and LG 27GL850-B have similar overall performance, and we can attribute any differences to panel variation. The LG 27GL850-B has better inputs because it includes 2 USB 3.0 ports, while the 27GL83A-B lacks USB ports.

Q: Is the 27GL83A-B suitable for PS5, Xbox Series X, and Xbox Series S?
A: With the LG 27GL83A-B, you can play games on the PS5, Xbox Series X, and Xbox Series S consoles with low input lag and 120 fps.
Although the monitor has a maximum resolution of 1440p, it can easily downscale 4K resolution to 1440p, resulting in impressive image quality.
The major problems are the HDR brightness levels and the low native contrast, which means that console games are not optimal on this screen. Also, the monitor is not compatible with HDMI 2.1.
If you're looking for a monitor that is better suited to the PS5, Xbox Series S, and Xbox Series X consoles, we recommend looking at the LG 27GN950-B.

Q: Does the LG 27GL83A-B have HDR?
A: In terms of HDR functionality, the LG 27GL83A-B supports a wide color gamut and HDR10.It does not support Dolby Vision or HDr10+.
PS5, Xbox Series S, and Xbox Series X use HDR10 to display HDR-compatible games.
For console games, the 27GL83A B has relatively low HDR brightness levels. We recommend a minimum of 500 cd/m² for each screen for HDR games to look good.
According to RTINGS, the LG 27GL83A-B did not reach close to 500 cd/m² in the various scenes tested.

Final Thoughts
The LG 27GL83A-B is a responsive and fast gaming monitor with a properly pre-calibrated IPS display. You don't have to change image quality settings right away, and it is virtually blur-free and great for fast-paced games.
We liked LG's designs that included user-friendly features. Still, there was a slight wobble in the bracket that wasn't present on some of their previous models. The main drawback of the LG 27GL83A-B is its low contrast ratio; however, we think it is unfair to complain, especially since the price is very competitive and attractive.
Check Price at Amazon