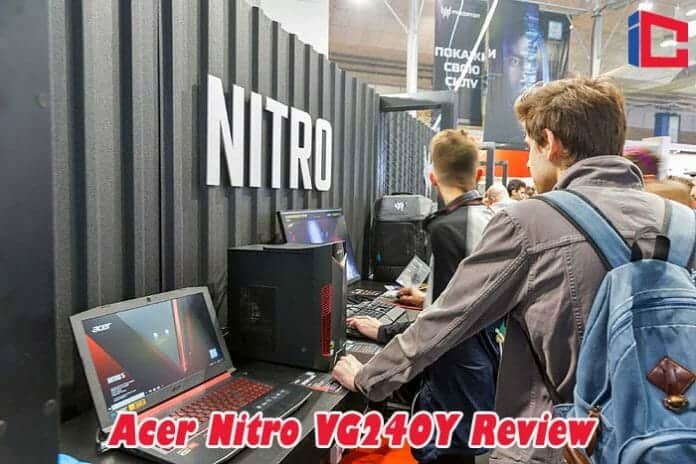 Acer Nitro VG240Y Review: The Acer Nitro VG240Y delivers a crystal clear IPS (In-plane Switching) panel at a meager price suitable for users looking for better and smoother color reproduction. This monitor has two notable variants like this unit with the suffix Pbiip.
We ♥ honesty! Info Cellar earns a commission through the following hand-picked links at no extra cost to you.
In contrast, the 75 Hz variant is indicated by a Bmiix in the model name. The Acer Nitro VG240Y has attractive specs at a price you can't ignore, but what are the limitations?
Acer Nitro VG240Y Pbiip Review Summary
The Acer Nitro VG240Y is a decent gaming monitor for the price. It is ideal for mixed-use, including fast-paced gaming, content creation, and other multimedia applications. As for competitive gaming isn't as fast as the Twisted Nematic (TN) alternatives, but it's more than enough for casual gamers. You also get wide viewing angles and beautiful colors.
Positives
Adequate color quality
Great contrast
G-Sync/FreeSync compatible
Reasonably priced
Negatives
Strobe mode adds overshoot
Dim backlight
Stand limited to incline
Acer Nitro VG240Y Technical Specifications
| | |
| --- | --- |
| Size | 23.8-inch |
| Panel | IPS |
| Resolution | 1920×1080 (Full HD) |
| Aspect Ratio | 16:9 (Widescreen) |
| Refresh Rate | 144Hz |
| Response Time (GtG) | Not specified |
| Response Time (Visual Response Boost) | 1ms (MPRT) |
| Max. Brightness | 250 nits |
| Contrast Ratio | 1000:1 (static) |
| Color Gamut | 16.7 million (6-bit + FRC) |
| Adaptive Sync | FreeSync (48Hz-144Hz) |
| Ports | HDMI 2.0 x2DisplayPort 1.2 |
| VESA | Yes (100x100mm) |

Acer Nitro VG240Y User Manual
Here is the user manual of the Acer Nitro VG240Y (PDF):
Suggested Reading:

Detailed Acer Nitro VG240Y Review
A) Design
The Acer VG240Y uses the nitro design just like most of its siblings in the range, which looks contemporary or subtle compared to the Predator models.
The case is matte black, but the stand's base sports an erubescent accent to distinguish the product as a gaming option rather than an offering for the office.
The display is unframed on three sides, but you can still see minimal panel edges while in operation.
The Acer Nitro VG240Y's display case is quite slim. Yet, the company has managed to turn that full-size display into a desktop computer.
The device is almost 10 inches deep when fully assembled, while comparable monitors only require 8 or 9.
It's also super lightweight, making it a perfect second monitor for a LAN party at your friends' house.
Acer did not disappoint our expectations for the build quality of the Acer Nitro VG240Y, which is durable and feels just as good as its higher-end offerings.
The plastics used are strong, and the device hardly wobbles because the column is made of metal.
The Acer Nitro VG240Y boasts pressable buttons, but you get a multi-directional controller for navigation on-screen display (OSD).
Scrolling through the menus is easy and quick, and you need not worry about fumbling in the dark or hitting the wrong button.
This implementation is typically only for premium variants, so we are delighted budget models are getting it now.
One drawback of the Acer Nitro VG240Y's physical design is the tilt-only stand, which significantly limits your configuration options. IPS panels typically have wide viewing angles, but options like this seem pretty short depending on the user's sitting position and height. VESA mounts can be used, but this adds to the overall cost, which may put you within reach of a better-designed alternative.

B) Image Quality
Based on a PANDA IGZO-TFT-IPS panel, the Acer Nitro VG240Y offers wide viewing angles of 178 °, as well as sharp and vivid colors that cover the standard sRGB color space and 8-bit color depth through dithering.
Other panel-related specs now include 1000: 1 static contrast ratio and a maximum brightness of 250 nits, typical for an IPS display in this price range.
The maximum luminance of 250 nits may appear dim on paper, but the screen may become bright enough.
Under standard viewing conditions, you should reduce the brightness level in the display settings menu by 100.
A resolution of 1080p gives a pixel-per-inch (PPI) ratio of 92.56 on the 23.8-inch screen of the Acer Nitro VG240Y, which means it has a good amount of screen space well as clear and sharp details.
As if that wasn't enough, 1080p lets you quickly get high frame rates, even in high-paced games.
Also, the Acer Nitro VG240Y monitor supports a high dynamic range (HDR).
However, it is just software-emulated, so you can basically ignore it.
As expected from an in-plane switching (IPS) panel, some IPS glow, but it is manageable.

C) Performance
The Acer Nitro VG240Y boasts an impressive input lag performance with just about 4ms unnoticeable delay at 144 Hz.
Acer does not specify the response time of the monitor GtG, only the MPRT measurement of 1 ms, which is obtained using the background strobing.
To get the specified 1 ms, you must activate Visual Response Boost (VRB) in the OSD menu of the monitor.
This feature activates the backlight strobes to eliminate the perceived trail of fast-paced objects.
However, VRB also minimizes the maximum brightness of the monitor. Since the Acer Nitro VG240Y screen has a maximum luminance of 250 cd/m², the picture becomes quite dark when using this function.
Beyond that, VRB can't be active simultaneously as HDR or FreeSync.
As a result, most users will not find this feature helpful.
Fortunately, the monitor's average GtG pixel response speed is quite good.
It isn't as fast as the similarly priced TN gaming models that have 1ms GtG speed, but it is remarkably faster than what VA panels offer in this price range.
Some motion blur is conspicuous in fast-moving games. Still, you won't get the black spots associated with VA panels of similar prices.

D) Connectivity
Connectivity is decent as the Acer Nitro VG240Y includes 2 HDMI 1.4 slots and DisplayPort 1.2 that can be used for a gaming PC and other host devices.
You can connect up to two game consoles simultaneously, making the monitor your central or all-in-one gaming display.
There's also a 3.5mm jack for speakers and headphones but no USB ports for peripherals.
There are also no built-in speakers in the Acer VG240Y, so you need to rely on separate devices for the sound of games and films.

Pros of the Acer Nitro VG240Y
Accurate and vibrant colors.
Lots of gaming features like VRB and FreeSync.
Excellent value for money.

Cons of the Acer Nitro VG240Y
Overdrive cannot be adjusted when FreeSync is enabled.
Tilt-only stand

Similar Models to Acer Nitro VG240Y
The Acer Nitro VG240Y is good value for money as the ~24-inch 144Hz 1080p alternatives with TN and VA panels cost the same; IPS variants are typically more expensive.
The AOC 24G2 gaming monitor uses a similar panel as the Nitro VG240Y. Still, the 24G2 is cheaper but delivers full ergonomic support, larger color space, and extra features.
Another cheaper model that uses the same panel is the ASUS VP249QGR, which boasts a better overdrive implementation than the Acer Nitro VG240Y.

Frequently Asked Questions about the Acer Nitro VG240Y
Q: Is the Acer Nitro VG240Y good for gaming?
A: The Acer Nitro VG240Y is a decent gaming monitor thanks to its FreeSync implementation, making it ideal for those who fear that the screen will tear when playing more visually intense games. It also supports Radeon FreeSync technology. However, as one of the best budget gaming monitors, the Acer Nitro VG240Y doesn't offer the highest quality connectivity options.

Q: Does the Acer VG240Y have HDR?
A: The Acer VG240Y monitor supports HDR. However, it is just software-emulated, so you can basically ignore it.

Q: Does the Acer Nitro VG240Y have speakers?
A: There are no integrated speakers in the Acer Nitro VG240Y, so you need to rely on separate devices for game and movie sound. Not a big deal because this offering is already very cheap, while the usual 2W pairs from the competition don't have enough power for the latter applications anyway.

Q: Is the Acer Nitro VG240Y VESA compatible?
A: Yes, the Acer Nitro VG240Y is VESA compatible via DisplayPort and HDMI on this particular monitor.

Final Thoughts
The Acer Nitro VG240Y is an excellent value if you expect decent responsiveness and image quality from an affordable gaming monitor. In addition, the monitor's default calibration profile delivers decent accuracy. Still, some adjustments are needed if you want to eliminate the blue tint.
In our opinion, the product design is more appealing to a broader audience, as not everyone prefers the garish look of Acer's previous offerings. Unfortunately, the worst performance of the Acer Nitro VG240Y is its pixel response time, which has only been slightly improved to make it suitable for competitive gaming.
It is a value buy, but you need to live with some limitations that aren't present with monitors that only cost a few dollars more.