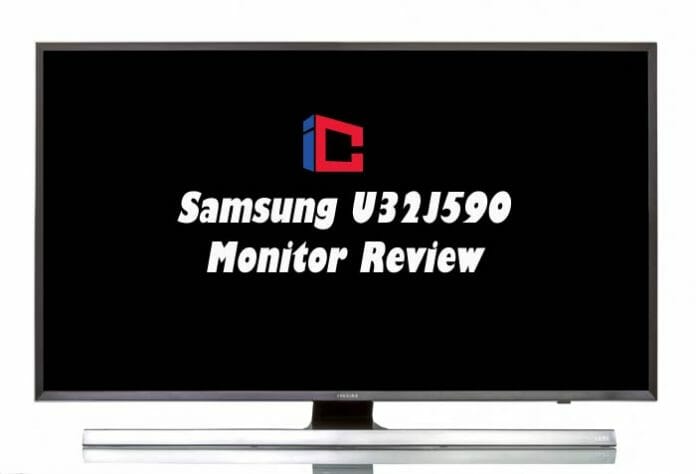 Samsung U32J590 Review: The Samsung U32J590 is an affordable 4K monitor with decent performance, making it an attractive solution for diverse needs. Samsung prides itself on prioritizing VA (Vertical Alignment) panels with extreme contrast ratios and more vibrancy in their displays so that each model can deliver the best possible experience.
We ♥ honesty! Info Cellar earns a commission through the following hand-picked links at no extra cost to you.
The Samsung U32J590 is one of the cheaper 4K monitors of this size, which makes us curious about the advantages and disadvantages of the product.
Samsung LU32J590UQNXZA Review Summary
The Samsung U32J590 is a decent 32-inch 4k monitor. It offers a decent image quality with a decent black uniformity and an outstanding native contrast ratio. It supports FreeSync, Variable Refresh Rate (VRR), and has an excellent response time. Sadly, it cannot get very bright to avoid glare in a well-lit room. Also, it has a fixed base that can only be tilted, so you cannot bring it to an ideal viewing position.
Positives
Lots of screen space
Remarkable dark room performance
Low input lag
Excellent response time
Negatives
Pathetic ergonomics
Disappointing brightness peak
Check Price at Amazon
Samsung U32J590 Technical Specifications
| | |
| --- | --- |
| Size | 31.5-inch |
| Panel | VA |
| Resolution | 3840×2160 (UHD) |
| Aspect Ratio | 16:9 (Widescreen) |
| Refresh Rate | 60Hz |
| Response Time | 4ms (GtG) |
| Max. Brightness | 270 nits |
| Contrast Ratio | 3000:1 (static) |
| Color Gamut | 1.07 billion (true 10-bit) |
| Adaptive Sync | FreeSync (40Hz-60Hz) |
| Ports | DisplayPort 1.2HDMI 2.0 x2HDMI 1.4 |
| Other Ports | Headphone Jack |
| VESA | Yes (100x100mm) |

Samsung U32J590 User Manual
Here is the user manual of the Samsung U32J590 (PDF).

Detailed Samsung U32J590 Review
A) Design
The Samsung U32J590 embraces the brand's current design trend with a minimalist aesthetic in a matte grayish-blue finish.
Despite its large size, the monitor looks and feels thinner than comparable models from other brands like LG.
Despite its position as a budget mixed-use variant, the high-end feel is not lacking in the U32J590 series.
One drawback of using VA panels is the need to be thicker than most frames on every side.
VA displays have noticeably wider panel edges than TN or IPS displays, forcing manufacturers to add these plastic strips despite many customers' dismay.
However, the Samsung U32J590 frame is not that inconvenient because of the viewable area's size.
The Samsung U32J590 is a 32-inch slim monitor suitable for wall mounting or desktops with limited space.
It comes with a broader stand than the standard square variants, but the Y-shaped base does not take up much space.
The overall depth of the monitor is less than 10-inches, so we believe that placement should not be a problem for most.
The stand, as beautiful as it is, is painfully limited to tilting from an ergonomics perspective.
The I/O panel of the Samsung U32J590 is flush with the rear panel and offers space to hide cables when rolled up and tied.

B) Image Quality
Although Samsung promotes this monitor as "QLED", stating that it may have a quantum dot layer for extended color space, the Samsung U32J590 only covers the base color space at 99 percent sRGB.
Conversely, QLED screens cover up to 125 percent of the sRGB color space (or more than 90 percent DCI-P3).
Still, the Samsung U32J590 monitor delivers excellent picture quality for the price thanks to 10-bit color support, 270-bit peak brightness, high-contrast, and 4K UHD resolution.
As if that wasn't enough, it also offers 178-degree horizontal and vertical viewing angles, but expect slight changes in saturation and gamma if you view the screen from an oblique angle.
Furthermore, the Samsung U32J590 boasts excellent expandability.
So when you are up-scaling a 1080p resolution device like the original PS4 to 4K UHD, the picture quality is crisp and clear!

C) Performance
The input lag performance of the Samsung U32J590 is brilliant, with just 10 ms of imperceptible lag at 60 Hz.
Turns out, the pixel transition speed (response time) isn't that great.
There is a visible trail behind fast-paced objects in fast-moving games, which is especially noticeable in low-lit scenes.
While not revolutionary, we recommend you consider a TN or IPS screen instead if you primarily play competitive FPS games.
If you're not a competitive gamer, the Samsung U32J590 32-inch monitor's VA panel has the best contrast ratio compared to TN and IPS panels, giving you better graphics and more visible detail in highlights and shadows.
Note that the display of the Samsung U32J590 uses Pulse Width Modulation (PWM) to modulate the brightness at lower backlight settings.
Therefore, if you are sensitive to screen flickering, reducing the screen brightness too much can cause eyestrain or headaches.
Besides standard changes like input selection, color temperature, contrast/brightness, etc., the Samsung U32J590 offers picture-by-picture and picture-in-picture and game mode, which changes the gamma curvature for improved visibility in low-lit areas of the games.
It also supports AMD FreeSync, so by connecting a supported AMD GPU or Xbox console to the monitor, you can achieve VRR (Variable Refresh Rate).
This will remove all stuttering and tearing from the screen as long as the Frames Per Second (FPS) stay within the 40 to 60Hz/FPS range if you choose "Ulitmate Engine" or 50 to 60Hz if you choose "Standard Engine".
AMD FreeSync works through HDMI and DisplayPort on this monitor.
Note that FreeSync works as an "Ultimate Engine" on the Samsung U32J590 with supported NVIDIA cards. Still, you must limit the FPS to 59 as tearing will occur at 60 FPS.

D) Connectivity
The connectivity options include a 3.5 mm audio jack, HDMI 1.4, HDMI 2.0, and DisplayPort 1.2.
The only problem we see is that if you wall-mount the screen, it would be almost impossible to access the ports, but this can be easily fixed with a bit of effort.
The Samsung U32J590 managed to squeeze a pair of built-in speakers into the slim and affordable monitor.
It is an excellent addition to basic audio playback. Still, it's too small for entertainment applications like watching movies and playing games.

Pros of the Samsung U32J590
Razor-sharp image quality with deep black tones.
AMD FreeSync over DisplayPort and HDMI.
Low input lag

Cons of the Samsung U32J590
Less ghosting in fast-moving games, especially in darker scenes.
At lower backlight levels, it uses PWM.
Tilt-only design

Similar Models to Samsung U32J590
The Samsung U32J590 delivers decent performance, but some similar options outperform it.For example, the S3221QS from Dell is better than Samsung U32J590.
Dell is noticeably brighter, supports HDR, and enables height adjustment. However, the U32J590 has a faster response time and wider viewing angles. The BenQ EW3270U is also better than the Samsung U32J590.
The EW3270U supports HDR and boasts a flicker-free backlight. The BenQ is also relatively brighter than the Samsung U32J590 and sports two (2) full-bandwidth HDMI 2.0 ports that can easily display 4K at 60Hz.
The Samsung U32J590 is better than the Samsung UJ590.Thanks to its VA panel, the newer Samsung UJ590 has a significantly better native contrast ratio. Also, it has a much better RGB color volume and viewing angles.

Frequently Asked Questions about the Samsung U32J590
Q: Is the Samsung U32J590 good for gaming?
A: The Samsung U32J59 is a decent gaming monitor. It has a great response time and decent motion handling and support for FreeSync, which is good for gaming. Also, it has an excellent low input lag. Unfortunately, PWM flicker occurs in low light conditions, and the maximum refresh rate of 60Hz can disappoint even more serious gamers.

Q: Does the Samsung U32J590 Support HDR?
A: No, the Samsung U32J590 does not support HDR.

Final Thoughts
The Samsung U32J590 is an affordable, versatile large display that is suitable for many applications. The screen can deliver a decent picture quality, but appropriately tweaking it improves it to a comparable level to high-end models. In addition, the capabilities and size of the monitor make it a superb choice for PC and console gaming.
However, what defeats the excellence of the Samsung U32J590 is the backlight, which is too dim and controlled via PWM. Movie fanatics and gamers may have to limit their evening entertainment because the display can't outmatch normal ambient light.
But despite this drawback, we still think the Samsung U32J590 is a good buy if you're looking for a value-driven 4K display that can do it all.
Check Price at Amazon