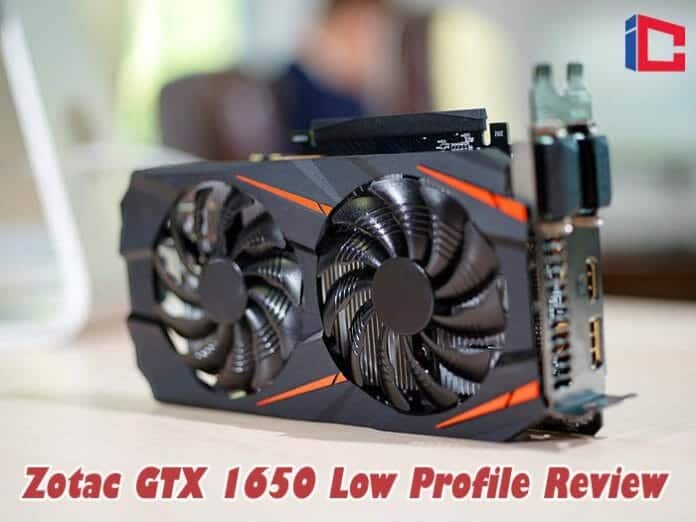 Zotac GTX 650 Low Profile Review: Nearly a year after Nvidia announced its next-gen cards of the RTX 20 series graphic cards, the replacement for the entry-level GTX 1050 was released. The GTX 1650 Low Profile is a far cry from the real-time ray tracing and monstrous frame rates of its RTX cousins, ​​joining the cheaper GTX 1660 and GTX 1660 Ti in the 16 series, but still an exciting offer, mainly when it is in the small form factor of this model.
We ♥ honesty! Info Cellar earns a commission through the following hand-picked links at no extra cost to you.
The underlying graphics card is the cheapest of the current Nvidia range and, without the competing GTX 1650 Ti, the only really "budget" graphics card of the entire generation. To meet this responsibility, it boasts 4GB of GDDR6 memory, twice as much as the GTX 1050, and an increased CUDA core number of 896.
The Zotac GTX 1650 Low Profile processors have a boost clock speed of 1590MHz, but Zotac has slightly overclocked this unit to 1695MHz.
ZT-T16500F-10L Review Summary
The ZOTAC GTX 1650 Low Profile sports a compact form that makes it compatible with nearly 99 percent of the versions and is suitable for both budget users and HTPC users. Compared to the GeForce GTX 1050Ti, it has improved gaming efficiency and performance. Therefore, it is recommended by us if you are looking for a GPU in this category.
Positives
Solid performance
Handles most games at medium settings
Runs quietly
Compact form factor
Negatives
Not ideal for virtual reality
Only suitable if you need a smaller, more subtle graphics card
Check Price at Amazon
Zotac GTX 1650 Low Profile Technical Specifications
| | |
| --- | --- |
| GPU | Nvidia Turing TU117 |
| CUDA Cores | 896 |
| Video Memory | 4GB GDDR6 |
| Memory Bus | 128-bit |
| Engine Clock | 1590 MHz |
| PCI Express | 3.0 connections |
| Display Outputs | DisplayPort 1.4HDMI 2.0bDual-Link DVI-D |
| HDCP Support | Yes |
| Multi Display Capability | Triple Display |
| Recommended Power Supply | 300W |
| Power Consumption | 75W |
| Power Input | N/A |
| Cooling | Single Fan |
| Slot Size | Dual Slot |
| Supported OS | Windows 10/7 x64-bit |
| Card Length | 160mm x 111.15mm x 70mm/6.3in x 4.38in x 2.76in |

Zotac GTX 1650 Low Profile User Manual
Here is the user manual of the Zotac GTX 1650 Low Profile: (PDF)

Detailed Zotac GTX 650 Low Profile Review
A) Design
The Zotac GTX 1650 Low Profile design consists of a simple single-fan cooler with minimal rear video outputs: an HDMI port, a DisplayPort, and a DVI-D connector.
There is no Virtual-Link USB Type-C port for Virtual Reality headsets like you would with 20-series GPUs.
That simplicity has its advantages.
At 160mm in length, it is as small as GTX cards, and there are no 6- or 8-pin power connectors as none are required.
The GeForce GTX 1650 Low Profile can be fully powered from its PCI-Express x16 slot on the motherboard, which, combined with its small size, makes it potentially ideal for compact PCs where the case may or may not allow longer cards.

B) Performance
Not surprisingly, the GTX 1650 Low Profile outperforms the GTX 1050 in core performance. Still, it is also significantly faster than the GTX 1050 Ti in most tests.
The ultra-enabled setting averaged 101 fps (Frames Per Seconds), much more than the GTX 1050, which handled 74 fps, and the GTX 1060 Ti's 81 fps.
Also, it is a very cheap matchup against Radeon RX 560 from AMD, another budget graphics card that scored 75fps.
The GTX 1650 Low Profile also has improved performance at 2560 x 1660 – it stayed smooth in Dirt at this resolution and produced 76fps with the Ultra settings.
Graphics-demanding games will push this GPU to its limits. Metro – Last Light Redux hit a barely acceptable average of 31 fps at 1920 x 1080 with the "Very High" preset, and when increased to 2560 x 1660, it dropped to 17 fps.
However, it hits the 30fps mark at 1080p, which the RX 560, GTX 1050, and GTX 1050 Ti don't.

C) Features
Tomb Raider works well too, the built-in benchmark ends at 77 fps at 1920 x 1080p and 48 fps at 2560 x 1660p, both at Ultimate and FXAA quality settings, which smooth out the edges.
This is once again a total victory for the GTX 1650 Low Profile over its budget rivals; the GTX 1050 produced 55 fps as at 1080p, the RX 560 only 49 fps, and the GTX 1050 Ti 62 fps.
While we don't call it the perfect VR graphics card, it can handle most of today's games on medium settings.
This is according to the SteamVR performance test that gave it an average score of 5.4.
In terms of performance, the GTX 1650 sets the stage for what you would expect from an overtly low-end graphics card.
Due to its small dimensions, it fits in mini-ITX cases that even the smallest partner versions of the RX 570 cannot, and it is also much more efficient.
Despite its single fan, the GTX 1650 Low Profile also runs very coolly and quietly.
An ideal temperature of 30 degrees centigrade is acceptable. Still, the GTX 1650's charging temperature of 53 degrees centigrade is frankly excellent, only reaching 54 degrees centigrade.
It is much cooler than the RX 570, which generally hovered around 72 degrees centigrade.
The main reason to purchase a graphics card is performance, and for that alone, the RX 570 is definitely a better buy.

Pros of the Zotac GTX 1650 Low Profile
Compact size
Great for baseline gaming and editing.
It also works well even in stress tests.
Plays 4k videos quickly without scaling or tearing.
No electrical connection is required from the power source.

Cons of the Zotac GTX 1650 Low Profile
Benchmark results are below expectations for its price point.
Overclocking beyond the default settings did not bring any real benefit.

Models Similar to the Zotac GTX 1650 Low Profile
The GTX 1650's major competitor is the Radeon RX 570, an AMD Polaris-based card better than it on almost all fronts.
It delivers better performance, and there are 4GB and 8GB variants of this graphics card. Additionally, its GDDR5 memory uses an interface of 256-bit as against the 128-bit that were used for the GTX 1650.
The RX 570 is much better compared to the GTX 1650 others. But, of course, the RX 570 isn't without its faults either, as it consumes about twice as much power as the GTX 1650, which is because of the outdated Polaris 14nm architecture.
Still, most gamers will agree that the RX 570's performance and overall value make up for the added power consumption.

Frequently Asked Questions about the Zotac GTX 1650 Low Profile
Q: Is the Zotac GeForce GTX 1650 Low Profile good for gaming?
A: The Zotac GTX 1650 Low Profile doesn't deliver extreme frame rates that would make it a serious option for avid esports players (although it is certainly acceptable for casual gaming), and it's barely enough for serious gaming at 1080p.

Q: Which is the best GTX 1650 or GTX 1050?
A: Since the GTX 1650 is a direct successor to the GTX 1050, it makes sense from a specification point of view to compare the GTX 1650 with its big brother. Aside from the apparent differences between Turing and Pascal, there are modest performance gains between the GTX 1650 and GTX 1050, including higher boost and base clocks, 1 GB more GDDR5 video memory, and almost 45 Gb/s more storage performance in a larger bus (128 bit).

Q: Does the GTX 1650 Low Profile Support Super Raytracing?
A: Technically, the GTX 1650 Low Profile supports raytracing, thanks to Nvidia's expansion of the previously exclusive RTX feature in early 2019.This graphics card does not have the RT cores that offer hardware acceleration for super raytracing calculations. We have already seen that only the GTX 1080 Ti really has the overall processing power to deliver a passable ray tracing experience even without those RT cores, so don't expect to enjoy high-level ray tracing in games with this card.
You can switch it on to see what it looks like, but it will certainly not be playable no matter which game you choose. The advantage is that you can still use other Nvidia functions, such as the support of Reshade post-processing effects in Geforce Experience and the NULL improvement (Nvidia Ultra Low Latency) for competitive games.

Final Thoughts
The Zotac GTX 1650 Low Profile is generally an easy-to-use product. It doesn't need a power connection as it is powered by the PCI-e slot. Simply install the driver, and you achieve a decent 1920 x 1080 performance for fast multimedia playback. While this is a dying breed with smart televisions, it's actually a great HTPC graphics card.

Check Price at Amazon