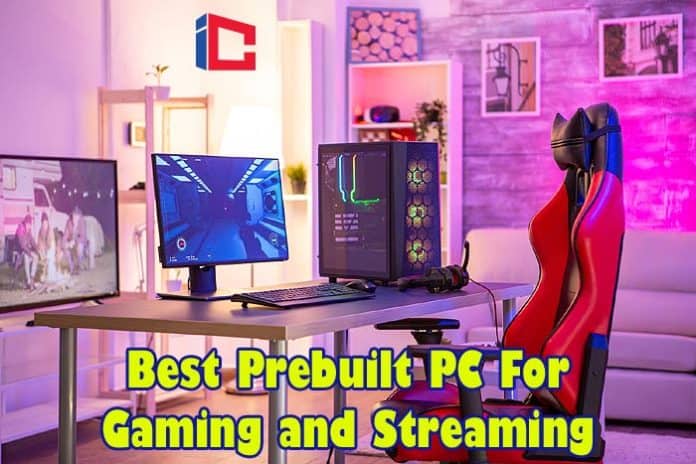 Almost like battle stations, the best PCs for gaming and streaming are equipped with the most powerful and modern components. A high-quality prebuilt PC for gaming and streaming offers an easy and quick alternative to building your prebuilt PC.
Best Prebuilt PC For Gaming And Streaming
Our Pick
The budget-friendly and expertly crafted entry-level Element MR 9320 Gaming PC from iBUYPOWER is our top pick. It shines for its attractive build quality, great selection of components, performance advantage, and plenty of ports.
We ♥ honesty! Info Cellar earns a commission through the following hand-picked links at no extra cost to you.
Building your platform can be very satisfying, but it takes confidence, patience, and time that not everybody can afford. Buying a prebuilt gaming PC bypasses the build stage entirely. Still, even with these prebuilt PCs, it's essential to know what you are looking for.
We have made it easy by reviewing a wide range of the best-prebuilt PCs for gaming and streaming that are worth your money and in stock.
Best Prebuilt PC For Gaming And Streaming – Comparison Table
Processor
Intel Core i5-9400F 6-Core
Intel Core i5-10400F 6-Core
Graphics Card
NVIDIA GeForce GTX 1660 6GB
NVIDIA GeForce GTX 1660 Super 6GB
NVIDIA GeForce GTX 1660 Ti 6GB

What are the Best PC Specifications For Gaming?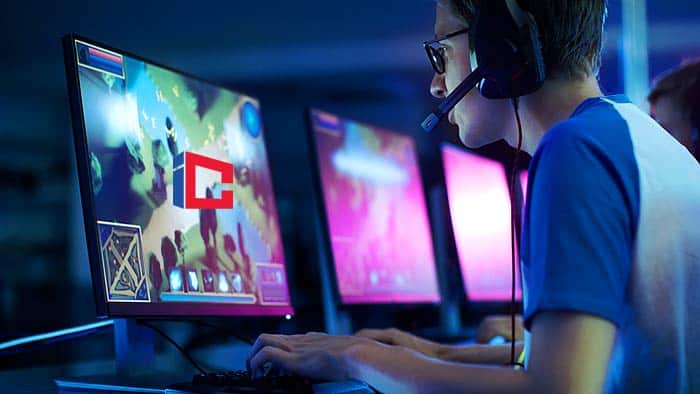 Finding the correct gaming machine specifications will depend on your situation – your budget, the type of games you like, whether you play on normal or maximum settings, and the aesthetics. Regardless of the components you choose, they should all work together to create a clear and smooth experience. Compatible components help you avoid lag and stuttering while optimizing your cooling strategy.
A) Processor/CPU
Most games need a multi-threaded workload, that is, a CPU with multiple cores. However, you don't require more than four (4) cores. If you are on a budget and don't run your games at maximum settings, two cores are fine. For full high definition, you require up to a 2.5 GHz CPU.

B) Motherboard
Socket types must be compatible between the CPU and motherboard. For RAM, the size, type, capacity, speed, and amount of RAM slots should work with the motherboard and rig you plan to use. Take note of the number of USB ports and expansion slots and ensure they meet your needs.
Suggested Reading:

C) RAM
Different types of RAM must meet the requirements of the gaming motherboard. Most high-end motherboards use DDR4 or DDR3.There may be limited amounts of memory that you can add depending on the number of RAM slots on the motherboard. Usually, 16GB is enough for gaming. However, if you are multitasking, running other virtual machines, or doing other intensive tasks, you may want to get at least 32GB.

D) Storage Drive (SSD/HDD)
You can choose an SSD drive or a traditional hard drive to store your data. If you choose a hard drive, you will need 7200 RPM and 8MB or 16MB of cache memory to play games. The interface, SATA, PATA, or ATA must match the installation on the motherboard. In general, 250GB to 500GB is a reasonable amount of memory for games.

E) Graphics/Video Card
Since graphics cards support in-game graphics, you will want something representing the graphics in the display settings you selected. Your graphics card should have a dedicated memory of between 2GB and 4GB and comfortably provide at least 30 to 60 fps (frames per second) to prevent a pronounced lag in frame rate. For Virtual Reality gaming, you need a 90fps graphics card to avoid frame rate stuttering caused by motion sickness. While it may work a bit lower depending on your monitor's size and the refresh rate, 4 gigabytes is the minimum for 1080 pixel displays.
Suggested Reading:

F) Power Supply Unit (PSU)
Don't neglect your power supply unit. A good power supply provides at least 3 various DC voltages for the numerous components. For most gaming PCs, you need at least 500W to get everything working. However, pay close attention to the component specifications. If you have chosen components with higher energy demands, do the math and ensure your power supply unit is adequate.
Suggested Reading:

G) Monitor
If you want to play in 4K, you need to pay extra attention to the monitor. Opt for the highest refresh rate you can find in your budget (at least 75Hz), as this is how many frames are displayed per second (75 Hz is 75 fps maximum). There is no point in paying for an expensive computer that can run 1080 pixels at 120 fps if your monitor doesn't display beyond 60 Hz.
Suggested Reading:

Is It Worth Buying a Prebuilt Gaming PC?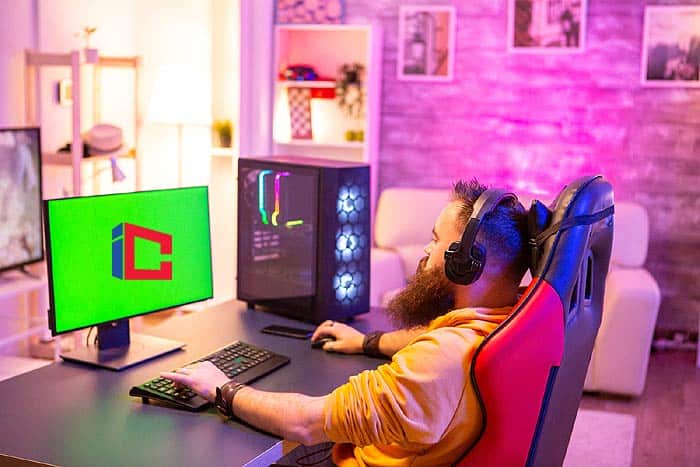 One primary factor that sets prebuilt PCs apart from the competition is design. The prebuilt systems use unique internal housing designs that you couldn't afford if you built them yourself. You can feel confident that these systems are designed and built specifically for your setup. However, this may make upgrading harder in the future.
Suggested Reading:

Is it Easy to Upgrade a Prebuilt PC Later on?
Of course, you'll do whatever it takes to upgrade your streaming and replace some of the components of your prebuilt PC for gaming.
Like it or not, the fact is that a prebuilt PC is hard to upgrade. The first thing to remember is that if you start updating your desktop and replacing some components, you will lose the one-year warranty that comes with every PC.
It's possible to upgrade the graphics card, RAM, and a faster SSD. However, some components may not all start correctly together.
Suggested Reading:

What are the Other Accessories Needed for Gaming/Streaming PC?
Ergonomic chairs
Oversized mouse pads
Gaming mouse
Microphone
Advanced Webcam
Mechanical keyboard
Capture card
Stream deck
Durable desk

What to Look for?
A. CPU
The CPU (central processing unit) determines how fast your computer can process data, execute commands, and run programs. This simply means the processor is the brain that makes your computer run at speed. The processor's speed is measured in GHz (gigahertz). The more GHz it has, the faster it gets. Often, processors have a "boost" function that allows you to increase the processor speed temporarily. This is different from overclocking, which involves manually changing the processor settings to run them faster than average speeds.

B. GPU
The GPU (graphics processing unit) is just as crucial in determining game performance as the processor. Essentially, a graphics processing unit converts data into a visual language that your monitor can display and turns lines of code into racing lightsabers, cities, cars, and other game elements. A powerful GPU offers smoother and sharper images.

C. RAM
The amount of RAM you have determines how much data your computer can load at one time. With that in mind, a good RAM amount is just as necessary to game performance as the processor itself. Budget for extra RAM if you are interested in multitasking, such as streaming and gaming simultaneously. The best prebuilt PC for gaming and streaming should have a RAM of at least 8 GB.

D) Storage
Storage is very easy compared to GPUs, CPUs, etc. This is the amount of "disk space" your computer has available to store data and programs. Of course, more storage is better, but you need to decide which type of storage is best for you. Hard drives (HDD) use rotating magnetic disks to store data, so they are very efficient. However, its moving parts result in slower write/ read speeds. Solid State Drives (SSDs) are similar to USB drives as they use no moving parts. SSDs are faster than hard drives but pricier.

E) Cooling
A prebuilt PC consumes a lot of energy, which generates heat. Therefore, cooling systems are essential not only to keep your PC running smoothly but to also reduce wear and tear with time. Some prebuilt PCs are air-cooled, and multiple fans circulate air to crucial components. Other units use liquid cooling systems or a combination of both.

F) Connectivity Ports
With no connectivity, your prebuilt PC is just a pricey paperweight. The connection to other devices is made through ports such as Ethernet, HDMI, USB, USB-C, and others. Monitors, mice, keyboards, and audio devices interact with your computer via a port. Check out how many ports are available when shopping for the best prebuilt PC for gaming.

Best Prebuilt PC for Gaming and Streaming
Here are the top 5 best prebuilt PC for gamers on the market today:
1. Skytech Shadow Gaming Desktop Computer Review
The SkyTech Shadow is an easy-to-use gaming rig equipped with an Intel Core i5 9400F 2.9GHz 6-core CPU and a 500GB SSD.
This prebuilt PC has a GTX 1660 Ti 8GB DDR4 graphics card, which can easily handle memory-intensive games.
Additionally, the Shadow GTX offers 8GB of DDR3 RAM with heat distribution technology and runs on Windows 10 Professional 64 BIT.
In terms of connectivity, this unit has an impressive 9 USB ports: 2 USB 3.0 ports and 7 USB 2.0 ports.
This best pre-built gaming PC is Wi-Fi enabled; all you have to do is connect it to your monitor, play the best games, or stream your favorite movies.
The SkyTech Shadow Gaming PC is powered by a 2.9GHz 6-core Intel Core i5 9400F processor. While these may not be the best processors, they still do the job very well.
Pros
Very affordable computer
Attractive and unique overall design.
Offers a decent gaming experience.
Comes with a free keyboard and mouse.
Check Price on Amazon

2. Cyberpower Gamer Xtreme Gaming PC Review
The Gamer Xtreme Gaming PC is powered by a robust 2.9 GHz Intel Core i5-10400 processor with 8GB of RAM and offers the perfect processing power to tackle heavy applications and play titles like Doom smoothly.
It pairs well with a built-in 6GB GeForce GTX 1660 Super graphics card that delivers brilliant full high-definition performance with regards to graphics.
This best pre built gaming PC is equipped with a 500GB PCI-E NVMe SSD that accelerates to 7200 RPM. And if that isn't enough to store all your titles, you can easily connect PCIe SSD or SATA to the M2 slot.
Like most of the best prebuilt PCs for gaming and streaming, the Gamer Xtreme platform has a total of 7 USB ports, including six 3.1 USB ports, plus DisplayPort and HDMI, so you'll never be short of connectivity options.
Furthermore, this unit also has a Gigabit RJ-45 connection and a WLAN adapter that supports the latest 802.11ac Wi-Fi standard.
Weighing in at a modest 28 pounds, the Cyberpower Gamer Xtreme Gaming PC is packed with high-end components like an AMD graphics card and a versatile motherboard, all seamlessly integrated with the stunning RBG-illuminated motherboard, allowing lighting to be evenly distributed throughout the case.
Pros
Fantastic performance for the money.
High FPS
Upgradable and spacious chassis.
Works great right out of the box.
Check Price on Amazon

3. iBUYPOWER Element MR 9320 Gaming PC Review
The iBUYPOWER Element MR 9320 Gaming PC is in a world of its own with its 2.9GHz Intel i7-10700F core processor, 8 GB DDR4 RAM, and a 1 TB hard drive.
This virtual reality-enabled gaming platform includes an NVIDIA Geforce GTX 1660 Ti 6GB graphics card and 16-color RGB lighting to keep you in-game mode.
The iBUYPOWER game platform can be connected to two monitors with its various display connections.
It also has multiple USB ports that can accommodate most peripheral devices. This prebuilt PC is not equipped with an optical drive card reader.
However, the package includes a gaming keyboard, wireless network adapter, and mouse.
This stylish and affordable PC offers smooth frame rates, an excellent choice for streaming and gaming so you can play titles in a high-definition resolution.
Pros
Excellent aesthetics
High performance
Onboard Wi-Fi
Good value for money.
Cons
Not suitable for 4K gaming.
Check Price on Amazon

4. MSI MSP Trident AS 10SC-1208US SFF Gaming Desktop Review
The MSI MSP Trident AS is a premium prebuilt PC for gaming and streaming.
The 10th generation Intel Core processor and options for an RTX 2060 Ti deliver incredible gaming and streaming performance in a compact design.
While the chassis is not a standard design, the Trident AS uses standardized parts, so you can continuously update and adjust it if you need new components.
This unit's case comes with 2 side panels – one made of aluminum and one made of tempered glass, so you can choose the type of appearance that you like best.
This combination of energy-saving and space-saving makes it an excellent option for most people who want a hobby PC but do not want to build it on their own.
Pros
Excellent gaming performance
Enhanced graphics
Silent storm cooling
Compact design
Check Price on Amazon

5. CLX Set Gaming PC AMD Ryzen 5 3600 Review
If you want great QHD performance and dedicated ray-tracing hardware, all in one sleek package with a stunning glass panel and bright RGB lighting, the CLX Set Gaming PC is a bargain.
With a Ryzen 5 3600, numerous processors for streaming and gaming, and a Geforce GTX 1660, this unit is a great prebuilt PC, all at a very competitive price.
Being in the middle of the GTX package, 1660 can easily handle today's group of games that offer ray tracing at 1440p of solid frame rates.
The game set also includes a fast SSD that you can use as a boot drive while keeping the 1TB hard drive for storage and games.
You won't find a prebuilt PC near this price tag for specs, so the CLX Set Gaming PC is an easy recommendation.
Pros
Excellent medium to high performance.
Sleek tempered glass design.
Ray tracing for less.
Check Price on Amazon

Top-Rated Prebuilt PC For Gaming And Streaming
Our Pick
Our pick for the best prebuilt PC for gaming and streaming is the iBUYPOWER Element MR 9320 Gaming PC.
It is a solid performer perfect for hardcore streamers and gamers alike, thanks to its Intel Core i7 processor optimally clocked at 2.9GHz.
This prebuilt PC features a well-designed and robust chassis that accommodates some top-level components that allow it to handle creativity and productivity at incredible excellence.
Choosing the best prebuilt PC is not only about buying the most expensive unit on the market. It is also about carefully examining the various components of the system and adapting them to your needs.
Now that you understand how to discover the right connectivity options, components, and case, put your knowledge to work and find the best prebuilt PC for gaming and streaming that is right for you.

Key References
"The PC Gaming System Requirements for 2020 Games – Intel". Accessed March 04, 2021. Link.
"Benefits of Buying a Prebuilt Gaming Computer | Velocity Micro Blog". Accessed March 04, 2021. Link.