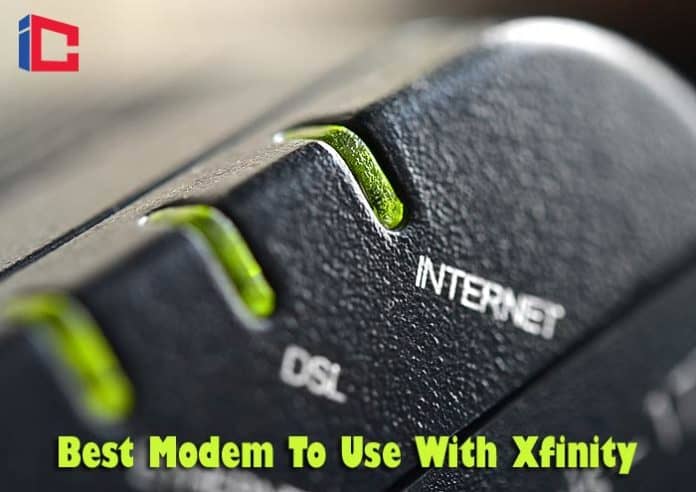 In the US, Comcast has the biggest market share for cable television and high-speed cable Internet services. Many of their subscribers would like to replace their Comcast/Xfinity modem or gateway with their device.
Best Modem To Use With Xfinity
Our Pick
NETGEAR is one of the most credible brands in the industry, so it's no surprise that the Netgear Nighthawk CM1150V Cable Modem is the best modem to use with Xfinity. This unit supports up to 2,000 Mbps download speeds, making it capable of handling the fastest internet speeds.
We ♥ honesty! Info Cellar earns a commission through the following hand-picked links at no extra cost to you.
While renting the sleek Xfinity xFi Gateway has its advantages, purchasing a Xfinity-compatible modem is ultimately the cheapest option.
In this guide, we will show you the best modem to use with Xfinity if you want to purchase your device and avoid the monthly costs.
Best Modems To Use With Xfinity – Comparison Table
Max Recommended Speed (Mbps)

What is Xfinity from Comcast?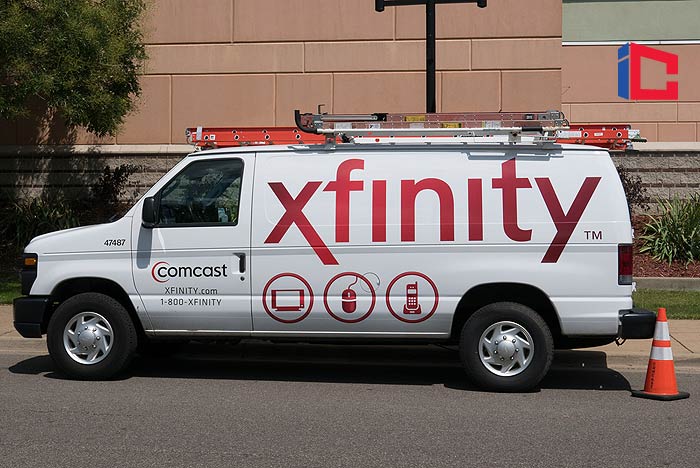 Comcast Xfinity has first introduced decades ago and has since grown to become one of the largest Internet Service Providers (ISPs) for many households in the United States.
Comcast Cable Communications, its parent company, offers Internet and cable services to millions of people.
When you choose this service provider, you can choose the type of data plan and speed that best suits your needs.
When you sign up for Xfinity, you have the option to rent a router or modem, which costs around $14 a month.
However, many subscribers have contested these fees and consider them unfair. Luckily, Comcast sets aside these fees when you buy or install your modem yourself.
Suggested Reading:

What is the Fastest Internet Speed for Xfinity?
Xfinity offers its subscribers' internet speeds of up to 2000 Mbps, but this speed is only available in select large cities. This outrageously pricey plan is much faster than what most households need. You are likely better when you stick to a plan that has speeds of 1000 Mbps or slower.

Should You Rent or Buy a Xfinity Modem?
As with anything in life, there are advantages and disadvantages of having your cable modem compared to renting it from your Internet service provider.
Benefits of Buying Your Own Router
You will have access to advanced features. Although the Xfinity modem does the job, more powerful features like MU-MIMO and beamforming on other modems often offer significantly better performance and range.
The internet connection speed can be faster. The wireless Xfinity router is fast enough for many. However, if you want more bandwidth for gaming or streaming, consider buying your own modem to get the most out of your connection performance.
You own the device. If you are using the router provided by Xfinity, you will need to return it once you cancel the service. By investing in your own router, you'll always get a great vendor-to-vendor experience.
Suggested Reading:

Cons of purchasing your own router
It might be costlier in advance. Depending on which modem you choose, the price you pay in advance may be higher than the price you pay for Xfinity devices during the contract period.
However, unless you have to invest in an expensive modem with all the convenience, purchasing your own modem is likely cheaper in the long term.
You are not receiving customer support for your modem. If you have problems using devices other than official Xfinity devices, Xfinity customer support may not be able to help you.
The likelihood of problems is relatively low as WiFi routers are quite reliable, but this is always something to keep in mind.
Suggested Reading:

How to Replace a Comcast Modem with your Own?
Comcast makes purchasing and installing your modem easy. They also have a web page that shows which devices are supported for what level of speed. You can enter your address and download speed to find out which devices are compatible with Xfinity on this page.
After receiving the compatible device you purchased, you must first disconnect the current device and then do the following (assuming you purchased a third-party approved combo device):
Plug the new device into the electrical outlet and connect the coaxial cable to the wall's device.
Turn on the device and wait for it to start up.
Check the device manual to make sure it has fully booted.
Connect to the new wireless network on your device (check the box or printed instructions to find the new WiFi password and name).
Open a new web browser on your smartphone or laptop and navigate to https://xfinity.com/activate.
To verify your Comcast Xfinity account and complete the activation process, follow the prompts (your new device may restart, or it may take a while to complete the registration process).
To verify connectivity, be sure to visit a few websites on the internet.
Suggested Reading:

How Can I Make my Xfinity Internet Faster?
If you're having trouble with slow internet, there are certain things you can do to improve the speed.
Start with some evaluation.
Conduct a speed test on your PC or phone.
You can just Google "speed test" or go to speedtest. net.
Find out how much you are paying.
Check your bill to see how much speed you should get.
Perform the speed test near the wireless router.
Check other public areas to find areas with weak WiFi connections.
Compare your speed test with the speed of your package.
If the speed test results show what you are paying for, but it is not enough, it may be time to upgrade the package.
Suggested Reading:

How do I Connect my Xfinity Modem?
If you want to connect your Xfinity modem to an xFi Gateway router/modem, follow these steps to configure it:
Step One: Download the Xfinity App from the Android Google Play or iOS App Store.
Step Two: Follow the app's step-by-step instructions to install your xFi Gateway router/modem and configure your Xfinity home wireless network.
Once the activation process is complete (your gateway can reboot), you can now enjoy WiFi at home using your Xfinity Internet service.

What to Look for?
A) DOCSIS Technology
The meaning of DOCSIS is "Data-over-Cable Service Interface Specification". This is the standard for sending a large amount of data at the same time over a coaxial cable. DOCSIS 3.1 is the latest version, which Xfinity has implemented in some cities. However, DOCSIS 3.0 is still popular.

B) Max Recommended Speed
Every internet tariff promises the fastest speeds you can access. When signing up with Xfinity, be sure to check how fast your plan comes in before buying a modem. If you don't have a powerful enough modem, you are not getting the full speed you are paying for.

C) Channel Bonding
Modem channels can be likened to lanes on a free highway. Just as more lanes can move more vehicles at the same time, more modem channels allow more data every second. This means a faster internet connection for you. In general, however, more channels cost more. So if you want to save money, try getting a modem with channels that will suit your plan's speed.

D) Range
When shopping for the best modem to use with Xfinity, make sure that your modem range is the size of your house. Most modern modems should easily cover an average-size home. However, if your home is unusually large, you will need to look for longer-range options or buy extenders. When a router's range is short, remote devices will receive weak signals.

Best Modem To Use With Xfinity
Here are the top 5 best modems ideal for Xfinity on the market today:
1. Netgear Nighthawk Cable Modem Review
If you are more concerned about internet speed and whether you can get this service on a purchased modem rather than renting it, this unit is the best option.
It has 3 integrated antennas, which means dual-band connectivity. It can deliver up to 600-1300 Mbps in the 2.4 GHz and 5.0 GHz bands.
The first thing you'll notice about the Nighthawk is that it sports a modern design. The black plastic housing gives it an elegant aesthetic.
With 2 USB ports, you can connect portable hard drives for storage or printers for printing over your wireless network.
Users have found that opening new websites is like turning the pages of a book with high-speed features.
This best modem router for Xfinity also offers excellent coverage that allows you to access the internet from every corner of your home.
The Netgear Nighthawk Cable Modem is a highly efficient one-stop solution for your internet needs, including a gigabit switch, a high-performance WiFi router, and a DOCSIS 3.1 cable modem – all in one device.
Pros
Fast internet speeds
Wider coverage area
Ideal for seamless online gaming, UHD, and 4K video streaming.
Comes with a wired gigabit switch and 2 USB ports.
4 active and reinforced external antennas for excellent WiFi coverage.
Check Price on Amazon

2. ARRIS SURFboard SB8200 DOCSIS 3.1 Cable Modem Review
The ARRIS Surfboard SB8200 is a popular choice among consumers searching for high performance and speed.
Thanks to a maximum connection speed of 686Mbps, users can stream high-definition videos and take their online games to another level as a gamer.
One unique feature of this unit is the LED indicators that flash green or blue depending on your network connection's performance.
Installation of this device is simple and does not require much effort. It comes with 3 ports for Ethernet connection, coaxial cable, and power connection.
This Surfboard SB8200 has the latest technology onboard – DOCSIS 3.1 over the cable interface, WiFi Wave 2 (802.11AC 2350 Mbps) support, 4x Gigabit cable connections, and support for Comcast Xfinity Gigabit service.
The wireless capabilities of this unit are pretty good too. It supports Wave 2 Wireless at AC2350 speed and is well suited for a mid-size home with moderate speed needs.
However, one design issue is the port configuration. The coaxial and power connections are too close to each other, making it virtually impossible to access them without being disturbed by the other.
Still, the ARRIS SURFboard SB8200 DOCSIS 3.1 Cable Modem is a reliable modem to use with Xfinity.
Pros
Cheaper than competing options on the market.
Supports modern wireless network standards such as Wave 2 (Beamforming and MU-MIMO).
Supports Gigabit wired Internet plans and DOCSIS 3.1.
Cons
The coaxial and power connections are too close to each other.
Check Price on Amazon

3. MOTOROLA MB8611 DOCSIS 3.1 Cable Modem Review
From a design perspective, the Motorola MB8611 is stylish. Thanks to the high-quality gray plastic surface, the modem stays in place.
Beyond that, the elegant black design details go well with the gray exterior bodywork.
Instead of the many neon lights found on many modems, this unit comes with an LED panel that provides performance information.
This best modem router combo is perfect for Xfinity Extreme Pro and offers room for speed expansion. The manufacturer recommends the MB8611 for service speeds of up to 650 Mbps.
This modem has a built-in dual-band WiFi router with a firewall and power boost function. This feature boosts the wireless signal for more excellent coverage around the house.
Many users raved about the active queue management mechanism that allows the router to prioritize packets.
Consequently, you find that this modem provides a high-speed Internet connection with faster-loading websites and more responsive video streaming and online gaming.
Another outstanding feature is the full-band capture tech that is suitable for areas with weak signals or rural areas.
Overall, the MOTOROLA MB8611 DOCSIS 3.1 Cable Modem offers a more stable and reliable connection with users reporting better performance on their network.
The design allows you to minimize storage space and improve cooling, extending the life of the product.
Pros
Excellent WiFi coverage
Four Gigabit Ethernet ports.
Increases signal range and speed with higher performance.
Reliable and secure connection.
High-speed download and browsing speed.
Cons
A bit on the expensive side.
Check Price on Amazon

4. ARRIS Surfboard SBV3202 DOCSIS 3.0 Cable Modem Review
The ARRIS Surfboard SBV3202 is a remote access router for Xfinity customers who wish to own their equipment.
With DOCSIS 3.0 technology, this unit offers high-speed connection services over 8 channels and 32 transmission channels to increase bandwidth.
This best cable modem router combo is equipped with 2 audio connections for VOIP services.
Furthermore, you can use the backup battery to provide emergency service in a household power failure event.
With DOCSIS 3.0 tech, this device uses the connected reception and transmission channels to offer higher bandwidth to deliver high-speed data services.
Utilizing multiprocessor technology to achieve high-performance bandwidth without sacrificing high-quality, the ARRIS Surfboard SBV3202 DOCSIS 3.0 Cable Modem is the historic product benchmark for ARRIS with the best service.
Pros
Perfect for Xfinity plans of up to 600 Mbps.
2 telephony ports
32 x 8 modem channels.
Easy to set up.
Check Price on Amazon

5. NETGEAR CM1000 Cable Modem Review
When speaking about high-speed broadband cable modems, you will most certainly mention the Netgear CM1000 Cable Modem.
This is a spectacular, high-powered design from Netgear to connect your devices to high-speed internet.
However, it has many other additional benefits. Unlike other traditional cable modems, it's highly compatible with the new DOCSIS 3.1 technology.
The technology offers 32 downstream channels and 8 upstream channels for the DOCSIS 3.0 connection.
Additionally, it offers 2 downstream and upstream OFDMA channels, which are best for DOCSIS 3.1 connection, so users can enjoy high-speed connections.
In today's digital world, almost everything works between PCs and the Internet connection.
Advances in technology have made it more convenient. We no longer have to wait hours for an image or single page to load to access our information stored in the cloud.
Pros
High compatibility
Elegant design
Easy to install and use.
Practical and reliable connection.
Check Price on Amazon

Top-Rated Modem To Use With Xfinity
Our Pick
Our pick for the best modem to use with Xfinity is the Netgear Nighthawk CM1150V Cable Modem.
With download speeds of up to 2,000 Mbps, this unit offers a fast connection that meets the needs of a home full of streamers.
With additional security features like parental controls and a long WiFi range of 1,500 square feet, this workhorse has a lot to offer with one device.
Many modems/routers are compatible with the Comcast Xfinity subscription. While our list doesn't include all modems, the options on this list are some of the top choices that are affordable, fast, and offer impressive performance.
Additionally, they're all easy to set up and use. We hope this list will help you decide which type of modem is best for you and your home.
Key References
"Device Info – Xfinity". Accessed February 16, 2021. Link.
"What is DOCSIS (Data Over Cable Service Interface Specifications)? – Definition from WhatIs.com". Accessed February 16, 2021. Link.