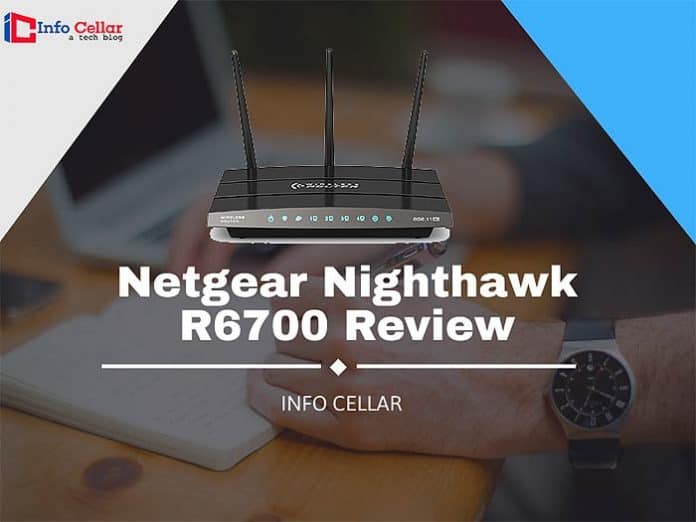 Netgear R6700 Review: The Netgear Nighthawk R6700 is a dual-band 802.11ac router that promises faster speeds than we've seen so far with triple-stream routers. Technically, the R6700 uses the AC1750 protocol and gives you 1750Mbps dual-band wireless speeds on both bands.
The 2.4 GHz (450 MB/s) frequency band can handle intensive tasks like surfing the Internet, while the 5 GHz (1300 MB/s) frequency band is perfect for more intensive tasks such as gaming or streaming.
We ♥ honesty! Info Cellar earns a commission through the following hand-picked links at no extra cost to you.
It uses Beamforming technology, responsible for enhanced signal focus and improved wireless range, leading to faster connections to your devices. Combined with a powerful 1 GHz dual-core processor (CPU), a USB 3.0 port for fast hard drive access, and three (3) detachable antennas, the Netgear R6700 is an extremely powerful home network kit.
In today's guide, we look at the Netgear Nighthawk R6700 Dual-Band Wi-Fi Router and believe it offers the same value for money and reliability as other routers we've reviewed before.
Netgear R6700 Review Summary
The Netgear R6700 does not disappoint with features like all previous Netgear products. While this is a bit more expensive than the competition (you can also purchase a router/cable modem combo for the same price or even less), the promised performance is reason enough to choose it over other intelligent Wi-Fi routers.
Positives
Strong NAS storage performance
Good range
Nice design
Great 802.11ac speeds
Negatives
The software could be better.
Check Price at Amazon
Netgear R6700 Nighthawk AC1750 Technical Specifications
| | |
| --- | --- |
| Wi-Fi Technology | 802.11ac Dual Band Gigabit |
| Number of Bands | Dual (2.4GHz & 5GHz) |
| Processor | Dual-core 1GHz processor |
| Memory | 128 MB flash and 256 MB RAM |
| IPv6 Compatible | Yes |
| Antenna | 3 |
| Speed Up to | 450+1300Mbps |
| Chipset | Broadcom |
| USB Ports | 1 USB 3.0 port |
| Ethernet Ports | 1 WAN & 4 LAN |
| Weight | 1.58 lbs. |

Netgear R6700 Nighthawk AC1750 Manual
Here is the Netgear R6700 user manual guide: (PDF).

Detailed Netgear R6700 Review
A) Design
The Netgear Nighthawk R6700 is like the original Nighthawk model, with an identical color profile and case design.
Like its bigger brother, the Netgear Nighthawk R7000, the R6700 is durable. It features a broad base with rubber feet that keep it away from any surface.
All Netgear routers are wall mountable, so you need not worry if your desk space is limited. Netgear uses identical internal and external hardware in the R6700 and the R7000.
The only difference is that the R7000 has 2 USB ports (1 USB 2.0 port and 1 USB 3.0 port) while the R6700 has only one USB 3.0 port. It's also worth noting that the R6700 uses longer, faster antennas with Beamforming + extend signal coverage, increases signal range, and reduces dead center for larger homes.
The R6700 antennas are removable and adjustable. It's better than the antennas on most AC1750 routers, which are only adjustable but not interchangeable. While the latter cuts costs, it becomes expensive if one of the antennas fails and needs to be replaced.
There are several LEDs on the front to transmit the router status information to the user.
Primarily, having a large number of lights seems overkill, particularly with numerous LED lights blinking on and off. However, they can be turned off, especially if you want this unit to sit in a corner quietly.
Inside, the 1 GHz CPU is the same as most Nighthawk series routers, except for the Nighthawk X4, which utilizes a 1.4 GHz CPU. The router still uses 128 MB Flash and 256 MB of RAM like its predecessors.
Furthermore, Netgear's Genie application offers a simple way to monitor and manage the router without using your computer. You can use the App to stream and share music and even configure parental controls on the fly.
Suggested Reading:

B) Setup Process
Setting up the Netgear Nighthawk R6700 Wi-Fi Router is easy.
First, you have to remove the antenna caps from the antenna masts. Then place the antennas on the masts.
Next, position the antennas for excellent Wi-Fi performance. You must position the central antenna vertically. The other two antennas should point outward at a 45° angle.
Then you need to turn off the modem. Remove the battery if you have a backup battery.
The next step is to plug in your modem and replace the battery. Next, you need to turn on the router.
The Wi-Fi router is connected and ready to use when you see the light change from amber to white.
Now you can connect to your laptop or PC. You can use either an Ethernet or a Wi-Fi connection.
For the Wi-Fi connection, you will need to enter the username and password printed on the product.
Connect to the router and launch a browser to work in the Genie application. Use the application to set up the router according to your needs.
Suggested Reading:

C) Connectivity
The hardware design and structure of the Netgear R6700 are based on the high-speed 1 GHz processor supported by 256 MB of RAM and 128 MB of flash memory.
The processor supplies the 5 GHz and 2.4 GHz high-frequency bands.
The 128MB of flash memory increases the router's file transfer protocol and enhances download and upload speeds.
The router hardware is also compatible with Netgear's Genie app. This allows the user to easily monitor and manage the wireless router without using the computer.

D) Network Performance
The Netgear Nighthawk R6700 offers excellent storage performance. The router tested over a USB 3.0 connection performed well in the NTFS and FAT32 formats, better than many routers in a similar category.
For example, it offered impressive speeds in NTFS formats: 59.1 Mbps Read and 38.5 Mbps Write; and almost the same results for FAT 32 files: 59.8 Mbps Read and 36.9 Mbps Write.
In comparison, the TP-Link Archer C8 delivered roughly the same results for the same set of files: NTFS formats: 25.3 Mbps Read and 16.8 Mbps Write; FAT 32 -37.2 Mbps Read and 23.9 Mbps Write.
Even so, the R6700 outperforms its closest competitors with little effort.
The next test focuses on the 5 GHz throughput speed between the router and a laptop with an Intel AC-7265 adapter.
Amazingly, Netgear R6700 performed better than many dual-band Wi-Fi routers at 3 and 8 meters away.
At a distance of 3 meters, the R6700 router delivered the highest throughput speed (524 Mbps), better than the TP-Link Archer C8 (479 Mbps), which landed in second place.
The same feat was repeated at 8 meters away, with the R6700 managing to outperform its competitors on both distances.
Overall, the Netgear Nighthawk R6700 can deliver top-notch Wi-Fi speeds over the 802.11ac protocol and is an ideal example of the tremendous improvements made over previous models.
It's not only affordable but also the performance range is much better. While 802.11ac was a cutting-edge technology almost a year ago, it has now matured with good performance improvements. This means that there are routers on the market right now that cost roughly the same price but deliver better features.

Pros of Netgear Nighthawk R6700 Router
Very easy to configure.
It has a 1 GHz dual-core processor with good 256MB RAM and 128MB of flash storage.
It offers simultaneous dual-band Wi-Fi up to 1750 Mbps and excellent 802.11ac speeds.
Impressive stability and range thanks to its Beamforming + technology.
Extensive use of LED lights to aid in troubleshooting and diagnosis.
You can connect up to 12 devices at the same time.
Includes 1 USB 3.0 port and 5 Gigabit Ethernet ports for wired devices

Cons of Netgear Nighthawk R6700 Router
The wireless connection can often fail.
Has unsatisfactory bitrate speeds in the 2 GHz band.

Routers Similar to Netgear Nighthawk R6700
Both the TP-Link Archer C7 and NETGEAR R6700 Nighthawk share some popular features such as guest networks, parental controls, and the capacity to use personalize firmware like OpenWRT (with the TP-Link Archer C7) and DD-WRT (with the Netgear Nighthawk R6700).
When it comes to indoor hardware-based performance, the R6700 will outperform the Archer C7.
The former has a 1GHz dual-core processor and 128MB of flash memory, as well as 256MB of RAM, compared to Archer's 720MHz single-core processor, 128MB of RAM, and 16MB of flash memory, and provide additional benefits for high-quality QoS functions where gaming and video streaming take precedence.
In terms of performance, the two can theoretically reach combined throughput speeds of 1750MB/s on 2.4GHz and 5.0GHz bands, making them just as fast on paper.
The Archer C7 can have a total of six antennas (three indoors and three outdoors) for impressive range.
However, Nighthawk has Beamforming capabilities that can be used to route a strong Wi-Fi signal outside of your home.
With an identical theoretical throughput speed and extensive range, each of these routers can handle standard home WLAN traffic.
If all you want is something you can configure and forget and don't need the additional features, the Archer C7 is less expensive and should be up to the task.
However, if you want additional performance in QoS prioritization for video streaming and gaming, along with Beamforming, VPN support, and a fast USB-A 3.0 port, investing in the NETGEAR Nighthawk R6700 is well worth it.

Frequently Asked Questions About Netgear Nighthawk R6700
Q: What is the difference between Netgear R6400 and R6700?
A: The Netgear R6700 has a more powerful processor than the R6400, while the R6700 has 1 GHz, the latter has an 800 MHz model. Although the Netgear R6700 only has one USB port, unlike the R6400, it has four LAN ports to give you adequate fast speeds for intensive activities.

Q: What is the best setting for the Netgear router for performance?
A: The maximum transmission unit (MTU) is the largest single data packet transmitted by your Netgear router. Netgear states that while "Adjust MTU settings" is a popular recommendation to improve speed and performance, it is generally best to leave it at factory settings.

Q: Is the AC1750 fast enough?
A: AC1750 routers are ideal for users searching for a fast and reliable wireless connection on a budget. In our tests, the AC1750 routers showed a powerful 5 GHz signal, but their 2.4 GHz signal struggled to achieve consistent speeds.

Final Thoughts
The Netgear R6700 is undoubtedly fast and worth considering if you are looking for a router that offers the fastest performance in its class without spending too much money.
The 1 GHz dual-core processor with 128 MB of flash memory and 256 MB of RAM is fast enough to process the data stream.
Since it's a dual-band wireless router, it also supports 5 GHz and 2.4 GHz wireless networks – up to 400 MB/s for the 2.4 GHz band and up to 1300 MB/s for the 5 GHz band.
Netgear also ensures that both bands enjoy greater coverage and a reliable Internet connection.
The device also has other Netgear benefits that further enhance the user experience. Yes, it could be better, but it works fine.
Overall, we highly recommend purchasing the Netgear R6700 if you already have a modem. Otherwise, you can save a lot of money by purchasing cable/modem combinations.
Check Price at Amazon
Key References
"What is "Beamforming" on a Wireless Router?". Accessed May 19, 2021. Link.