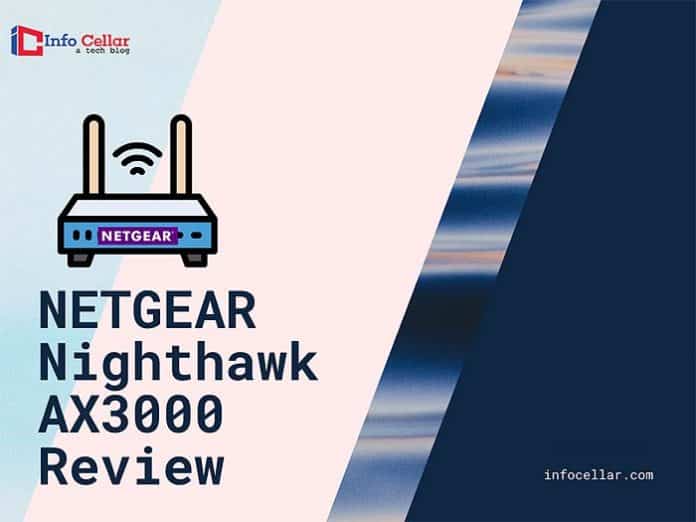 Nighthawk AX3000 Review: There wouldn't be many people who had never heard of Netgear's Nighthawk routers. Nighthawk routers have set some standards in the industry that other brands could never match.
We ♥ honesty! Info Cellar earns a commission through the following hand-picked links at no extra cost to you.
You might think it's a premium brand, and if you do, you are right. But most people also think that the price will be high too. This is where they are cheating you, as the Nighthawk range is not targeting your bank balance in any way. Of course, several Netgear routers are highly rated and expensive, but that doesn't mean you can't try them out at lower prices.
This review guide will review the Netgear AX3000 and share our own experiences with you. If anyone is searching for an inexpensive option, they can make a smart decision by choosing the Nighthawk AX3000 router because it has the potential and grunt to meet all of your expectations.
Netgear Nighthawk AX3000 Review Summary
There is hardly any other router on the market that offers features like the Netgear Nighthawk AX3000 for this price. The 1, 500 square meter coverage of the 2 powerful reinforced antennas is suitable for every small to medium-sized house or office. Thanks to the latest 4-stream Wi-Fi 6 support and the support of additional technologies such as Beamforming and MU-MIMO, you can enjoy any 3 GB/s speed with no interruption.
Positives
Future-proof
Can handle dozens of devices in modern connected homes
A responsive web user interface, useful mobile app
Wall-mountable
Negatives
Need AX devices to take advantage
Mobile app requires a login account with a vendor
Bulky
Check Price at Amazon
Netgear Nighthawk Technical Specifications
| | |
| --- | --- |
| Wi-Fi Technology | Wi-Fi 6 802.11ax |
| Number of Bands | Dual-band (600Mbps at 2.4GHz and 2.4Gbps at 5GHz) |
| Coverage | Up to 1500 sq. ft. |
| Antennas | 2 |
| Speed | Up to 3Gbps |
| Wireless Encryption | Supports WPA2 & WPA3 wireless security protocols |
| USB Ports | 1 x USB 3.0 Port |
| Ethernet Ports | 5 Gigabit ports (1 x WAN & 4 x LAN) |
| Weight | 1.36 Pounds |

Netgear AX3000 Manual PDF
Here is the manual for the Netgear Nighthawk AX3000 router: (PDF).

Detailed Nighthawk AX3000 Review
A) Design
Based on Netgear's existing line of Nighthawk gaming routers, the Nighthawk AX3000 features an angular and sleek design that looks a bit like a Battlestar Galactica Cylon ship.
There are 5 Gigabit Ethernet ports on the back of the router. However, the Nighthawk AX3000 does not have a modem to access the Internet. Therefore, one of these Ethernet ports must be connected to your existing broadband modem or router.
The other 4 ports can be used to make wired connections to devices such as a smart TV, game consoles, or computers. There is also a USB 3.0 port that you can use to connect a hard drive or printer, which you can then share with others on your home network.
Our only complaint about the router's design is that the two large antennas seem quite weak. So, safely place them on a large shelf, away from curious pets or young hands.
These are all standard features, but 802.11ax adds additional features that are not available with existing 802.11ac options.
There is an endless stream of technical jargon and acronyms to read here, but the OFDMA (Orthogonal frequency-division multiple access) is a vital feature of 802.11ax, which transmits data to numerous devices simultaneously and goes beyond the limited MU -MIMO function used in 802.11ac routers.
Another critical feature of 802.11ax is (TWT) Target Wake Time, which can save battery power for devices like surveillance cameras that need a permanent wireless connection.
The problem is that whenever a new standard emerges, few client devices (phones, tablets, laptops, gadgets) are compatible with it. However, these additional features will become increasingly important in the future as the IoT (Internet of Things) evolves.
To take advantage of or benefit from these additional features, you need a router and a Wi-Fi device that supports 802.11ax. Until then, they will remain unused on the Nighthawk AX3000.
Suggested Reading:

B) Setup Process
Setting up the AX3000 router is very simple as the Nighthawk app for Android and iOS will ask you to connect your tablet or smartphone to the new network and enter the password using the label on the router (and change the password in the application later for extra security).
However, the application is quite simple. It includes a few simple options; for example, you can configure a guest network or disable internet access for individual devices to capture children's attention during dinner.
There is also a helpful option to connect a hard drive to the router's USB port so that you can back up essential files from your PC or Mac. That said, we would like the main Nighthawk app to provide a little more assistance to entry-level users when handling these advanced features.

C) Network Performance
The Nighthawk AX3000 is designed to provide a 4-stream Wi-Fi network. This results from mixing a 600 + 2400 MB/s configuration for blazing-fast Wi-Fi. And that, in addition to the four Gigabit Ethernet LAN ports on the back, which can also offer impressive wired peripherals with uninterrupted connections.
If you are not familiar with Router Technology Mumbo Jumbo, which means users can get 600 MB/s of connectivity on the 2.4 GHz band and 2400 MB/s on the 5GHz band.
The 2.4 GHz band can bounce from one room to another, while the AX3000's 5GHz band essentially requires a line of sight.
The Nighthawk AX3000 has been designed with a fairly powerful Intel 1.8 GHz 64-bit quad-core processor (CPU) to achieve higher network performance. With such a powerful processor, you can transfer gigabits of your data with virtually no CPU load.
Only when you connect more than a dozen and a half devices, the processor is exposed to a specific load. Beyond that, the AX3000 was designed with 512MB of RAM and 256MB of Flash memory.
You find that there is support for 160 MHz and 1024 QAM channels to dramatically improve the efficiency level of your network.
OFDMA technology enables more efficient data transmission and extends the benefits of the network to a total of 16 devices simultaneously.
Suggested Reading:

D) Security Concerns
If you switch from one Nighthawk router to another, you find that the security support is virtually identical.
Almost all Netgear routers, even the cheapest ones, offer exceptional security support. This includes things like parental privacy settings, auto firmware updates, and the capability to create guest networks.
Only when you step into the weeds will you notice actual differences between the security of the Nighthawk AX3000 and the security features of similar devices.
For example, the AX3000 provides routine support for VPN. Still, it does not provide the robust support you would expect from a corporate router explicitly designed for creating private LANs.
Suggested Reading:

Pros of Netgear Nighthawk AX3000 Router
Features the latest in Wi-Fi 6 technology.
Excellent entry-level router for Gigabit plan subscribers.
Multiple ethernet ports
Double band coverage
Supports the WPA3 security protocol.
The dual-core processor works great.
Supports voice control from Amazon's Alexa.

Cons of Netgear Nighthawk AX3000 Router
Not ideal for large spaces.
Comes with just a single USB port.

Routers Similar to Netgear AX3000
The Netgear AX3000, Asus RT-AX3000, and TP-Link AX50 are pretty similar. Although these are similar, they are very different. These routers are quite similar in terms of specifications.
These are all 2×2 dual-band Wi-Fi 6 routers that support the venerable channel width of 160 MHz.
They all also have a complete web interface with similar settings and features. They have the typical four-Gigabit LAN ports, a Gigabit WAN port, and a USB 3.2 Gen 1 port on the hardware side.
There are a few differences between these routers. The Netgear AX3000 is the best in terms of design, but it is also the bulkier one.
The Asus RT-AX3000 and TP-Link AX50 are much more compact, with the former being the lightest and smallest.
The Asus performed the best of all three in our tests and is the most feature-rich. Again, these are quite similar routers. Each of them can manage a small house with sub-gigabit Internet.
However, if you want the best performance and most features, including efficient QoS, Asus is your best option.
As a more expensive model among the three, it has more to offer as well, enough to justify the additional cost. However, the TP-Link is cheaper and has a remarkable parental control feature.
So, if you are a parent and would like to watch over your children, this is a slightly better option than Nighthawk AX3000.

FAQs on Netgear Nighthawk AX3000 Router
Q: How do I reset my Netgear Nighthawk AX3000?
A: You can reset your Netgear Nighthawk AX3000 by using the Reset button:
Make sure the power light of your router is on.
On the backside of the router, find the Reset button.
Use a paper clip or similar object to hold down the reset button for up to 30 seconds.
Release the reset button.
Your router will reboot.
To reset the router using the router's web interface:
Launch a browser from a mobile device or computer connected to the router's network.
Go to www.routerlogin.net.
A login window will appear.
Enter the username and password of the router administrator.
The dashboard is shown.
Choose Settings > Administration > Backup Settings.
Click the Delete button.
Choose yes.
Your router will reboot.

Q: Where is the WPS button on my Nighthawk AX3000?
A: Usually, the WPS button is on the back of the Nighthawk router. If you have a third-party router, the button is usually on the back of the router.

Q: Can I use Netgear Nighthawk with Xfinity?
A: Yes, the Netgear Nighthawk is compatible with Xfinity since you already have a modem or are willing to purchase one. When you use the AX3000 with Xfinity, you can enjoy the full speed of your wireless connection anywhere.

Final Thoughts
There is hardly any other router on the market that offers features like the Netgear Nighthawk AX3000 for this price. The 1,500 square foot coverage provided by the 2 powerful and rugged antennas is suitable for any small to medium-sized home or office.
With the latest 4-stream Wi-Fi 6 support and support for different technologies like Beamforming and MU-MIMO, you can easily enjoy any of those 3GB/s speeds with no interruption.
Check Price at Amazon
Key References
"Why is OFDMA One of the Most Important Features in 802.11ax?". Accessed May 22, 2021. Link.
"How do I perform a factory reset on my Nighthawk Pro Gaming router? | Answer | NETGEAR Support". Accessed May 22, 2021. Link.