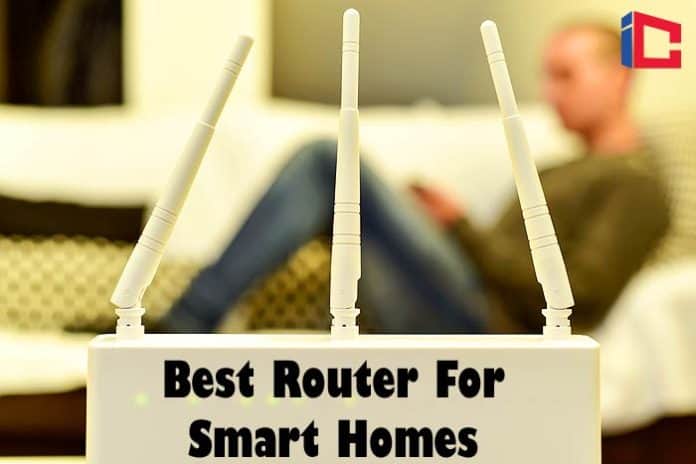 Best Router For Smart Homes: Smart homes would not be very smart without a wireless network in your home. A wireless network is vital for you to interact with your smart home automation devices on the go. If you're familiar with the digital lifestyle, you likely already have a wireless system in your home.
Best Router For Smart Homes
Our Pick
The Linksys AX4200 is a great router that offers blazing fast speed, 8, 100 ft sq coverage, 120+ devices to connect and a friendly user interface, making it our top pick.
We ♥ honesty! Info Cellar earns a commission through the following hand-picked links at no extra cost to you.
Your ISP may have provided you with a Wi-Fi router that you can use for their service. In this case, the router will most likely work well with your smart home devices. So you should stick to it. However, if you want to upgrade your Wi-Fi system or buy the first one, you should check out some of the best routers for smart homes.
Best Smart Home Routers – Comparison Table

How Do Routers Work for Smart Homes?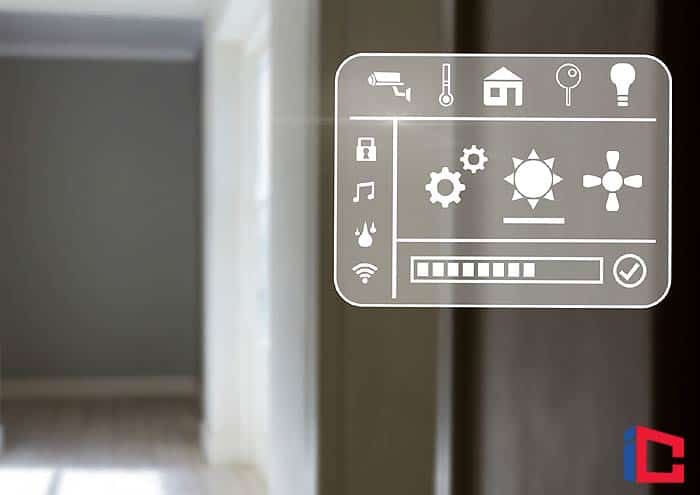 Smart home wireless routers can be connected to multiple devices at the same time to complete the smart home setup.
The unique thing about these smart devices is that they can be controlled through voice assistants like Alexa or the smartphone app.
Most smart Wi-Fi routers come with advanced technology capable of solving network speed issues.
Without restarting the device several times a day, you get a faster fiber-optic connection to power your devices.
Suggested Reading:

What is the Ideal Location To Put the Wi-Fi Router in the House?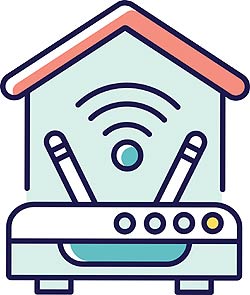 If you live in a one-bedroom apartment, the location probably is not a big deal.
However, in most homes, where you place your router can significantly impact the performance of your wireless network.
Router manufacturers are aware of this. This is one reason some offer aesthetically pleasing designs that take up less space and don't have bristled external antennas.
If the router is not ugly, there is a higher likelihood it will not be kept in an A/V cabinet, closet, or corner of the basement.
Generally, we recommend choosing the center of your home (the center floor and as close to the center of the floor plan as possible) to maximize wireless network coverage and performance with the Wi-Fi router of your choice.
And place it in the open rather than hiding it out of sight.
Suggested Reading:

Can Wireless Router Cover a 3 Floor Building?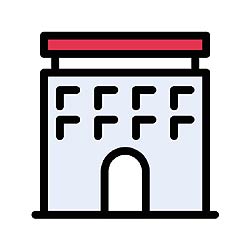 It is guaranteed that no stand-alone wireless router provides coverage with an acceptable signal level on all 3 floors of a building. However, there are ways to enhance your coverage.
If you are aware of the linear distances between the rooms in your building but not the materials between them, you can use cables in combination with a router to avoid most of the inherent signal attenuation.
The first approach is to network multiple wireless access points using Ethernet cables for the link, then convert the media (Ethernet to Wi-Fi) and use RSSI transfer level calculations to send the client devices with the strongest signal to the access point.
Suggested Reading:

What to Look for?
The best router for smart homes is not just any router that provides you with a network. You need a wireless router that will probably support all of your devices and offer a stable connection. Smart home routers have several features that make them perfect for conversations. Check out the following features when shopping for the best router for smart homes.
A) MU-MIMO Technology
When purchasing a smart home router, consider purchasing one with a technology known as MU-MIMO. MU-MIMO stands for Multiple Input, Multiple Output. The technology helps the wireless router to process and resolve a large amount of traffic. Routers with this technology can serve many devices at high speed. Most routers reviewed in this guide have this technology and can therefore handle any smart home device.

B) Combined or Separate Modem Router
A modem is a device that connects the wireless router to the Internet. It can be installed or purchased separately. When you buy a router with a built-in modem, it's easy to set up, so you can start using it right away. However, getting a router-modem combo has its drawbacks, including the need to replace all the equipment if it fails.

C) Integrated CPU power
A processor plays a vital role in maintaining the speed of the Internet. The CPU determines the speed at which your router processes information. The CPU regulates the speed of the router measured in Gigahertz (GHz). If you buy a smart home router with a powerful processor, you will get faster speeds.

D) Compatibility
Your smart home router must be compatible with various technologies and devices. The best router for smart homes should allow you to connect to both wireless and wired devices. The presence of ports on the router determines compatibility. Also, you should check the number of devices and users that the smart router can support.
Suggested Reading:

Best Router for Smart Homes Reviews
Here are the top 6 best routers for smart homes in the market today:
1. NETGEAR Orbi Whole Home Wi-Fi Router Review
The NETGEAR Orbi Whole Home Tri-Bend Mesh Wi-Fi comes with the AX4200 Wi-Fi 6, which runs at 4.2 Gbps for playing games, streaming HD video, and browsing websites.
If you are a streamer or gamer, this unit makes connectivity and buffering relatively more straightforward for you to handle.
You will not find any problem when connecting devices of different brands like Samsung, Apple, and many more.
There is a separate band between the modem and the satellite to initiate networking and connectivity.
In the two remaining bands, the lanes are open for the remaining smart home devices' maximum speed.
This smart home router allows you to connect your existing Internet using the cable provided by your internet service provider.
Once connected, users can manage the connected devices through the Orbi app to easily adjust the optimal settings.
Pros
Wired Ethernet ports
Advanced and secure MU-MIMO technology.
WAP2 security
Check Price on Amazon

2. NETGEAR Nighthawk Smart Wi-Fi Router Review
Looking for a router for smart homes with the best tech features to help you navigate faster? The NETGEAR Nighthawk Smart Wi-Fi Router is the ideal option for you.
Enjoy great gaming and browsing with channels that receive and send data at the same time.
This smart router has 6 antennas that send signals to all angles of your house.
You will enjoy using the Internet within a 3500 square foot radius. With a triple band of 600 + 1300 Mbps in the field, the speed is pretty fast.
Additionally, the router speed significantly increases with the 1 GHz dual-core CPU, smart, dynamic QoS connection, and Amazon Alexa, which offers voice commands.
You can connect USB peripheral devices through 2 USB 3.0 ports.
The Ethernet port allows you to connect various devices to the router, including gaming tools, streaming players, and computers.
This best wireless router for home supports up to 50 devices and works well when 35 devices are connected. You don't have to worry about cybersecurity for all users, including kids.
This smart router has top-notch Netgear armor with multiple security capabilities to protect your network.
Controlling your kids' activities on this router is very convenient. You can view your filter websites, limit internet usage, pause a device, and browsing history.
This best wifi router for multiple devices is relatively easy to set a schedule for these tasks on the NETGEAR Nighthawk Smart Wi-Fi Router.
Pros
Excellent technology properties including range, speed, and number of connected devices.
Ease of use
Tri-band connection
Guaranteed security
Compatible with various devices.
Cons
Netgear customer support isn't the best.
Check Price on Amazon

3. TP-Link AX1800 Dual-Band Smart Router Review
The TP-Link AX1800 Dual-Band Smart Router is a high-speed router with the latest Wi-Fi standards and an integrated ADSL modem.
With its 4 antennas providing the best stable and fast support, it can be easily connected to your smart home devices. This router for smart homes is an excellent option for places with multiple devices.
If you have multiple people in your house with multiple devices, they will not complain. It provides stable streaming support to your devices at a sustained speed of 2800Mbps.
Also, it is compatible with MU-MIMO technology. The DSL modem router supports ADSL, ADSL1, ADSL2, and VDSL2.
This TP-Link router comes with 2 Ethernet ports and a USB 3.0 that connect the router to multiple devices simultaneously.
It features a 1 GHz dual-core processor with 2 fast processors that deliver peak performance without delay for outstanding performance.
Not only do the CPUs improve data transfer speed, but it also increases multitasking. Due to the number of features, are you afraid of the initial setup process? No problem.
You can quickly set up this router with a mobile phone and a free login app. The TP-Link AX1800 Dual-Band Smart Router allows you to customize the settings perfectly to your needs.
Also, you can create parental controls and a guest network to facilitate network maintenance.
Pros
Data sharing within systems is quick and easy.
Detachable antennas
Integrated modem
Multi-MIMO technology
Guest network and parental controls.
Cons
Frequent setting adjustments may be necessary.
Check Price on Amazon

4. Linksys MR8300 Mesh Wi-Fi Router Review
If you are looking for the best router for smart homes that offer seamless entertainment, the Linksys MR8300 Mesh Wi-Fi Router is a top choice.
With a wireless coverage of 2000 square meters, you'll enjoy high-speed streaming and gaming in all corners of your home.
Beyond that, it comes with excellent 4K HD streaming and Tri-band connections, making it ideal for playing games and watching live broadcasts.
This smart house router has 4 antennas which ensure that the wireless signal can reach a more excellent range.
It supports more than 20 smart home devices without latency. Integration into the mesh system gives you greater reach.
The tri-band connection ensures that users can enjoy the fastest speeds of about 2.2 Gbps + 400 Mbps + 867 Mbps. Due to this high speed, the router is a wonderful choice for HD viewing and streaming.
The router also supports configurations through the Linksys app, which allows you to control the Wi-Fi router from anywhere.
Setting up the speakerphone isn't a complicated process either. You can still use an existing modem to configure the router.
Bluetooth iOS and Android devices simplify and speed up the setup process.
Pros
High speeds
Easy to set up and control.
Connects many devices
5 Ethernet ports
Works with existing modems.
Cons
Latency when many devices are connected.
Check Price on Amazon
Suggested Reading:

5. Linksys AX4200 Smart Mesh Router Review
The Linksys AX4200 Smart Mesh Router is a high-speed multi-MIMO router that provides a smart connection with Alexa.
By automating your home, the router offers the best possible service. This unit has 3 antennas with a more comprehensive wireless connections range.
This best wifi router for long range has a speed of 600 + 1300 Mbps that is maintained with all connected devices. The Beamforming technology increases wireless coverage and makes transmission more efficient.
MU-MIMO tech helps this unit to deliver 3 simultaneous streams, which makes the router's performance remarkable.
Also, the smart interconnect technology directs users to uncrowded bands, reducing latency.
From a security standpoint, the router offers excellent protection against cyber-crime and parental controls.
Furthermore, it has WPA3 and VPN that make browsing safer. Also, you can choose what your children want to do with the Internet and offer your guests a Wi-Fi connection.
Setting up the router and controlling its activities is also very easy. Use a TP-Link connection app to configure and manage your Wi-Fi network.
The router works with Alexa perfectly, so you can use voice commands.
Pros
Easy to install and use.
Beamforming technology
Alexa voice control
MU-MIMO technology
Parental control
Cons
Low speed on several devices.
Check Price on Amazon

6. ECPN Wi-Fi 6 Router AX1800 Wireless Wi-Fi Router Review
Thanks to its 1.5GHz quad-core CPU, the ECPN Wi-Fi 6 Router AX1800 Wireless Router can be connected to multiple devices with high stability.
Additionally, this gigabit wireless router can reduce latency and unstable performance significantly when processing-intensive tasks.
By employing the most advanced MU-MIMO and OFDMA technology, this unit achieves much more efficient channel allocation, allowing data from multiple devices to be transmitted simultaneously, significantly reducing congestion.
The AX1800 Smart Wi-Fi Router uses beamforming technology to achieve strong, reliable, and comprehensive signal coverage.
Plus, 4 independent high-performance FEMs and 4 high-gain antennas help focus a more robust signal on your devices, even if they are far away.
It supports 128-bit WLAN encryption, IPv6, and WPA3 protocols. This wireless router significantly increases the security of your network.
With a large ​​ventilation hole area, the ECPN Wi-Fi 6 Router AX1800 Wireless Router can effectively handle heat dissipation.
Pros
Powerful processor
Offers a stable connection to multiple devices.
Supports Wi-Fi 6
Wide signal coverage
Cons
The router's exterior cover can be more durable.

Top-Rated Router For Smart Homes
Our Pick
Our pick for the best router for smart homes is the Linksys AX4200 Smart Mesh Router.
This smart home router employs the latest connectivity technology to cover large areas (8,100 sq ft), making it a solid performer.
This blazing speed router allows 120+ devices to benefit from higher speeds on the Wi-Fi network, resulting in improved capacity to handle several smart home devices.
If you are a streamer or gamer, you should be familiar with buffers and lags. On the other hand, as an everyday surfer, you must have observed the dead spots in your home.
So, with the best router for smart homes, users can connect over 30 devices and cover 3000-5000 square feet, causing no signal loss.

Key References
"What is MU-MIMO and why you need it in your wireless routers | Network World". Accessed February 22, 2021. Link.