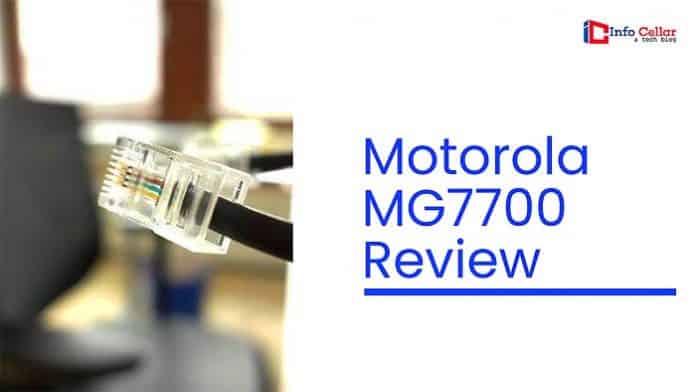 Motorola MG7700 Review: Many factors can contribute to poor home internet service performance, but one of the main factors is the equipment used. Most Internet Service Providers (ISPs) rent a modem to residential customers, but these are usually slower or less reliable entry-level models. Not only can buying your modem (or/and router) help you provide the type of internet connection you want, it usually leads to long-term savings as well.
We ♥ honesty! Info Cellar earns a commission through the following hand-picked links at no extra cost to you.
Although there are many modem manufacturers, Motorola is a long-established brand, and this familiar name makes it very attractive. The Motorola MG7700 supports Internet speeds of up to 600 MB/s. With its 4-Gigabit Ethernet ports, you can directly connect your devices for a faster connection while supporting beamforming and dual-band Wi-Fi. If this all sounds like gibberish, do not worry!
All you have to know is that this router/modem combination packs many modern features into a sleek package to maximize internet reliability and speed.
Motorola MG7700 Review Summary
When it comes to cable modems, Motorola is one of the most trusted names in the industry, and the MG7700 combines its rugged 24×8-channel DOCSIS 3.0 cable modem technology with an AC1900 dual-band Wi-Fi router, offering you great value in internet access in a discreet little package.
Positives
Extended wireless range
Strong performance
Beamforming technology for more reliable Wi-Fi
Built-in support for Xfinity Voice
Simple security management
Unobtrusive design
Negatives
Approved for use only with Xfinity and Cox internet systems.
Not the most attractive device
Check Price at Amazon
Motorola MG7700 Technical Specifications
| | |
| --- | --- |
| Channel Bonding | 24×8 DOCSIS 3.0 AC1900 |
| Number of Bands | Dual (2.4GHz & 5GHz) |
| Compatibility | Comcast Xfinity, Charter spectrum, and Cox |
| Firewall | Yes |
| IPv6 Compatible | Yes |
| Number of Antenna | 3 Internal |
| Speed Up to | 1900 MB/s |
| Chipset | Broadcom |
| Phone Ports | 2x XFINITY Voice compatible |
| Ethernet Ports | 4x Gigabit (GigE) |
| Weight | 1.5 lbs. |

Motorola MG7700 Manual
Here is the specification manual for Motorola MG7700.(Link).
Motorola MG7700 Detailed Review
A) Design
The Motorola MG7700 is available in black color, rectangular shape, and vertical design. It's 8.6 x 2.6 x 9 inches in size, making it a bit large, but its vertical design allows it to easily fit in most spaces.
In addition, the vertical design improves heat dissipation and actively reduces overheating.
It has a cable modem with a built-in router that reduces the clutter of cables around your desk. There are 7 LED indicators on the front, which show the router's status and the cable modem.
If you're streaming content wirelessly and using linked channels, you'll notice five green and two blue lights.

B) Setup Process
The back of the Motorola MG7700 is color-coded to make setting up your cable modem and router easier.
The four Gigabit Ethernet LAN connections are hard-coded yellow, the red area contains the reset and WPS buttons.
You need to press the WPS button if you want your smart devices to connect to your cable modem/router without entering a password each time you want to use the Internet.
The blue section is where the coaxial cable that sends data to the modem is, and at the bottom is the power inlet and a power switch. The MG7700 is also incredibly easy to set up and use with Comcast XFINITY, Cox, and Charter spectrum.
It offers a quick start that allows you to get your account up and running in minutes with minimal effort. You can also add an optional backup battery module to ensure your phone service stays on in the event of a power failure.

C) Connectivity
The Motorola MG7700 24 × 8 Cable Router/Modem Combo is an AC1900 Wi-Fi model.
This means that it supports both 2.4 GHz and 5 GHz WLAN with a maximum combined throughput of up to 1900 MB/s.
The 2.4GHz Wi-Fi can support up to 600 MB/s, and 5GHz Wi-Fi can reach up to 1300 MB/s. Beamforming technology can expand your Wi-Fi coverage, minimize unnecessary radio frequency interference and dead spots, and provide a stable Wi-Fi connection for HD video and voice.
The Motorola MG7700 router enhances this technology with its AnyBeam beamforming technology. As earlier stated, 2.4 GHz is relatively slower than the 5GHz band but has broader coverage.
AnyBeam enhances both of the disadvantages of these bands. For 2.4 GHz, it's a faster Wi-Fi connection while maintaining more excellent coverage. For 5 GHz, it maintains its Wi-Fi speed while offering much greater coverage than previously possible.

Suggested Reading:

D) Network Performance
The MG7700 has 8 upstream channels with a download speed of up to 246 MB/s and 24 downstream channels with a download speed of up to 1, 000 MB/s.
It is equipped with a full-band digital tuner that changes the channels with less traffic while focusing the signal through them to ensure you have a reliable and fast network connection.
The built-in Wi-Fi router is a 3×3 gigabit dual-band router that provides your connected devices with maximum speeds of up to 1900 MB/s. Its Gigabit Ethernet ports also allow for fast wired connections to your smartphones, computers, game consoles, and other devices.
Beamforming technology gives you a solid and stable connection as the Wi-Fi signal is focused directly on your connected devices. Power Boost technology increases the Wi-Fi signal on your network to the legal limits in the United States.
The Power Boost and Beamforming technologies work together to expand the speed and range of your network connection.
Suggested Reading:

E) Internet Security
The Motorola MG7700 Modem/Router is equipped with a Broadcom chipset that protects your network against DDOS (distributed denial of service) attacks.
DDOS attacks are those designed to shut down your network, making it inaccessible.
With the WPS feature, you can connect devices to your network securely and efficiently. This means that you have a secure network with the Motorola MG7700 Modem/Router.

Pros of the Motorola MG7700
Supports Internet plans up to 650 Mbps.
It uses a Broadcom chipset known for its reliability and stability.
The built-in router offers shared high-speed internet access for smartphones.
Power Boost technology amplifies the Wi-Fi signal for higher connection speeds.
Reduces cables and power supplies and offers a single user interface.
Extended Wi-Fi range with AnyBeam beamforming technology.

Cons of the Motorola MG7700
The MG7700 only supports a select list of internet service providers.
Coaxial cable routing limits placement options.
Not suitable for large houses.

Motorola MG7700 Vs. Motorola MT7711
The MG7700 and MT7711 are excellent Motorola modem/routers that not only feature the same design but have similar download and Wi-Fi speeds as well.
However, you will notice subtle differences that make each one unique. The Motorola MG7700 is compatible with most service providers, including Comcast Xfinity, Spectrum, Cox, and many more.
Conversely, the Motorola MT7711 only works with Comcast Xfinity. This is because it's a dedicated modem/router that can work with just one ISP, limiting its use with other ISPs.
The Motorola MG7700 Modem/Router is a more versatile option because it works with most major internet service providers.

FAQs about Motorola MG7700
Q: Can I Connect my Television to the Motorola MG7700 Modem?
A: Yes, as long as it's a combination of a modem and a router. If it is just a modem, then you need to connect the television to the router connected to your modem.

Q: Is the Motorola MG7700 Difficult to Set Up?
A: Not really, although some people employ a professional to install the devices. In most cases, your devices can automatically access the modem/router, making setup easy. However, if you want to control every aspect of the modem's connectivity and functionality, you can configure the advanced settings via the software that comes with the modem.

Q: Is the Motorola MG7700 Modem Universally Compatible?
A: No, it isn't. The Motorola MG7700 has been designed to work with most ISPs, but not all. You may have to consult your manual to better understand this.

Q: Does my Motorola MG7700 Modem/Router Come with a Backup Battery?
A: No, it doesn't. Unfortunately, the Motorola MG7700 Modem/Router has a phone adapter. Therefore, no backup battery is needed. Nevertheless, in the event of a power failure, you have the option of using a UPS power supply unit. This is a great way to keep your internet connection going.

Final Thoughts
The Motorola MG7700 Modem/Router is designed with advanced technology to reduce Wi-Fi interference and give you a smooth, reliable, and fast network connection for all connected devices.
Furthermore, it offers high throughput speeds for all of your broadband activities. It is an inexpensive option and is installed in the form of a cable modem and router in a closed structure.

Check Price at Amazon
Key References
"Beamforming explained: How it makes wireless communication faster | Network World". Accessed May 11, 2021. Link.