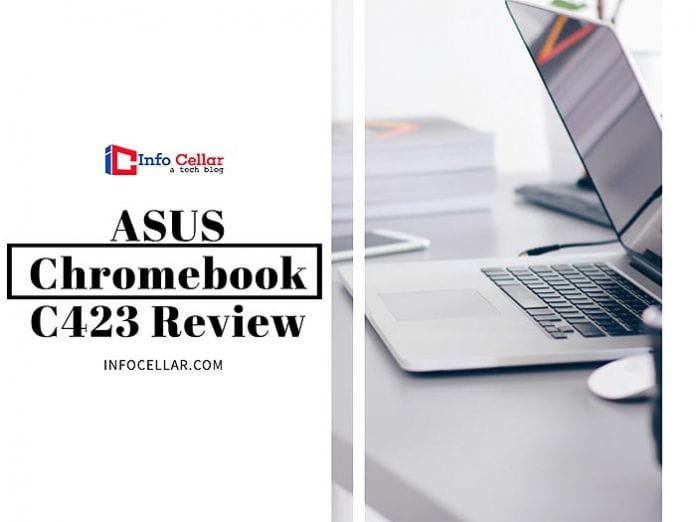 ASUS Chromebook C423 Review: While the low-priced Chromebooks get all the sales and the premium models get all the attention, the mid-range Chromebooks often offer the best value for money. Take the Asus Chromebook C423.It feels and looks like a perfect facsimile of a high-end laptop with a Pentium N4200 CPU and a 14-inch Full HD screen.
Thanks to the large Full HD touchscreen and processor, this is undoubtedly a step up from your entry-level Chromebooks. It also has 32GB of storage and more RAM, so you can have more freedom to multitask and go crazy with your browser tabs or install apps.
We ♥ honesty! Info Cellar earns a commission through the following hand-picked links at no extra cost to you.
No Chrome Operating System device will be as versatile or flexible as a traditional Windows laptop, but this device offers more than most. And it still has all the benefits of a Chromebook, including a barely noticeable boot time and hassle-free updates and security.
This guide will review the Asus Chromebook C423 and take a closer look at its features, functions, and downsides.
ASUS Chromebook C423 Review Summary
The ASUS Chromebook C423 has a 14-inch NanoEdge display with slim bezels for a screen-to-body ratio of 78%. Thanks to the 180 ° hinge, you can lay it flat to share screen content with others more easily. It is equipped with a 1.1 GHz dual-core Intel Celeron N3350 processor, 4GB RAM, and 32GB storage.
Positives
Awesome, modern design
Great build quality
Decent I/O
Cheap and affordable
Negatives
Subpar performance
Mediocre keyboard
720p display
ASUS Chromebook C423 Technical Specifications
| | |
| --- | --- |
| CPU | Intel Celeron N3350 |
| Display | 14-inch 1366 x 768 (720p) Display |
| RAM | 4 GB |
| Storage | 32GB eMMC |
| Battery | 2-cell 38 Wh |
| Camera | 720p HD Camera |
| Ports | 2x USB-C, 2x USB-A, 3.5 mm Headphone Jack, MicroSD Card Slot |
| Weight | 2.6 pounds |

ASUS Chromebook C423 Manual
Here is the user manual for ASUS Chromebook C423 (Link)
Detailed ASUS Chromebook C423 Review
A) Design and Hardware
Asus designed and built the C423 very well. With plastic housing, it looks better than it really is. We were thrilled with the robustness of this device.
The main body of this unit has a slight flex except for the center of the lower case and the back of the cover. We loved the choice of ports with 2 USB Type-C, 2 USB Type-A, a 3.5mm jack, and MicroSD. All sides of this unit are assigned a C and an A, which is ideal for using peripherals.
Overall, we like the feel and look of this Chromebook – It is pretty light, so it is good to use it in class, at home, etc. The corners are so slightly rounded that it doesn't unnecessarily pressure the wrists.
The lack of a noticeable squeak leaves the impression that this laptop was built with more attention to detail and care than any Acer Chromebook we have ever used.
Suggested Reading:

B) Keyboard and Touchpad
As with any low-cost Chromebook, there are lots of shortcuts made to help keep its price down. While the touchpad and keyboard aren't the most dazzling we have seen, they suffer a bit for the price tag.
We found the keyboard is perfect for quick typing, like answering emails, composing tweets, and researching whatever topic you're obsessed with on any given day. However, we find it uncomfortable with more extended typing.
The buttons are spongy and squishy and require little force to press. Also, it is a bit louder than what we are used to hearing on a laptop keyboard.
There is nothing special about the plastic touchpad, although it gets the job done. It is reasonably smooth, which means your finger should not catch on it when trying to position the cursor.
Also, it is an excellent compromise between a huge Macbook-style island and a small laptop (as you'll likely find on other budget laptops).

C) Display
After the performance, which we will get into next, the display is one of the weakest points of the C423. It is, in a word, disappointing.
The colors are muted, lacking consistency and pop from different angles. With that in mind, the viewing angles are not particularly good as everything in front of you is noticeably darkened.
Watching media isn't a pleasant experience as well.

D) Battery Life and Performance
One of the best features of the C423 is its 10-hour battery life. That's quite normal for Chromebooks, but it's always worth noting that a laptop lasts that long.
Ten hours was fine in our tests, but your mileage depends on what you are doing, how bright the screen is, and the likes.
The C423 has a dual-core Intel Celeron 3350 CPU with 4GB of internal memory. So, the Chromebook is an underperformer, but we were all expecting this at this price, right?
You can open 3 to 4 tabs, including YouTube or other graphics-intensive websites.
However, if you open more than 5 tabs open, your device's performance may deteriorate.
The performance of this processor can't go that far before the Chromebook stops responding.
However, you can also play games on the C423 by installing apps from the Google Play Store. Again, this is short-lived when you open 3 to 4 apps along with 4 to 5 Chrome tabs.
This does not mean that the device is unusable. The C423 get their fair share of online computing and internet surfing but expect nothing away from its capabilities.
If you are a student with topics to research and tasks to complete, 4GB of RAM will cover most of your needs.
The same goes for office use. This Chromebook is easy to use if your work isn't about extensive multitasking and heavy applications.
Rest assured, if you don't push the C423 too hard, owning it can be a pleasant experience.
With the help of the cloud, there is good storage space and enough RAM to ensure that basic tasks and work run smoothly.

Pros of the ASUS Chromebook C423
There is a good variety of connectors on the C423 as each side has a USB-A and a USB-C, and there is even a microSD slot.
It's a reasonably priced laptop.
Overall, the design is modern, especially for a budget-friendly Chromebook.
The C423 not only looks good, but it also feels well built. There is a bit of flex at the bottom of the case and on the back of the lid, which is not uncommon.

Cons of the ASUS Chromebook C423
The viewing angles are not spectacular, and the media view is poor.
The keyboard is fine for some quick email or social media posting, but the soft, cozy keys aren't comfortable for long periods of typing.

Models Similar to ASUS Chromebook C423
The Asus C423 and C223 Chromebooks use the Intel Celeron N3350 processor and have USB Type-C connectivity, a MicroSD slot, dual-band Wi-Fi, 4GB of storage, and 32GB of internal eMMC storage.
While the Chromebook C223 is lighter and cheaper, the ASUS Chromebook C423 has a bigger screen and more SSD storage. Also, the 11.6-inch C223 is among the thinnest Chromebooks out there, but it lacks a touchscreen option.

FAQs about ASUS Chromebook C423
Q: Does ASUS C423 Chromebook Have a Google Play Store?
A: The ASUS Chromebook C423 not only features the best of Google, but it also gives full access to the Google Play Store so users can use all of their favorite Android play, work, or creative apps. Thanks to the smooth cloud integration, users can access everything from any device easily.

Q: Does the Asus Chromebook C423 have Bluetooth?
A: The Asus Chromebook C423 is Bluetooth enabled and can be used to connect to a wide variety of Bluetooth devices. These compatible Bluetooth devices include keyboards, headphones, mice, and even printers. A C423 user can simply connect one through a Bluetooth connection or wired USB.

Q: Is Asus Chromebook C423 Touch Screen?
A: Yes, the Asus Chromebook C423 has a touch screen. The C423 has the option to turn the touchscreen on and off. If you accidentally change this setting, the touchscreen will not work until you turn it on again. Press Search + Shift + t to toggle the Chromebook's touchscreen switch on.

Q: What's the difference between a Chromebook and a laptop?
A: A Chromebook is an affordable alternative to a MacBook or Windows laptop. Chromebooks run on Google's Chrome operating system. This means that macOS and Windows programs will not work on Chromebooks. Laptops can make fair use of cloud services and storage, and Chromebooks have more external ports but (usually) fewer. The significant difference is always that Chromebooks run the Chrome operating system.

Final Thoughts
The ASUS Chromebook C423 is nothing out of the ordinary, but it is a great all-rounder at a reasonable price. It comes with enough storage and memory for most users and can run Android Applications as well.
The NanoEdge technology means users will get a 14-inch display in a small compact unit. The Type-C ports offer excellent future-proof connectivity.