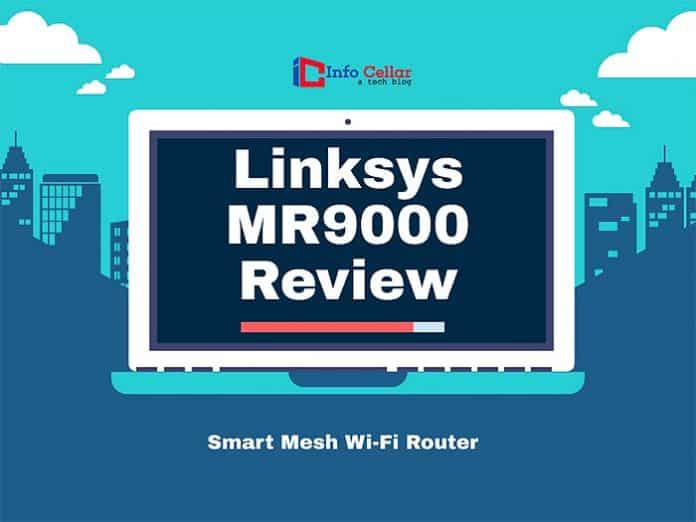 Linksys MR9000 Review: Meshing is the norm for Wi-Fi routers these days, as the likelihood of extending the Wi-Fi network more evenly throughout the home across multiple nodes is undoubtedly a boon for many modern homes. After all, every member of the family has at least one internet-enabled device. Companies like Google, TP-Link, and ASUS have done admirably well, delivering powerful yet compact mesh Wi-Fi routers that get the job done for average consumers.
We ♥ honesty! Info Cellar earns a commission through the following hand-picked links at no extra cost to you.
This time, let's move on to the Linksys MR9000 Mesh Wi-Fi Router. It offers a dual approach to wireless connections at home or in the office. While its primary function is to provide a stable and solid connection to gaming devices such as smartphones, laptops, and consoles. It is also versatile as a mesh router. It can extend your network coverage simply by connecting to other mesh network systems like Velop and other MR series routers.
Linksys MR9000 Mesh Wi-Fi Router Review Summary
Linksys MR9000 Mesh Wi-Fi Router is solid for several reasons. However, the major attraction in our eyes is the easy accessibility and immense bandwidth, which makes it ideal not only for gaming but also for versatile use. With tri-band wireless speeds of up to 3000Mbps, it delivers the fastest and most reliable speed of any open-source router today.
Positives
MU-MIMO capable
Very fast 5GHz throughput speeds
Speedy file transfer performance
Easy to install
Contains Velop mesh technology
Negatives
Subpar long-range performance
Sluggish 2.4GHz throughput speed
High price point
Check Price at Amazon
Linksys MR9000 Technical Specifications
| | |
| --- | --- |
| Wi-Fi Technology | 802.11a/b/g/n/ac Tri-Band Gigabit |
| Number of Bands | Tri-Band 2.4 GHz (1 band) / 5 GHz (2 bands) |
| Memory | RAM: 512MB; Flash: 256MB |
| IPv6 Compatible | Yes |
| Antennas | 4 |
| Speed | Up to 3000 MB/s |
| Wireless encryption | WPA, WPA2, WPA3-Personal |
| USB Ports | 1 USB 3.0 Port |
| Ethernet Ports | 1 WAN Port, 4 LAN Ports |
| Weight | 2.51 pounds |

Linksys MR9000 Manual
Here is the manual for Linksys MR9000.

Linksys MR9000 Detailed Review
A) Design
The Linksys MR9000 Mesh Wi-Fi Router stays true to the familiar all-black design of its predecessors.
At 7.28 x 10.24 x 7.48 inches and 2.51 pounds, it is pretty large, and the 4-inch antennas provide additional height, although each antenna is detachable and adjustable.
Several LED status indicators are on the front, while the buttons and I/O are on the back.
The Linksys MR9000 covers all the connectivity basics for us, and we like the streamlined design of the LEDs on the front.

B) Setup Process
The basic setup of the Linksys MR9000 router is as simple as any other model from Linksys.
However, if you are shopping for an advanced router, you are probably not looking for a basic one. Even then, you can keep using the included 4-step guide and get things operational quickly.
Like all routers from Linksys, the MR9000 can be configured in your preferred web browser using the Linksys setup wizard at http://LinksysSmartWiFi.com.

C) Connectivity
The Linksys MR9000 is an MU-MIMO, tri-band Wi-Fi router that supports up to three (3) different types of Wi-Fi speeds, including 5GHz/1733 MB/s, 2.4GHz/867 MB/s, and 5GHz/867MB/s.
It uses the latest 802.11ac network standards and is powered by a 1.8 GHz dual-core processor.
The 5GHz band and the 2.4GHz band work independently, so the Wi-Fi router can simultaneously reach speeds of 867MB/s at 2.4GHz and a whopping 1733 MB/s on the 5GHz band.
The MU-MIMO (Multi-User Multiple Input Multiple Output) functions mean that the router can efficiently process bandwidth in private homes with devices of different speed levels.
Basically, it is as if each device has its router, as they will connect at the fastest speed and transfer data at the same time instead of one at a time. This means that you can have multiple devices in the house, and each can connect at its highest speed.
Also, the Linksys MR9000 has 4 wired Gigabit Ethernet ports that can be used to directly connect devices such as your smart TV or game console. The USB 2.0/eSata and USB 3.0 ports allow users to connect external memory devices and share items like your video collection over your network.
The Linksys MR9000 definitely covered all the connectivity basics we needed.

D) Network Performance
We tested the network's performance against a Comcast Business plan using the 5 feet/30 feet technique for the 5GHz and 2.4GHz bands.
The Linksys MR9000 performed exceptionally well on the 5 GHz band, and it still averaged 565 MB/s at 5 feet but dropped to 235 MB/s at 30 feet. The 2.4 GHz band did not perform very well. We only got 75 MB/s at 5 feet and only 57 MB/s at 20 feet.
For home use, the Linksys MR9000 router performs quite well and has a total coverage area of ​​3000 square feet. In addition, there is no loss of signal strength in the rooms that are furthest away from the router's location.
Another great advantage of this router, in addition to its more excellent coverage, is the number of devices that are connected at the same time. This tri-band router supports up to 25 connections at the same time and manages the speed distribution between them alone.
Also, you want to know that they can allocate higher bandwidth and prioritize up to three devices.
The MR9000 supports the Velop Mesh Wi-Fi Notes from Linksys for extended coverage. Simply buy a Velop Node (optional) to further reduce dead zones and access the Internet without manually switching between various networks.
The Linksys MR9000 will also be ready to transmit 160 MHz channel widths as compatible clients become available. For now, we are only considering it upgradeable, as there aren't many compatible devices out there.
Overall, the router has excellent performance, good coverage, and it was more than we needed. The 2.4 GHz bands weren't excellent, but we think the 5.4 GHz bands more than make up for it.
Suggested Reading:

E) Software
Linksys has always been at the forefront of advanced settings and configuration. The current version of the control panel for their mobile apps and web browser is excellent and offers many customization options. Everything works, and you won't experience any frustration.
Media Prioritization, Parental Controls, and Guest Access are easy to set up and use. Users can create up to 50 guest networks and protect them with a password.
Parental Controls allow you to configure how long devices on the network have access to the Internet, fixed limit, and block access for specific devices. With Media Prioritization, you can prioritize the devices you want by simply dragging them from the regular priority box and dropping them in the high-priority area.
There is also a speed test tool that can determine how fast your upload and download speeds are when you change the settings. You can use an external storage tool to share files on connected hard drives and configure media and FTP servers.
The router setup includes OpenVPN servers, Security, Wi-Fi, Connectivity, and Troubleshooting. There is a lot to explore, and we have found that the standard router firmware has everything the average user would need.

Pros of Linksys MR9000
Provides approximately 3,000 square feet of coverage.
Three different bands to distribute the wireless speeds.
MU-MIMO technology offers a great environment and allows users to configure personalized Wi-Fi speeds.
Complete setup takes only 10 minutes.
Dedicated app for router configuration and password change.
Support for Linksys Velop nodes which can expand the coverage area.

Cons of Linksys MR9000
You will need a device with either iOS 9 or Android 4.4 to set up the router.
Lacks built-in malware protection.

Similar Models to Linksys MR9000
Another router that tops the list of open-source routers is the Asus RT-AC5300, an MU-MIMO-enabled AC5300 tri-band router marketed for gamers.
This pricey router has a large footprint and two (2) antennas on each of the sides. The Asus RT-AC5300 has a vast coverage area of ​​5, 000 square meters. It averages about 100 MB/s over short distances and 80 MB/s at 30 feet in the 2.4 GHz band.
It has strong performance at 5GHz with a speed of 515MB/s up close and 320MB/s at 30 feet.
Overall, it works solidly with lots of connectivity options. But let's get straight to the point: Info Cellar prefers the Linksys MR9000.
The RT-AC5300 may work fine, but ASUS is known to have customer service and warranty issues. The ASUS mobile application is also far inferior to the mobile app from Linksys.
Suggested Reading:

FAQs about Linksys MR9000
Q: What Can I Connect to the USB Port?
A: The Linksys MR9000 Mesh Wi-Fi Router has an external memory feature via the USB 3.0 port on the back, which can connect an external storage device for sharing over the network. This function is supported only when the router is on parent mode. The drive won't be recognized if the USB drive is connected to a router in child mode.

Q: How Do I Upgrade the Firmware on the Linksys MR9000?
A: Thanks to the automatic firmware update function, your router can automatically update itself as soon as new firmware is available. This function is enabled on the Linksys MR9000 by default.

Q: How Many Clients Can Connect to the Linksys MR9000 Guest Network?
A: Since the guest Wi-Fi network uses WPA2 security, users can connect to as many clients as available IP addresses. This will allow your guests to access the Internet but not the shared storage devices (i. e., local network).

Final Thoughts
The Linksys MR9000 Wi-Fi Router is an excellent buy from a large company that has been around for a long time. Whether you are buying the Linksys MR9000 new or refurbished, it is a great value for money.
With built-in mesh Wi-Fi, this unit can be tailored to your home Wi-Fi requirements while offering a high-speed connection to many devices simultaneously. The Linksys MR9000 offers top speeds of up to 3000 Mbps, perfect for the best browsing, online gaming, and movie streaming experience.