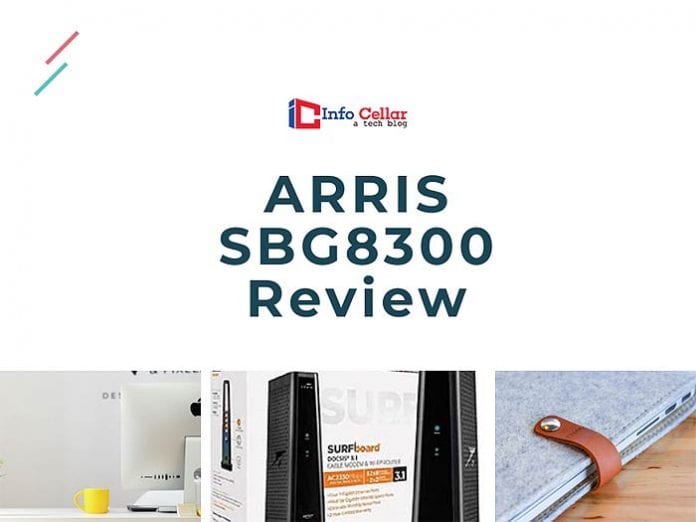 Arris SBG8300 Review: Internet technologies continue to improve. People want to stream at higher resolutions, listen to audio at higher bit rates, or otherwise chew on more data. As this happens, internet technologies must adapt and improve to be up to date.
We ♥ honesty! Info Cellar earns a commission through the following hand-picked links at no extra cost to you.
For those who have not updated their router or modem in recent years, surprises may be in store. Most of the significant advances in router and modem technologies are related to bandwidth. However, many of them have also worked on better methods to maintain multi-device connectivity.
As smart homes fill up with many devices that connect via Wi-Fi, it becomes increasingly important to select devices that can accommodate an increasing number of devices trying to connect to the Internet. The ARRIS SBG8300 essentially comprises two devices and three technology levels that are housed in a single housing.
A DOCSIS 3.1 cable modem is the first component and is quite impressive in itself as it uses modern technologies. An AC2350 dual-band Wi-Fi connection is the second component and is the kind of router equipment you would expect in a large home. And there are those features geared towards compatibility.
Arris SURFboard SBG8300 Review Summary
True to its name, the ARRIS SBG8300 essentially combines two devices in one. The first component is an AC2350 dual-band router powerful for the things it is supposed to accomplish. A DOCSIS 3.1 cable modem is the second part. Together you have devices that adapt to the interiors of large houses. And the icing on the cake is the compatibility functions. This DOCSIS 3.1 modem and router combination works with wired internet plans up to 4 Gbit/s. Add to that a jitter- and buffer-free experience, and you can see why it is a popular choice among online gamers.
Positives
Modem-router combination
Space-saving tower design
Future-proof product
Jitter- and buffer-free
Quick setup wizard
Superfast speeds
Works with Alexa
Negatives
It is expensive to replace a 2-in-1 modem router
Below average application
Check Price at Amazon
Arris SBG8300 Technical Specifications
| | |
| --- | --- |
| Channel Bonding | 32×8 DOCSIS 3.0 channels, 2×2 DOCSIS 3.1 channels |
| Number of Bands | Dual (2.4GHz & 5GHz) |
| Compatibility | Xfinity, Cox, Spectrum |
| Firewall | Yes |
| IPv6 Compatible | Yes |
| Wireless Type | 802.11ac |
| Antenna Configuration | 3×3 on 2.4 GHz4×4 on 5.0 GHz |
| Speed | Up to 4 Gbps |
| Telephone Port | N/A |
| USB Ports | N/A |
| Ethernet Ports | 4 |

Arris SBG8300 User Manual
Here is the user manual of the Arris SBG8300: (PDF).

Detailed Arris SBG8300 Review
A) Design and Layout
The Arris SGB83000 measures approximately 10 x 8 x 3.7 inches. While the front and sides of the SGB83000 are pretty similar to a standard router, the back shows a little more character.
Each section of this unit uses color codes instead of symbols or words. For example, the section containing the Ethernet ports is red, while the ports are yellow. The section with the coaxial cable connector is blue, and the section with the power connector is green. It's nice to look at and easy enough for everyone to join in.
Often, a router uses a series of LEDs on the front to help diagnose network problems. However, this is hardly the case with this device. Instead, they have a total of two (2) LEDs on board, and they can tell you if the Surfboard is online and if your Wi-Fi is transmitting.
It sure is a much simpler design. Also, you will have to use the application for additional diagnostic help.
On the back, you will find 4 Gigabit Ethernet ports. Given that each Ethernet is a full gigabit port, you can squeeze some bandwidth out of each of these connections.
However, they are also almost perfect for low-bandwidth connections where you have to prioritize latency. For example, smart TVs, game consoles, and similar wired devices.

B) Network Connectivity
DOCSIS 3.1 is the latest standard available via cable internet service providers if you have not been paying attention. It can support 8 upstream and 32 DOCSIS downstream channels.
But with the Arris Surfboard SBG8300, it's actually more of a start for the device. You find that there are also two upstream and downstream OFDM channels, which can be very useful when you really take advantage of this device's higher bandwidth potential.
The SBG8300 supports a maximum download speed of 4 Gbit/s. In practice tests, you find that you hit this limit, although in practice, of course, most users never use almost all of that 4 Gbit/s.
Most importantly, Wi-Fi Wave 2 AC speeds max out at 2350 Mb/s. And that is a bit of bandwidth for a Wi-Fi connection.
However, if you want to reach the upper limits of bandwidth potential with a device like the Arris SBG8300, you'll need to use these wired gigabit connections.
The SGB83000 does not have to be specially mounted on the wall, so your ability to position it correctly will eventually determine if you can take advantage of the speeds in the 5GHz band.

C) Ease of Use
How much control do you need over your router? If you want to stay hands-off, an app will help. ..but it will help even more if you have voice commands.
And with the Arris SGB8300, it is possible to integrate this unit into a smart home network thanks to native Alexa compatibility.
Do you want to reset your router? What could be more convenient than asking Alexa to do this for you? And all this without having to interrupt the power supply to other devices while switching them off and on again.
Of course, to make detailed changes to your modem or router settings, you still need to access the settings via an app or desktop computer.
Speaking of applications: ARRIS has its Surfboard Manager application that is compatible with both iOS and Android platforms. In reality, the app is very similar in function and form to the NETGEAR app.
You can start by changing the way users access the network, creating separate networks in your network, and more. That includes some pretty detailed parental controls, of course, and various preferences for people looking for a hands-on approach.

D) Compatibility Issues
This device is specially designed for Xfinity and Cox customers.
In fact, you can connect over any part of the Spectrum network, including Time Warner, Charter, and others. After all, it's a cable modem.
Therefore, you cannot use it to establish fiber-optic connections, satellite connections, or DSL connections.
It runs only on cable. While it definitely has a lot of features, this router doesn't have a USB connection. In fact, it shares this with some similar SURFBOARD routers.

Pros of the Arris SBG8300
Easy to install like any other cable modem/router combination.
It can support up to 10 Gbit/s downstream and up to 1 Gbit/s upstream.
Supports 32 × 8 channel link technology.
Multiprocessor based on ATOM and ARM application processors enhances performance.
Has status LEDs on the front to indicate connectivity and make troubleshooting easier.
It has its app for iOS and Android with support for home Wi-Fi management from Amazon Alexa.

Cons of the Arris SBG8300
Slightly more expensive than DOCSIS 3.0 modem-router combinations.
No support for USB ports.
Not compatible with Verizon, CenturyLink, or AT&T.

Models Similar to the Arris SBG8300
If you're not on board with the Arris SBG8300 and are searching for alternatives that offer similar benefits while eliminating most bottlenecks, the Netgear C7800 is an efficient and powerful modem/router combination with Comcast and COX compatibility.
Like the Arris SBG8300, this modem-router combination also supports channel bonding, DOCSIS 3.1, and OFDM technologies.
In terms of router speeds, the Netgear C7800 supports 3.2 Gbit/s, which is at least 900 Mb/s higher than the Arris variant. There are also two USB 3.0 ports that you can trust, followed by four Ethernet ports.
In addition, the routing hardware is equipped with a Beamforming bracket.

Frequently Asked Questions about the Arris SBG8300
Q: What is the range of the SBG8300?
A: As for the router range, the Arris SBG8300 can cover up to 3000 square feet of open-and-close space. Although its high range, MU-MIMO radio technology, and then Wave 2 compatibility determine the quality and functionality of the connections.

Q: Is the Arris SBG8300 good for gaming?
A: The Arris SBG8300 is a DOCSIS 3.1 modem-router that works with up to 4Gbit/s wired Internet plans. It offers a jitter-free experience without buffering, and you can see why it is a popular option for online games.

Final Thoughts
While the pros of the Arris SBG8300 win against the cons, it is hard to recommend it to people who still use an older Arris variant with DOCSIS 3.0.Make no mistake, the SBG8300 is future-proof, but unless you're planning an upgrade or are currently subscribed to plans faster than 400 Mb/s, there's no reason to spend that much money.
However, if you have the budget for this unit, the Arris Surfboard SBG8300 is a good buy. It is based on faster and more scalable DOCSIS 3.1, supporting 8 upstream and 32 downstream channels.
The 4 available Ethernet ports also make it easy for you to connect your devices directly to the device. However, the absence of USB port support will make this a problem for many.
Particularly those who want to use it in an office space, with a centralized USB printer. Multiprocessor technology is another feature you won't see in any other cable modem/router combination.
This makes it convenient for everyone to connect to the network and watch high-volume content such as HD and 4K videos simultaneously, without buffering or jitter.

Check Price at Amazon