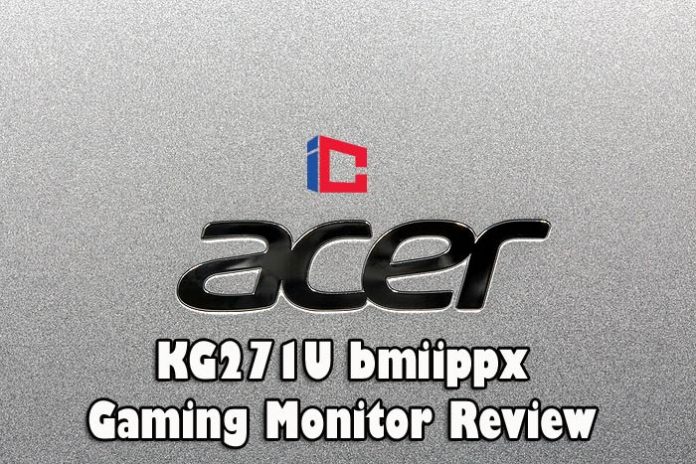 Acer KG271U Review: If you are looking for a powerful gaming monitor, the Acer KG271U is one of the cheapest options on offer. The 27-inch 1440p 75Hz gaming monitor offers brilliant image quality, a stylish design, and high performance.
We ♥ honesty! Info Cellar earns a commission through the following hand-picked links at no extra cost to you.
It also comes with various features to ensure consistent picture quality for the best gaming experience within your budget. Is this the right gaming monitor, especially at its price?
Let's take a closer look to find out.
Acer KG271U bmiippx Review Summary
The Acer KG271U is an excellent gaming monitor thanks to its fast response time, low input lag, immersive image quality, and various gaming features. All at a very attractive price.
Positives
Sleek design
Many features, including AMD FreeSync
Fast response time and low input lag
Negatives
Lacks display port
Tilt-only design
Check Price at Amazon
Acer KG271U Technical Specifications
| | |
| --- | --- |
| Screen Size | 27-inch |
| Panel Type | TN |
| Resolution | 2560 x 1440p (WQHD) |
| Refresh Rate | 75Hz |
| Brightness | 350 cd/m2 |
| Response time | 1ms (GtG) |
| Contrast Ratio | 1000:1 (static) |
| Aspect Ratio | 16:9 (Widescreen) |
| Adaptive Sync | FreeSync (48Hz-75Hz) |
| Speakers | 2x2W |
| Ports | 2x Display Ports, 2x HDMI 1.4a |
| Other Ports | Headphone Jack |
| Colors | 16.7 million (true 8-bit) |
| VESA | Yes (100x100mm) |

Acer KG271U User Manual
Here is the user manual of the Acer KG271U: (PDF).

Detailed Acer KG271U Review
A) Design
The Acer KG271U gaming monitor has a frameless design with ultra-slim bezels.
It also has a matte screen coating that prevents light reflections. Unfortunately, the design can only be tilted, although it is VESA mount compatible.
The monitor is adorned with wing-shaped stripes that give the KG271U an expensive look, awe-inspiring for an inexpensive 75Hz monitor.
With the slim bezels, distractions are minimal, leaving space to add more monitors that can be configured as a full-fledged command center.
You can rotate the monitor +/- 35° and tilt -5°/15°. The metal stand has a thick base and is height adjustable up to 130 mm, something few competing monitors offer at this price.
The adjustable stand is convenient, and a hole in the neck allows for better cable management.
Also, the Acer KG271U can be wall-mounted with the VESA 100x100mm model.
The monitor itself weighs around 10 pounds, making it light enough to take with you if you have to move your setup.
Suggested Reading:

B) Image Quality
The Acer KG271U is based on a 27-inch TN panel that delivers brilliant image quality with 2560 x 1440 WQHD resolution.
The monitor boasts a pixel density of 109 PPI (pixels per inch) and offers you plenty of screen space and razor-sharp details.
The device has true 8-Bit color depth, a static contrast ratio of 1000:1, and a vast 122% sRGB color space that enhances the screen colors for a rich and vivid experience.
The screen sports a maximum brightness of 350 cd/m². It's bright enough for your games to fly in well-lit conditions.
The above specs are standard for a monitor in this price range, but TN panels have narrow viewing angles of 160 °/170 °, so the hue of the image changes when viewed from oblique angles. However, they also have the fastest response time for fast-paced games.
After all, TN panels have the weakest colors compared to other panels, but at least in this price range, that's the price for such a quick response time.
Suggested Reading:

C) Performance
Thanks to its response time of 1ms, pixels can quickly switch from one color to another, which invariably eliminates the motion blur and trailing of fast-paced objects.
This is especially noticeable in first-person shooter (FPS) games as it makes it easier for you to shoot your targets.
In addition, the Acer KG271U offers impressive input lag performance with a delay of just ~10ms, which is not noticeable even for professional gamers.
If you have an AMD GPU with FreeSync technology, you can easily synchronize the refresh rate of the monitor with the GPU.
Consequently, the display of this unit can dynamically change its refresh rate and depending on the graphics card, as long as its frames per second are between 48 to 75Hz.
All screen stuttering and tearing disappear within this range with a minimal input lag penalty (~1 ms).
Also, you can use the monitor with NVIDIA graphic cards, but not with dynamic refresh rate technology.

D) Features
The Acer KG271U 27-inch monitor is equipped with many useful features for gaming, including Aim Point with an adjustable reticle.
Then there is Black Boost, which can enhance visibility in low-lit games by lightening dark parts of the picture. You can also find advanced settings like gamma and 6-axis settings.
In addition to the power button, the monitor has five keyboard shortcuts that you can use to navigate the OSD menu and as keyboard shortcuts for specific functions, including audio volume, input source selection, game mode settings, and brightness setting.
Since the Acer KG271U does not use Pulse Width Modulation (PWM) to regulate its brightness, it's flicker-free. It also has an integrated filter against harmful weak blue light.

E) Connectivity
You will find a VGA port, two HDMI ports, two 2W built-in speakers, and a headphone jack on the connectivity side.

Pros of the Acer KG271U
Excellent value
Bright and accurate colors.
Many gaming features, including 1ms MPRT and FreeSync.
Fully ergonomic design

Cons of Acer KG271U
The joystick for OSD navigation would have been better than the buttons provided.
Brightness setting in sRGB mode-locked to 90/100.

Models Similar to the Acer KG271U
If you can't get the Acer KG271U, we recommend the ViewSonic Elite XG270QG.It is based on the IPS panel and has ergonomic support but no support for large color space.
The ASUS ROG PG279Q is a much better monitor than the Acer KG271U, regardless of usage.In addition, the ASUS IPS panel has better viewing angles, so the picture is even more precise on closer inspection.
The consistency is a bit better with ASUS, making it suitable for various uses.The ASUS ROG Swift PG279Q and Acer KG271U are very similar in that they are the same size, resolution, and brightness.
The significant difference is that ASUS has a higher refresh rate and is a native G-SYNC monitor while Acer supports FreeSync.

Frequently Asked Questions about the Acer KG271U
Q: Difference between Acer KG271U and Acer KG271?
A: The Acer KG271U is very similar to the Acer KG271. Both monitors are almost identical in design and, apart from the resolution and brightness, have a very similar overall performance. However, the KG271U has a higher resolution (2560 x 1440) than the KG271 (1920 x 1080).

Q: Is the Acer KG271U G-Sync Compatible?
A: No, the Acer KG271U is not G-Sync compatible, but it's FreeSync compatible. This means you can run G-Sync successfully on FreeSync. However, you will need to give up overdrive and HDR to do so.

Final Thoughts
The Acer KG271U gaming monitor is one of the cheapest options, with a 75Hz refresh rate and extremely powerful hardware. In addition, the model has an attractive design and offers clear textures, colors, details, and very high-quality performance.
The monitor is inexpensive and doesn't put a deep hole in your pocket. The device is versatile enough to appeal to both professional and novice gamers for console games. Most importantly, you'll be impressed with the image quality and overall performance.
Check Price at Amazon