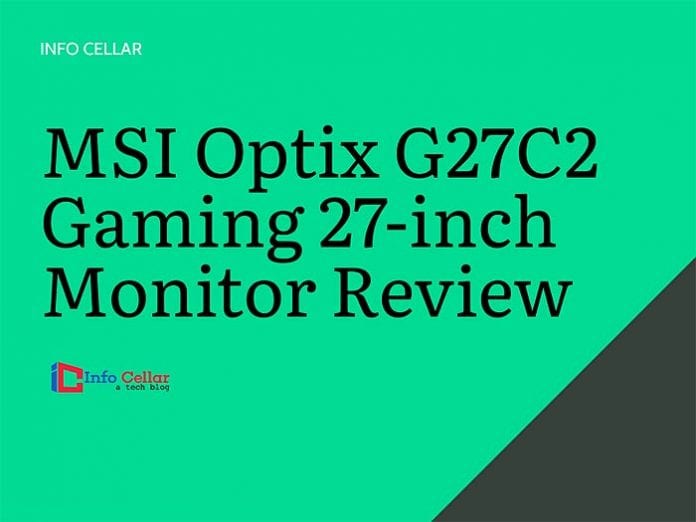 MSI Optix G27C2 Review: If you're looking for a powerful gaming monitor, the MSI Optix G27C2 is one of the more affordable options on offer. The gaming monitor with 27-inch 1440p and 144 Hz offers brilliant picture quality, high performance, and a slim design.
We ♥ honesty! Info Cellar earns a commission through the following hand-picked links at no extra cost to you.
It also comes with a range of features to ensure consistent picture quality for a decent gaming experience. Is this the right gaming monitor, especially at its price?
Let's take a closer look at this to find out.
MSI OPTIX G27C2 Review Summary
The MSI OPTIX G27C2 offers many gaming features that make it a serious contender for the best gaming monitor. While the display isn't entirely terrible, the overall performance of this monitor is below average. However, thanks to its low input lag and 144Hz refresh rate, it delivers a satisfactory gaming experience.
Positives
Supports Freesync technology for smoother motion
144Hz offers a responsive experience
Fast response time
Impressive contrast levels
Negatives
The image quality changes with minor changes in perspective
Blacks are unusually cloudy
Check Price at Amazon
MSI Optix G27C2 Technical Specifications
| | |
| --- | --- |
| Screen Size | 27-inch |
| Curved | 1800R |
| Panel Type | VA |
| Resolution | 1920 x 1080p |
| Refresh Rate | 144Hz |
| Brightness | 250 cd/m2 |
| Response time | 1ms |
| Color SRGB coverage | 110% |
| Aspect Ratio | 16:9 |
| Surface Treatment | Anti-glare |
| Video Ports | 1 x DP( 1.2), 1 x HDMI(1.4), 1 x DVI |
| Colors | 16.7 million (true 8-Bit) |
| VESA | Yes (100x100mm) |

MSI Optix G27C2 User Manual
Here is the User Manual of the MSI Optix G27C2 gaming monitor: (PDF).

Detailed MSI Optix G27C2 Review
A) Design
The curved screen sets this budget monitor apart, particularly considering that many monitors in this price range are flat.
The first look at the monitor should produce a positive "wow". The monitor's matte plastic finish gives it a sophisticated and sleek look as the black color is accented by red metallic edges.
The plastic is undoubtedly of high quality, and the final look of the monitor is stylish and modern.
The bezels are slim, making the monitor perfect for multi-screen displays. The stand is crafted from metal and provides a solid base for the monitor and the red accent along the back.
Also, the stand is easy to mount with a few small screws that stabilize the entire monitor. MSI ensures that the look remains stylish as the screwed areas are covered with a seamless blending panel. The stand is large but does not take up much space on the table.
One limitation of this monitor is the inability to make many ergonomic adjustments. For example, there's no height adjustment, no vertical or horizontal pivot, and no pan left and right.
The best it can do is tilt backward and forward, just 5 degrees and 15 degrees, respectively. The display sports an anti-reflective coating with a W-LED backlight.
The previous model of this unit had backlight problems. Still, MSI seems to have fixed this problem in this model, and the quality of the monitor is excellent.

Suggested Reading:

B) Image Quality
As a Full HD gaming monitor with a resolution of 1920 × 1080, the monitor delivers beautiful images right out of the box.
The beautiful 1800R curve delivers a wider field of view (FOV) for a more immersive experience.
While the colors don't look like an IPS panel, the colors are vibrant, making it a superb choice for watching movies and general use.
While most monitors offer 75% coverage of the NTSC color space at this price, the Optix G27C2 monitor offers 85% at 110% SRGB, which means the human eye can see more colors.
This unit comes with 8-Bit color depth and displays smoother color gradients and more accurate colors.
The VA panel is accurate and bright and provides excellent images in sunny and low-light rooms.
There's a black EQ that can darken the screen, but when turned off, the monitor glows (sorry for the pun) in all its well-lit splendor.
Despite the curved display, the viewing angle makes virtually no difference in terms of colors. The screen looks uniform in all directions.
The 81 PPI pixel density limit is questionable, but if you are not within two feet of the monitor, you should not notice any pixels. The monitor isn't the best choice for text-intensive jobs.

C) Performance
With a refresh rate of 144Hz and a response time of 1ms, this inexpensive monitor really lets you get your money's worth.
However, there are some problems with the color control, and we could only make it look the way we wanted by selecting the desired picture mode.
We tested this unit with The Witcher 3 and PUBG to understand ​​how well it works in real life, and we were not disappointed at all.
It offers smooth gameplay, with no stutters or lag. The device responded quite well to inputs, and we managed to eliminate some opponents before our inevitable fall. But it wasn't because of the monitor.
PUBG didn't get too dark during the game, but even in darker scenes, visibility was impressive, and the appearance of ghosting was minimal.
The quality of The Witcher 3 was excellent, showing the beautiful landscape in all its glory and even in dark caves; the color variation was excellent.
If you play action-packed games online, you can turn on OverDrive to make the pixel response faster.
The monitor has FreeSync installed, so it allows AMD GPUs to control the refresh rate on a monitor, which means there are fewer problems with tearing.
The synchronization of GPU and monitor enables a fascinating gaming experience. In addition, the high refresh rate, response time, and high contrast of the monitor make it one of the best gaming monitors in its price range.
Suggested Reading:

D) Features
The OSD (On Screen Display) buttons are foolproof and straightforward.
There's a good amount of control over display settings, from changing the color calibration to different picture modes that really make the monitor shine.
The MSI Optix G27C2 also has a standard low blue light mode that reduces eye strain.
A built-in anti-flicker technology from MSI allows you to play longer without straining your eyes or causing fatigue.
For those who like FPS (first-person shooter) games, the monitor allows players to activate an FPS front view overlay that works in all games, even those with no crosshairs.

E) Connectivity
Connectivity on the MSI Optix G27C2 is fundamental. It comes with a Dual-Link DVI-D, DisplayPort 1.2, and an HDMI 1.4 port. Since this is sufficient for the average PC connection, this should not be a reason for any complaint.

Pros of the MSI Optix G27C2
Excellent display once it's calibrated properly.
Anti-Flicker technologies and less blue light help to reduce fatigue and eye strain.
Suitable for games, movies, and editing.

Cons of MSI Optix G27C2
Freesync only works with AMD cards, so Nvidia card users are left out.
Tilt support only

Similar Models to MSI Optix G27C2
The MSI Optix G27C Monitor is a decent gaming device with a fast refresh rate and deep blacks, but it faces stiff competition.
The MSI Optix MAG271CQR is significantly better than the G27C.In addition, the MSI Optix MAG271CQR offers a much faster response time, better ergonomics, and a higher native resolution.
The MAG271CQR also boasts an integrated USB hub and an optional black frame insert function.Also, the AOC AGON AG271QX is significantly better than the G27C2.The AGON AG271QX has better ergonomics, which makes it easier to put in the most convenient position.
The AGON shows almost tapeless gradients and has an incredibly fast response time so that movements look sharp with minimal blurring.
AGON's higher resolution allows you to do more or see more details in games.

Frequently Asked Questions about the MSI Optix G27C2
Q: Is the MSI Optix G27C2 Good for Gaming?
A: The MSI Optix G27C2 is a decent option for playing video games. The Freesync support and 144Hz refresh rate provide a responsive and smooth experience. The super-low input lag helps gaming feel connected. Sadly, the monitor's poor image quality and low pixel density negatively impact immersion, which is detrimental.

Q: Does the MSI Optix G27C2 have speakers?
A: No, the MSI Optix G27C2 does not have speakers.

Final Thoughts
The consensus on the MSI Optix G27C2 is a resounding yes. While the monitor has its limitations, it is a great deal not to be missed for the price.
The response time, refresh rate, and size make it a decent monitor for graphic designers and gamers. If minor glitches are not a deal-breaker, then the G27C2 is a monitor you can be proud of.

Check Price at Amazon