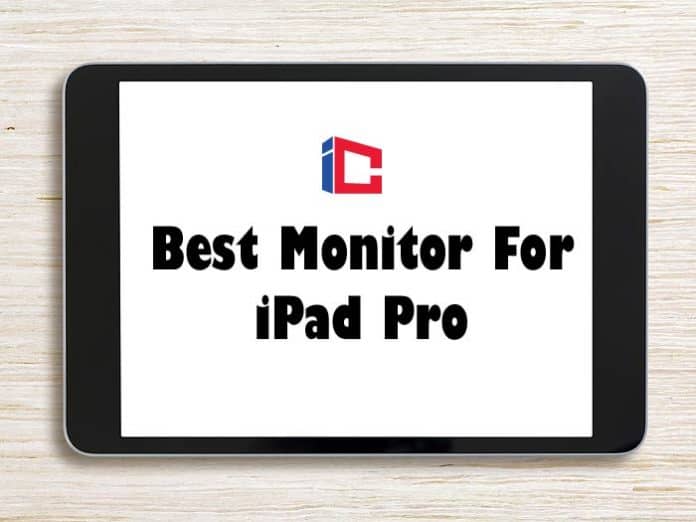 As you know, the new iPad Pro is compatible and comes factory-installed with USB-C ports. So it is not surprising that you are looking for the best monitor for iPad Pro. External monitors for your iPad Pro will take your experience to the next level.
Best Monitor For iPad Pro
Our Pick
The HP E24q G4 24-Inch IPS QHD Multi-Device Monitor is an ideal fit for many users, making it our top pick. It has an incredible 4K screen resolution and multiple versatile ports for connecting your iPad Pro.
We ♥ honesty! Info Cellar earns a commission through the following hand-picked links at no extra cost to you.
A USB-C monitor specially designed for playing or streaming Netflix and YouTube videos from your iPad will keep you happy. Most budget monitors don't have integrated software that can stream videos from your iPad directly. The monitors that we will review in this guide are very scalable. When you choose one monitor from our list, this will likely be the last one you will buy.
Best Monitor For iPad Pro – Comparison Table
Hardware Interface
VGA, Bluetooth, USB, DisplayPort, HDMI
USB-C, USB 3.1, USB 3.0, HDMI, Mini HDMI

Can You Use a Monitor With an iPad Pro?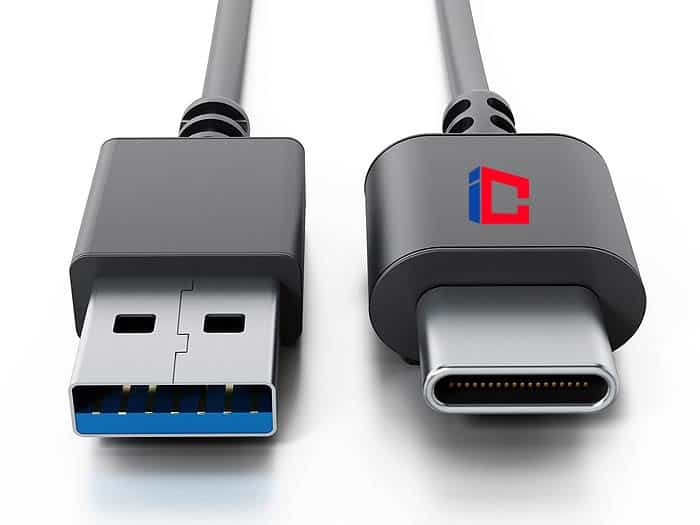 Apple's new iPad Pro has not only thrown the home button overboard but has also switched from the company's Lightning connector to the more popular USB-C connector.
This USB-C connection allows you to use a wide variety of peripherals and accessories with an iPad, including external monitors.
In the past, it was hard to believe that you could hook up a monitor and mouse to an iPad and get a believable desktop computer. Those days are over.
If your monitor has a USB-C to USB-C connection, you can connect the iPad Pro directly, possibly using the monitor cable that came with it.
You need the right adapter (USB-C to DisplayPort, USB-C to HDMI, etc. ) for all other monitors.

How to Use the New iPad Pro with an External Monitor?
The new iPad Pro can be connected directly to USB-C displays that communicate using the DisplayPort standard. You can connect a USB-C cable to the iPad on one end and connect an external monitor to a USB-C port on the other end.
Suggested Reading:

Does USB-C Support Multiple Monitors?
Yes, USB-C supports multiple monitors if the docking station includes a DisplayPort and an HDMI port. This gives users the flexibility to hook up their displays as needed. USB-C supports two monitors or one high-resolution 4K external monitor.

Can iPad Pro Support a 4K Monitor?
Yes, the iPad Pro can support a 4K monitor. With one USB-C cable, the iPad can mirror its user interface to a 4K monitor while also supporting a second screen for apps built into this API.
Suggested Reading:

How do I Project my iPad To My Wireless Monitor?
There are many ways to project your iPad to a wireless monitor – you can either connect wirelessly using AirPlay or connect using the appropriate adapter.
Connect your digital or VGA AV adapter to the charging port on your iPad Pro.
Connect a VGA or HDMI cable to the adapter.
Connect the other end of the VGA or HDMI cable to your wireless monitor.
Turn on your wireless monitor.
If needed, switch to the appropriate video source on your wireless monitor.
You should now see the screen of your iPad on your wireless monitor.

How Can I Play my iPad Through the TV?
The iPad is a great media player, but you often want to view them on the big screen. Here is how to connect your iPad to your TV. Although tablet and phone screens have grown over the years, your iPad or iPhone screen is sometimes too small. Luckily, connecting your Apple device to a recent TV for a more prominent display multimedia experience is simple enough.
Suggested Reading:

Connect to Apple AirPlay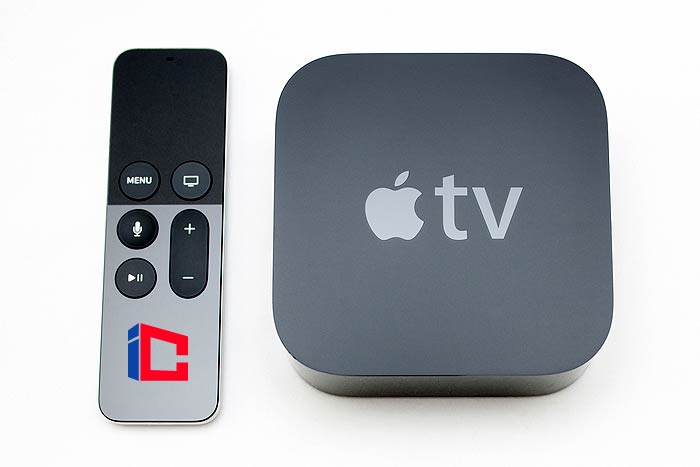 The easiest way to establish a wireless connection is to use Apple's AirPlay feature, which is already built into your iPad's operating system.
You can mirror or stream content from your iPad using Apple TV or AirPlay 2-compatible monitors.
Once you've set up an Apple TV, make sure it is connected to the same home WiFi network as your iPad.
Go to the Control Center on your iPad by swiping down on the top of your iPad screen, tap on AirPlay Mirroring, and choose Apple TV.
Apple TV mirrors everything on the screen of your device. Also, you can use AirPlay to stream media content from iPad to Apple TV.

What to Look for?
A) Resolution
You'll come across external monitors with various resolutions on the market. Still, you should go for a monitor with a resolution of up to 1080p. For a gaming monitor, the preferred resolution is 2K or 4K.
Suggested Reading:

B) Monitor Size
Next, you need to consider the size of your monitor. In this case, the monitor's size depends on the amount of memory available for the monitor. Monitors around 32 inches are generally considered a sweet spot for many users. When considering a big monitor size, consider the pixel density of that monitor too. This is because a higher pixel density offers a better screen experience.

C) Refresh Rate
The refresh rate is also an essential aspect of a good monitor for iPad Pro. If you purchase an external monitor with a higher frame rate, like 60 or 144 Hz, you will quickly notice an extra smoothness in your viewing experience. These extra frames or smoothness will help you in your overall experience.

D) Display Field
There are three display boards in total that are commonly used by manufacturers. They are called TN, IPS, and VA panels. TN panels are the cheapest of them, but the drawback is that it has poor viewing angles. VA and IPS are similar; the only difference between them is that VA panels have a better spectrum of colors.

E) Other Features
When shopping for the best monitor for iPad Pro, the monitor must have G-Sync or Free Sync technology. This will minimize screen stuttering and tearing, but monitors with these features are usually a bit pricier. Another factor to consider is that the monitor you opt for should have a display port or an HDMI port.

Best Monitor for iPad Pro Reviewed
Here are the top 6 best monitors for iPad Pro on the market today:
1. HP E24q G4 24-Inch IPS QHD Multi-Device Monitor Review
The HP E24q G4 24-Inch IPS QHD Multi-Device Monitor is a smart buy for those looking for a bigger screen for their viewing needs.
The premium speakers deliver clear HD sound with background effects and a powerful voice.
This monitor features a 2560 x 1440 resolution display for consistent and vibrant colors across a wide viewing angle.
Also, this best external monitor for iPad Air comes with a web camera that guarantees your privacy needs while online. With a 6ms response time and 178° wide-angle view, you've got a large, powerful display that deserves a purchase.
In addition to a USB Type C port, it also contains a USB 3.0 port, DisplayPort, and HDMI Port, making it compatible with iPad Pro.
Pros
Sleek display design
Easy and convenient switch buttons.
VESA mount compatible
Mouse wrist support pads for improved productivity and comfort.
Cons
Higher price than other monitors.
Check Price on Amazon

2. C-FORCE 15.6″ 1080p IPS USB-C Portable Display HDMI & PD Monitor Review
The CF011X 15.6-inch 4K UHD Portable Monitor is lightweight and sleek, making it easy to transport.
The aluminum case is surprisingly sturdy, particularly when compared to other portable monitors.
This is possibly the best aspect of this unit. It shows that you don't need gorilla glass reinforcement to give a slim bezel display a premium offering.
Only one USB Type-C port is available and is only intended for connection to the supplied CF120 hub. The screen quality is average.
The dense PPI should theoretically deliver a razor-sharp image. Still, the matte overlay is slightly grainy. Therefore the overall image isn't as sharp as the UHD panel on many Ultrabooks.
Furthermore, the response times and contrast of this monitor are good considering its low price.
Pros
Portable design
High-definition video transmission
Easy to connect your iPad Pro.
Multi-angle stand
Check Price on Amazon

3. C-FORCE USB-C Portable Display for iPad Air 4/Pro Review
The C-FORCE CF011C 15.6-Inch 1080p Monitor uses an IPS panel with full sRGB coverage and a brighter backlight than any other monitor in this price range.
The CF011C has narrow bezels while also retaining the same features and ports as the CF011X.
However, the most notable updates are related to the panel itself, as C-Force dramatically increased color space (60 percent to 100 percent sRGB) and brightness (200 to 459 nits) for a better viewing experience.
Also, power consumption has not changed significantly compared to the previous CF011X, despite improved brightness levels and colors.
A significant downside that persists is the relatively slow black-and-white and grayish response time, making the CF011C a poor choice for fast-paced games.
Pros
Portable and slim bezel design.
Respectable contrast ratio
Bright display up to 460 nits.
Full sRGB coverage
Decently calibrated display
Check Price on Amazon

4. Cocopar USB-C Portable Monitor Review
At 15.6 inches, this Cocopar USB-C aluminum alloy monitor features an IPS-A display with a resolution of 1920 by 1080 at 60 Hz, a 72 percent NTSC color gamut, and a 4ms response time.
Other notable features include 178° viewing angle, HDR, AMD Radeon FreeSync, two speakers, and 6 display modes.
The smart folding case protects this portable monitor for iPad pro from scratches. The monitor allows dual-orientation and is VESA compliant at 75 by 75mm.
With HDMI, USB-C, USB ports, and Mini-DisplayPort, this monitor is compatible with your iPad Pro.
While this best monitor for iPad Air 4 can be used as a secondary monitor, its size also functions perfectly as a primary display.
Image quality is quite solid with HDR support and wide viewing angles, enhancing black and light colors and enhancing contrast for a realistic viewing experience.
The response rate is comparably fast, while the multiple input options allow connections to many devices.
It's basically a good all-rounder, offering great value for money that you won't regret.
Pros
Excellent image quality
AMD FreeSync
Blue light filter
Check Price on Amazon

5. KYY 15.6″ FHD 1080p Portable Monitor Review
This KYY portable monitor combines excellent functionality in an IPS Pro panel, including a 1920 x 1080 resolution at 60Hz, a 250 cd/m² maximum brightness, a viewing angle of 178°, and an HDR technology.
This USB-C monitor iPad pro has a leather cover that protects your monitor and functions as a foldable stand in portrait or landscape format.
The images show a decent level of sharpness and brightness with color production at wide viewing angles.
Also, it has HDR technology and eye protection that allows the monitor to transmit a wide range of contrasts and colors.
The controls are easy to use and intuitive to access the menu or switch between input ports.
The sound is clear with the option of adding an external speaker through the audio input.
This best monitor for iPad air is more suitable for travel, business trips, and the outdoors. It is compatible with a wide variety of devices, including the iPad Pro.
Elsewhere, it has a thumbwheel for OSD menu settings, a 3.5mm audio jack, and two built-in speakers.
It can be connected via mini-HDMI and two USB-C ports for compatibility with your iPad Pro.
Pros
Reasonably priced
Sturdy construction
Intuitive controls
Supports HDR
Check Price on Amazon

6. FANGOR 15.6 "1080p WiFi Portable Wireless Monitor Review
The AUZAI 15.6-inch monitor has a fully plastic housing with narrow bezels and a flicker-free IPS panel that offers Full HD 1080P resolution with support for HDR technology, a response time of 30ms, and a refresh rate of 60Hz.
The brightness reaches 250cd/m² with an aspect ratio of 16:9 as well as a 1000:1 contrast ratio.
Besides, it offers an OSD menu and several viewing angles, and many integrated stereo systems with full compatibility with iPad Pro via HDMI or USB-C cables.
This iPad pro external monitor full screen has a magnetic housing that doubles as a stand, a 3.5mm audio port, and control buttons.
It's a great, affordable monitor for almost any essential indoor use. Comfortable on the go, easy to use, deliver clear, bright images with incredible color and contrast experience.
Also, you can use the menu buttons to adjust these aspects and make various preferred settings.
It offers good viewing angles and multiple mirrored screens. If you don't like loud sounds, the speakers will deliver a soft, decent sound.
The cover allows users to freely adjust the stand's angle to their liking, but the screen does not seem to be protected from damage.
Pros
Compact and light design.
Crisp and clear viewing experience.
HDR compatible
Check Price on Amazon

Top-Rated Monitor For iPad Pro
Our Pick
Our pick for the best monitor for iPad Pro is the HP E24q G4 24-Inch IPS QHD Multi-Device Monitor.
With an aspect ratio of 21:9 and a refresh rate of 60 Hz, this ultra-wide display offers users an immersive viewing experience.
In addition to a USB Type C port, it also contains a USB 3.0 port, DisplayPort, and HDMI Port, making it compatible with iPad Pro.
Choosing the best monitor for iPad Pro can be tricky. It is essential to consider how much desk space you have, why you want to use an external monitor, and your budget. Hopefully, you will find an option on this list that meets your needs.

Key References
"How to connect an iPhone or iPad to a TV or a computer monitor – PhoneArena". Accessed April 13, 2021. Link.
"How to Choose the Best Types of LCD Panels". Accessed April 13, 2021. Link.