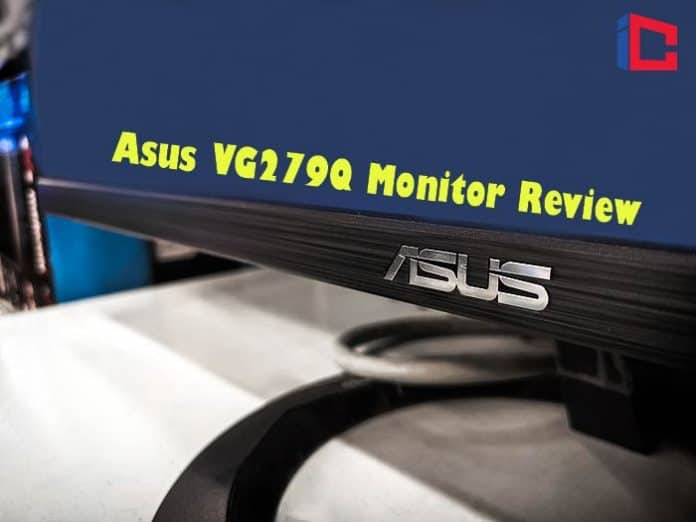 Asus VG279Q Review: Whether you are an occasional after-hours warrior or serious PC gamer, your hardware can distinguish between defeat and victory. To take advantage of the latest FPS (First Person Shooter), racing, sports, and other fast-paced games, you need a gaming PC with not only a powerful GPU but also a gaming monitor that renders images without any stuttering, flickering, or tearing.
We ♥ honesty! Info Cellar earns a commission through the following hand-picked links at no extra cost to you.
Enter the ASUS VG279Q. The Asus VG279Q Gaming Monitor answers the call for a very refreshing 1080p display based on IPS technology that delivers fantastic color quality and viewing angles. This recent addition to an industry-leading gaming display line is exciting because many have been looking for a combination of specs.
While most IPS panels can reach up to 165Hz and offer G-Sync support, they can only have a Gray to Gray pixel transition (GtG) response time of 4ms. This response time ensures that competitive gamers keep coming back to TN panels as they don't want to give up color accuracy for the responsiveness of a screen.
The Asus VG279Q delivers smooth, fast, and razor-sharp gaming thanks to its 165Hz maximum refresh rate and enhanced motion blur technology. If you're a serious gamer looking to get your hands on a robust yet affordable 144Hz gaming monitor, the Asus VG279Q might be the monitor for you. So, let's dive in for a comprehensive review of the VG279Q.
ASUS keeps expanding its almost complete product line with the VG279Q monitor. The remarkable thing about this monitor is that it is one of the first monitors to have a response time of 1ms on an IPS panel.
ASUS VG279Q Monitor Review Summary
The ASUS VG279Q is a great monitor for most applications. It has wide viewing angles, excellent ergonomics, and high maximum brightness. Motion is extraordinary thanks to the fast response time, high refresh rate, and flicker-free backlighting. This monitor has good image quality but does not look so good in a dark room. The 1080p resolution may sadly disappoint some people, but the 27-inch display offers a fair amount of screen space.
Positives
Fantastic motion handling
Solid settings menu
Outstanding color accuracy out of the box
Great gaming features, including FreeSync support
Negatives
Limited 1080p resolution
Mediocre dark room performance
Check Price at Amazon
Asus VG279Q Technical Specifications
| | |
| --- | --- |
| Screen Size | 27-inch |
| Resolution | 1920×1080 (Full HD) |
| Aspect Ratio | 16:9 (Widescreen) |
| Panel Type | IPS |
| Adaptive Sync | FreeSync (40Hz-144Hz) |
| Response Time (GtG) | 3ms (GtG) |
| Response Time | 1ms (MPRT) |
| Refresh Rate | 144Hz |
| Speakers | 2x2W |
| Ports | DisplayPort 1.2, HDMI 1.4, Dual-Link DVI-D |
| Other Ports | Headphone Jack |
| Brightness | 400 cd/m2 |
| Contrast Ratio | 1000:1 (static) |
| Colors | 16.7 million (6-bit + FRC) |
| VESA | Yes (100x100mm) |

ASUS VG279Q User Manual
Here is the ASUS VG279Q user manual: (PDF).
Suggested Reading:

Detailed ASUS VG279Q Review
A) Design
The ASUS VG279Q keeps the overall aesthetic of the brand's prestigious line of simple yet appealing games to gamers today.
The matte black casing has an excellent easy-care texture that will not cause smudges or dirt. The monitor is not frameless, but there are still 10mm bezels on three sides due to the two-tier design.
The craftsmanship and build quality of the ASUS VG279Q is top-notch, albeit on a lower level than ROG Swift screens. The chassis edges are sharp and even, thanks to the brand's excellent Quality Control/Quality Assurance process.
Also, we didn't notice any creaking or warping on the monitor when adjusting the screen, so it should withstand the rigors of everyday use without a hitch.
The ASUS VG279Q has 130mm height adjustment, 90-degrees clockwise, counterclockwise rotation, +/- 90-degrees left and right swivel, and 5-degrees/33-degrees tilt, and 100 by 100mm VESA mounting template.
Suggested Reading:

B) Image Quality
The ASUS VG279Q 27-inch 1080p 144Hz gaming monitor is based on an IPS panel from AU Optronics with a maximum brightness of 400 nits and a response time of 3ms (GtG).
This is a slight but noticeable improvement over the previous generation of IPS displays of this caliber, which have a maximum brightness of 300 to 350 nits and a GtG response time of 4 to 5ms.
Other panel-related specifications are standard, including 1000: 1 static contrast ratio and 8-bit color depth covering the standard sRGB color gamut.
The only drawback about the ASUS VG279Q is its low pixel density because of the relatively low 1080p resolution for its 27-inch screen. This means that the image on this screen is a bit pixelated.
In contrast, a 24- or 25-inch version of the monitor would have more precise and sharper details. This is not so noticeable in video games, mainly if you apply anti-aliasing effects. But if you want to use the ASUS VG279Q for work, too, you have to deal with blurry details and limited screen space.

C) Performance
The response time of 3ms (GtG) is more than enough for a fast-paced and smooth gaming experience with no motion blur or ghosting.
Essentially, you get response time performance comparable to TN models, plus vivid colors and wide 178-degree viewing angles vertically and horizontally. Additionally, ASUS-developed ELMB (Extreme Low Motion Blur) backlight technology enables you to achieve CRT-like clarity of motion. To enable it, you'll need to set your refresh rate to 85Hz, 100Hz, or 120Hz.
The input lag performance of the ASUS VG279Q is excellent. It is also around 4ms, which means that the monitor can quickly adapt to professional competitive gaming.
Finally, the monitor has no problems with dead pixels, visual artifacts, or excessive backlight bleeding. There is little IPS gloss to be expected from IPS panels, and it is completely manageable/ tolerable.

D) Features
The ASUS VG279Q is equipped with Adaptive-Sync/AMD FreeSync support, which allows the monitor to dynamically change its refresh rate, preventing any screen stuttering and tearing with no input lag cost.
An AMD FreeSync supported graphics card is required for this technology and operates in a VRR (Variable Refresh Rate) range of 40 to 144Hz/FPS. Also, adaptive sync works with NVIDIA RTX 20 and GTX 10 series graphics cards with no issue on this monitor.
Furthermore, LFC (Low Framerate Compensation) is supported, ensuring consistent performance even below 40FPS. Note that 1ms MPRT (Moving Picture Response Time) and Adaptive-Sync cannot run simultaneously.

E) Connectivity
Connectivity options include dual-link DVI-D (for ELMB and 144Hz), DisplayPort 1.2a (for Adaptive-Sync, ELMB, and 144 Hz), HDMI 1.4a, a headphone jack, and two built-in 2W speakers.

Pros of ASUS VG279Q Monitor
Wide viewing angles and bright colors.
Excellent 1ms response time for smooth gameplay.
GameFast input lag reduces input delay.
Fully adjustable (height adjustment, swivel, pan, and tilt).
Many features, including AMD FreeSync.

Cons of ASUS VG279Q Monitor
Limited visibility in a dark room because of low contrast ratio.
It needs more USB ports.

Models similar to ASUS VG279Q
The ASUS VG279Q is similar to the LG 27GL650F-B, although the VG279Q is slightly better.The ASUS offers much better ergonomics with a 180-degree swivel range and a wider tilt range, making it easier to put in a perfect viewing position.Unlike the LG 27GL650F-B, the VG279Q does not support HDR, but that doesn't add much to the LG anyway.

Frequently Asked Questions about ASUS VG279Q
Q: Does ASUS VG279Q have speakers?
A: The ASUS VG279Q gaming monitor has 2 x 2W stereo speakers. So, you can enjoy your gameplay and viewing clearly even with no external audio devices.

Q: Does VG279Q have G-Sync?
A: The VG279Q is NOT listed as a G-Sync Ultimate or G-Sync compatible monitor on the NVIDIA website. However, this unit has FreeSync/Adaptive-Sync technology and works as such. This monitor works well, and the screen will not break shutter or tear because it has adaptive synchronization.

Q: Is the Asus VG279Q good for gaming?
A: The ASUS VG279Q is an excellent gaming monitor. It boasts a fast refresh rate, is FreeSync compatible, and has a fantastic response time. Hence, the motion looks quite outstanding with minimal blur. Also, it has low input lag in most modes, making it ideal for the most competitive gamers.

Final Thoughts
Thanks to its precise IPS panel, the Asus VG279Q is a great gaming monitor for its price. A 1080p resolution 144Hz IPS monitor has been on many wish-lists we came across. We are glad ASUS responded with a decent model. This model performs just as well as its pricier siblings, guaranteeing that it sells well on the market.
The only obvious problem with the ASUS VG279Q is the IPS panel limitations – low contrast ratio.
Compared to the VA and TN variants, the screen appears gray or slightly discolored in some instances. That being said, the monitor is a fantastic option if a 1080p gaming monitor with excellent viewing angles is on your shopping list.
Check Price at Amazon
Key References
"GtG versus MPRT: Frequently Asked Questions About Pixel Response On Displays | Blur Busters". Accessed May 30, 2021. Link.
"TN or IPS Monitors? What's the Difference? – Techbytes". Accessed May 30, 2021. Link.
"GeForce G-SYNC Monitors: Manufacturers & Specs". Accessed May 30, 2021. Link.