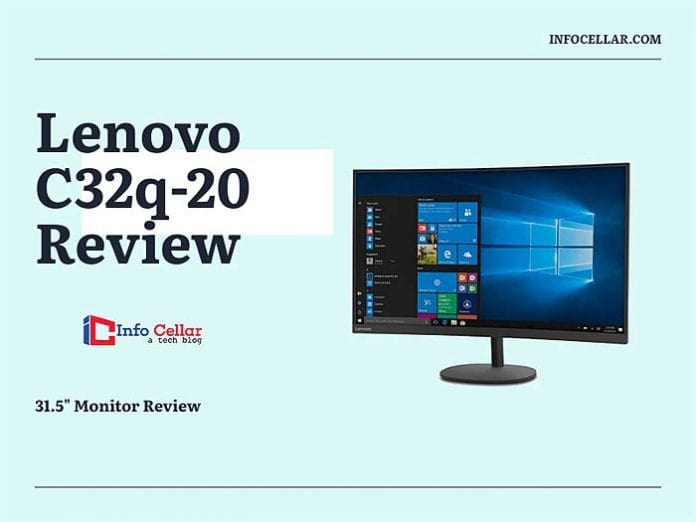 Lenovo C32Q-20 Review: Wondering what you need from a 31.5-inch productivity panel? The answer could be the Lenovo C32q 20. It's a 31.5-inch monitor with an IPS (In-lane Switching) panel that combines a fast response time with native 1440p resolution for an incredibly low price.
We ♥ honesty! Info Cellar earns a commission through the following hand-picked links at no extra cost to you.
Add a sleek design and the trust of Lenovo's premium brand, and you have a desirable proposition. At this price, there are definitely limits. But for the price, the combination of reasonable 1440p resolution, IPS panel, and incredible contrast ratio is a great package.
Lenovo C32qc-20 Review Summary
The Lenovo C32q-20 monitor delivers razor-sharp details and vivid colors on its exceptional 31.5-inch QHD IPS panel, rendering superior images. The monitor can be connected seamlessly via the DP 1.2 ports and HDMI 1.4 to display rich media content. The screen is Low Blue Light certified for comfortable viewing. Also, the C32q-20 is energy efficient and can be used for both gaming and home entertainment thanks to the AMD FreeSync technology and 75Hz refresh rate, making it an excellent investment.
Positives
Remarkable visuals
Simple, lightweight design
Decent value for 1440p
4ms response time
Low input lag
Great reflection handling
Negatives
No speakers
Frustrating controls
Check Price at Amazon
Lenovo C32q-20 Technical Specifications
| | |
| --- | --- |
| Screen Size | 31.5-inch |
| Resolution | 2560×1440 (QHD) |
| Panel Type | VA |
| Aspect Ratio | 16:9 (Curve screen) |
| Refresh Rate | 75Hz |
| Response Time | 4ms (GtG) |
| Adaptive Sync | AMD FreeSync |
| Ports | DisplayPort 1.4, 2x HDMI 2.0 |
| Brightness | 250 cd/m2 |
| Contrast Ratio | 3000:1 (static) |
| Display Bit Depth | 8-bits (6 bits + FRC) |
| VESA | Yes (100x100mm) |

Lenovo C32q-20 User Manual
Here is the user manual of the Lenovo C32q-20 monitor: (PDF).

Detailed Lenovo C32q-20 Review
A) Design
The Lenovo C32q-20 has a simple design that is not too flashy and should blend effortlessly into an office environment.
The display is unframed on three (3) sides, but you still get minimal panel edges that become visible when in use.
It is almost a foot deep when fully assembled, so ensure your present configuration can accommodate it.
Its weight is practicable for a 31.5-inch monitor, but it is not portable for LAN parties or the like.
The build quality of the Lenovo C32q-20 is excellent as the device has cosmetic flaws or signs of weakness.
The plastic sheets used are stable, and the base seems strong enough to keep the screen upright.
There was also no wobble in the test, except when pressing the OSD buttons.
It is easy to get a comfortable viewing angle, but you can swap it out for a VESA mount for more flexibility.
Suggested Reading:

B) Image Quality
Lenovo has equipped the C32q-20 with a QHD (Quad-HD) VA panel, which means it has a resolution of 2560 x 1440 pixels.
With VA technology, the static contrast ratio is given as 3000: 1.Lenovo doesn't give any numbers on the color coverage, so let's look at the display's performance in our tests.
We were able to achieve 72 percent of AdobeRGB and 95 percent coverage on the sRGB space. These are not remarkable numbers, but if your only aim is to game, these numbers do not matter to you anyway.
Of course, you should look elsewhere if you're looking for a monitor that's good for color-critical jobs and gaming, but you will need a bigger budget as well.
However, in terms of color accuracy, Lenovo seems to be doing something right, with the C32q-20 reporting a Delta-E of 1.23.It may not have an ample color space, but what it can display, it accurately reproduces.
The C32q-20 also failed to achieve the promised contrast values, but only a few VA monitors achieved the promised 3000: 1.In this regard, the C32q-20 does exceptionally well. It achieves a contrast of 2000: 1 at 75 percent brightness and 1870: 1 at 100 percent brightness, which we don't see very often.
The screen does not get very bright, though, with its highest brightness value of 250 nits.
Overall brightness can be a bit disappointing in bright rooms. Still, if you are gaming in a dark room at night, we have found the most comfortable screen at 75 percent brightness, where it turns out to be the best contrast ratio.
Suggested Reading:

C) Performance
Lenovo advertises a 4ms response times and 75Hz refresh rate in terms of gaming, which means a solid gaming experience, but nothing overwhelming.
The standard for gaming monitors these days is 144Hz, which means Lenovo is just a hair away. However, we are entering a period where 240 Hz displays are emerging, and a handful of manufacturers have just introduced 360 Hz displays.
QHD resolution is not too demanding for your system. So if you have an updated graphics card or want to cut down on settings, it's very possible to get smooth frame rates without spending a lot of money.
FreeSync works seamlessly, with no flickering, tearing, or stuttering; the latter can often occur with monitors that have VA panels. But as mentioned earlier, this unit has a VA panel where we found a problem: VA smearing.
Since VA panels offer deep blacks and vivid colors, smearing is a common occurrence with VA monitors as they often change color slowly, and particularly when switching from light to dark colors, spots are visible with fast-paced objects.
For instance, if you hover your mouse over the screen on a dark background, it leaves a short trail, or in games, if you spin quickly, it shows up as a kind of slight motion blur.
It's a very soft blur because the refresh rate is high but still blurry. However, this is not something that should be taken at face value and moved on from this monitor right away.
The smearing is minimal, and unless you are a very competitive gamer, it is not likely to bother you.
Suggested Reading:

D) Connectivity
The ports are on the back facing down. There are no surprises here, only HDMI 1.4 and DisplayPort 1.2.
You will also find a microphone/headphone jack here. These are pleasant additions to an otherwise reasonably simple gaming monitor.
Unfortunately, Lenovo didn't think the Lenovo C32Q-20 required speakers, and it lacks a USB hub. We still think most monitors should include speakers, even if they're not the best in the world.
Suggested Reading:

Pros of the Lenovo C32q-20
Good gaming and office productivity monitor.
The screen dimensions are ideal for those who like a big screen but not an extreme aspect ratio.
Two productivity apps can easily run side by side on the same screen.
Decent value for 1440p.
The image stays accurate when viewed at any angle.

Cons of the Lenovo C32q-20
No built-in speakers
Lacks a USB hub.

Models Similar to Lenovo C32q-20 Monitor
The 31.5-inch Lenovo C32q-20 monitor is marketed primarily as a gaming monitor, but there are much better options out there.
For most applications, the ASUS PA278QV ProArt Display is remarkably better than the Lenovo C32q-20.ASUS has better ergonomics, it gets noticeably brighter, and the color accuracy is much better.
Also, the Gigabytes G27Q is equipped with an IPS panel with increased color coverage, but you will sacrifice the deep blacks and curve.
Suggested Reading:

Frequently Asked Questions about the Lenovo C32q-20
Q: Is the Lenovo C32q-20 a Good Gaming Laptop?
A: The C32q-20 offers an immersive gaming experience thanks to its fast response time, high refresh rate, and AMD FreeSync technology. Beyond that, the 31.5-inch curved screen is ideal for gaming, as it is detailed with sharper and cleaner edges.

Q: What is the Resolution of the Lenovo C32q-20 Monitor?
A: The Lenovo C32q-20 has a maximum display resolution of 2560 x 1440 pixels. The 2560 x 1440 QHD resolutions help this monitor deliver an immersive, realistic, and crisp visual experience.

Final Thoughts
The Lenovo C32q-20 is a superb choice if you look for precise colors and speed for competitive gaming. The monitor's powerful IPS panel passes both categories with flying colors. At the same time, its aesthetics make a refreshing change from the gamer-centric or flashy models available today.
It might not be the fastest, but it's fast enough for the vast majority of gamers. It is easy to forgive its shortcomings at its price point, mainly due to the visible smearing, cheaper build quality, and sluggish user interface.
Check Price at Amazon