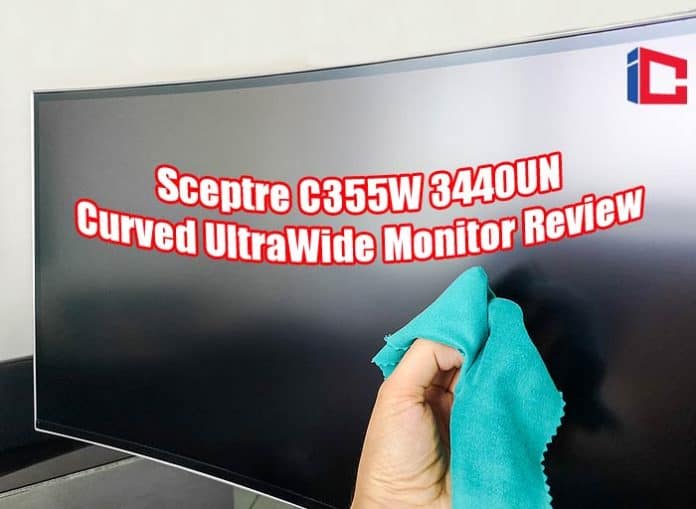 Sceptre C355W-3440UN Review: Fast refresh rate and adaptive sync are common in the gaming monitor range. Extended Color and HDR are also becoming more popular. But where video processing is important, the picture quality remains very uneven, even with competing monitors.
We ♥ honesty! Info Cellar earns a commission through the following hand-picked links at no extra cost to you.
The Sceptre C355W-3440UN is a 35″ curved ultra-wide monitor with 3440 × 1440 resolution at 100Hz, supporting AMD Freesync and G-Sync. The Sceptre C355W is aimed at gamers, as are other models that have become quite common lately.
The concept is that a slight curvature offers an immersive viewing experience on a larger screen. However, this Sceptre has a greater curvature than many others. And as a VA panel, you get really powerful color, contrast, and viewing angle, all at an amazingly low price.
Sceptre C355W-3440UN Review Summary
The Sceptre C355W-3440UN offers an ultra-wide resolution for extra immersion, a high contrast ratio for deep blacks, and FreeSync supports up to 100 Hz for smooth performance.
Positives
High contrast ratio and rich pixel density
AMD FreeSync up to 100Hz
Bountiful screen space
Reasonably priced
Negatives
Tilt-only stand
Basic features
Check Price at Amazon
Sceptre C355W-3440UN Technical Specifications
| | |
| --- | --- |
| Screen Size | 35-inch |
| Screen Curvature | 1800R |
| Resolution | 3440×1440 (UWHD) |
| Panel Type | VA |
| Aspect Ratio | 21:9 (UltraWide) |
| Refresh Rate | 100Hz |
| Response Time (GtG) | 4ms (GtG) |
| Adaptive Sync | FreeSync (60Hz-100Hz)G-SYNC Compatible |
| Ports | DisplayPort 1.2, HDMI 2.0, 2x HDMI 1.4 |
| Other Ports | Headphone Jack |
| Brightness | 320 cd/m2 |
| Contrast Ratio | 3, 000:1 (static) |
| Colors | 16.7 million (true 8-bit) |
| VESA | Yes (100 x 100 mm) |

Sceptre C355W-3440UN User Manual
Here is the user manual of the C355W-3440UN monitor: (PDF).

Detailed Review of the Sceptre C355W-3440UN
A) Design
From a design perspective, Sceptre used the latest technology. Besides the 1800R curve, it has specifications similar to standard gaming monitors (including a 4ms G2G response time, Adaptive sync, and VA panel), but it also increases the panel refresh rate to 100Hz, making it an industry pioneer in offering a higher frame rate than we have seen previously in its 27″ predecessor.
Furthermore, the Sceptre C355W-3440UN offers the excellent aesthetics that one would expect from a gaming monitor.
Although it was designed with gamers in mind, it lacks the aggressive, bold, edgy styles of competitors like the 34GL750-B from LG.
Instead, the monitor housing is crafted from a dark gray plastic supported by a V-shaped stand.
The only real allusion to the player's aesthetics is an illuminated "star" on the back, which breaks the black monotony where the bracket on the monitor is attached.
The stand offers tilt adjustment only (5° forward and 15° backward), but it lacks the swivel and height settings usually found in this price range.

B) Image Quality
The Sceptre C355W-3440UN monitor is based on a 35-inch VA panel with a 3000: 1 static contrast ratio, a maximum brightness of 250 nits, support for 8-bit color depth, and an sRGB color space of around 90%.
You won't get such vivid or precise colors compared to ultra-wide IPS. Still, you get a higher contrast ratio, resulting in deeper blacks and a more vibrant ratio between the lightest and darkest tones.
Nonetheless, the colors of the Sceptre C355W-3440UN look great; it is bright enough under standard viewing conditions. It is an absolute pleasure to play content in dark scenes where you can really enjoy the high contrast ratio of the monitor.
Additionally, the 3440 × 1440 screen resolution means a 94.19 PPI pixel density when viewed on the 35″ screen of the C355W-3440UN and lots of screen real estate and crisp text and detail with no scaling needed.

C) Performance
The Spectre C355W performs well as an all-purpose monitor, perfect for the office, and shines easily as a gaming monitor.
It uses a resolution panel of 3440 x 1440 to deliver crisp images and vibrant colors with a refresh rate of 100 Hz, a contrast ratio of 320 cd/m2, and a response time of 4ms.
That's a solid specification sheet for a big screen monitor at this price point. Incorporating AMD Freesync support makes things even better for avid gamers.
The 1800R of monitors offers an exhilarating experience and is pretty much a standard among the widescreen monitors gaining popularity recently.
The VA (Vertical Alignment) technology used for the display enables improved colors and wide viewing angles.
Adaptive-Sync technology aims to eliminate screen stuttering and tearing while gaming. Whether you use it for general productivity or office work, you'll appreciate the 21:9 aspect ratio and smooth curve that makes it convenient to use.
If you are a casual gamer and don't need the best frames per second, this is another factor to consider.
And for gamers who want to play the latest AAA games at super-high settings they can always look for high-resolution alternatives, such as the 34″ Alienware AW3420DW with 1ms response time, 120 Hz refresh rate, 1900R curvature, and Nvidia G-Sync.

D) Connectivity
There are 1 HDMI 2.0 port, 2 HDMI 1.4 ports, and a DisplayPort on the back of the case.
The Sceptre C355W-3440UN is equipped with at least one USB port, which provides additional charging power for smartphones and other devices.
A 3.5mm audio jack means you can plug your gaming headsets or headphones directly into the monitor instead of connecting a cable to your PC.

Pros of the Sceptre C355W-3440UN
The VA display delivers a wide range of vibrant colors.
The ultrawide display is incredible for immersive games.
Images transition smoothly and rapidly while still reduce screen tearing.
Sturdy frame and stand.
The 100Hz renders buttery smooth performance.
VESA wall-mountable

Cons of the Sceptre C355W-3440UN
Minor ghosting in high-paced games, mainly in darker rooms.
It lacks USB ports.

Models Similar to the Sceptre C355W-3440UN
The AOC CQ32G1 is a superb alternative to the Sceptre C355W.It's perfect for ultra-wide games.It has a low response time, high 144Hz refresh rate and is compatible with AMD FreeSync technology.Also, it costs you less than the C355W-3440UN and provides better value for money.
The Acer Nitro is an incredible ultra-wide monitor.It costs you a bit more than Sceptre C355W-3440UN, but it also gives you prominent features like DisplayHDR400, FreeSync, decent picture quality, 1ms VRG response time, and 144Hz refresh rate.It is definitely worth the price.

Frequently Asked Questions about the Sceptre C355W-3440UN Monitor
Q: Does the C355W 3440UN have speakers?
A: The C355W 3440UN does not have any integrated speakers. However, it comes with a 3.3mm audio jack, which means you can plug your gaming headsets or headphones directly into the monitor instead of connecting a cable to your PC.

Q: Which Display Technology Does the Sceptre C355W-3440UN Use?
A: The Sceptre C355W-3440UN uses VA (Vertical Alignment) technology. The VA technology used for the display enables improved colors and wide viewing angles.

Final Thoughts
The Sceptre C355W-3440UN absolutely delivers on its 35″ 2K promise. There is plenty of screen space for work, movies, and games. And most importantly, it looks perfectly sharp.
Everything from small text to minor details about PC game characters is neatly displayed on this screen. The Alienware AW3420DW is still a better option for gaming, but you will spend more for better gaming performance and added features.
However, if all you want is a budget-friendly 2K monitor that allows you to multitask with a magnificent combination of 2K resolution and screen space, the Sceptre C355W-3440UN delivers real value.

Check Price at Amazon