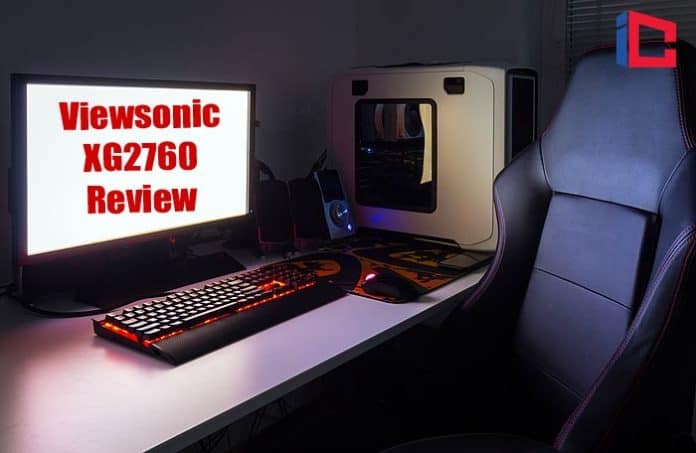 Viewsonic XG2760 Review: In the world of gaming monitors, potential buyers often choose performance and speed for multiplayer games like Counter-Strike or Apex Legends or visual quality for content like TV shows and movies. But in the exceptionally good ViewSonic XG2760, the best of both worlds is available on one screen.
We ♥ honesty! Info Cellar earns a commission through the following hand-picked links at no extra cost to you.
This 27-inch monitor with 1440p and a maximum refresh rate of 165Hz doesn't stand out from the crowd, but what it lacks in terms of design it does with fast response times and low input lag in a beautiful color-accurate panel that you will love playing your favorite games on.
A perfect choice for high-speed gamers and movie buffs, the XG2760 is among the best gaming monitors you can buy.
ViewSonic XG2760 Monitor Review Summary
The ViewSonic XG2760 gaming monitor has everything 1440p gamers could want and more. It's a high-end panel that, despite its price, still offers excellent value for high-speed severe gaming.
Positives
1ms response time from an IPS panel
Exceptional visual results
Fast refresh rate
Very flexible stand
Low input lag
Negatives
The casing could use a bit more flair
A smidge pricey
Check Price at Amazon
ViewSonic XG2760 Technical Specifications
ViewSonic XG2760 User Manual
Here is the user manual of the ViewSonic XG2760: (PDF).

Detailed Viewsonic XG2760 Review
A) Design
The ViewSonic XG2760 uses the latest aesthetic formula in the XG range, which features an overall simple design with slight touches of gamer-centered aesthetics.
The monitor does not deviate too far from the XG27603-GS, as both proudly indicate the monitor's Nvidia G-Sync feature with green accents.
The monitor isn't frameless, but the matte black chassis should go unnoticed for the most part as the screen is quite large.
This unit has a predominantly matte texture, but there are mixtures of glossy details on the base and stand.
The most significant change we noticed with the ViewSonic XG2760 is using a turntable on top of the platter rather than being hidden on the bottom.
This update is intended to improve the smoothness of the screen rotation to the right and left.
We like the X-shaped chassis panel because it's not too aggressive. Still, some users who don't place their monitors against walls may want something a little more noticeable.
Another feature on this side is the 6 buttons, which unfortunately do not have a joystick for easy navigation.
The ViewSonic XG2760 stand is as flexible as any other, as it can be tilted, swiveled, and pivoted in height for more ergonomics.
Also, it is removable via quick-release buttons if the user prefers a VESA mount. However, we do not think it's necessary.
There are also two built-in speakers on the back, but we don't expect them to sound explosive.
Suggested Reading:

B) Image Quality
The ViewSonic XG2760 is primarily based on an IPS (In-Plane Switching) panel from AU Optronics with the following data: viewing angle of 178°, static contrast ratio of 1000: 1, a maximum brightness of 400 nits, and real color depth of 8 bits with a 99 percent sRGB range.
It boasts an FHD screen resolution of 1920 × 1080 pixels, which is not ideal for its 27-inch screen.
Compared to 27-inch 1440p and even 24-inch 1080p monitors, the image quality of the XG2760 will be more pixilated because of the low pixel density of around 81 pixels per inch (PPI).
To reduce the effect of the pixilated details, you can sit a little further from the screen, which makes individual pixels less discernable, or you can use anti-aliasing in games to hide the scaling effect caused by the low pixel density.
In fact, some gamers prefer this as the larger pixels improve their accuracy in FPS games. In general, we've found 27-inch 1080p monitors to be ideally suited for gaming as well as other entertainment purposes.
A low pixel density should only be avoided for office and other tasks. It's really the only thing we have against the ViewSonic XG2760 monitor.
Its IPS panel delivers consistent, accurate, and vibrant colors that stay perfect from virtually any viewing angle.
Also, the monitor can display and accept HDR10 signals. Still, since it doesn't have enough display capabilities for a remarkable HDR viewing experience like vast color space and local dimming, you can basically ignore the HDR support.
Suggested Reading:

C) Performance
The primary feature of this unit is the Motion Blur Reduction (MBR) technology, which employs strobe backlighting to reduce the perception of motion blur and ghosting, but in the process, sacrifices image brightness.
Thanks to the high maximum brightness and vivid colors of the XG2760, the image remains bright enough. In contrast, the colors remain vivid even with PureXP enabled.
Consequently, you get CRT-like clarity of motion and excellent image quality.
A monitor should be set to a refresh rate lower than the maximum strobe rate to avoid strobe crosstalk.
For this reason, all 165Hz monitors with NVIDIA ULMB can flicker with a maximum of 120Hz.
For optimum performance with MBR, we recommend you set the ViewSonic XG2760 to 120 Hz, 144 Hz, or 165 Hz according to your preferences and your PC system's FPS rate.
To prevent double images, your FPS (Frames Per Second) rate should be as close to the refresh rate of your monitor as possible.
The ViewSonic XG2760 also gives you the option to change the length of the strobe pulse (with 4 different levels) to reduce the brightness sacrificed at the expense of motion clarity.
Besides the flawless MBR performance, the XG2760 monitor offers an imperceptible input lag of around 2ms and a fast 1ms GtG pixel response time comparable to 240Hz TN models.
Suggested Reading:

D) Connectivity

Pros of the ViewSonic XG2760
Fastest IPS panel with 1440p resolution out there.
Overclocked 165Hz refresh rate works well and offers a little boost from 144Hz.
Support for FreeSync and G-Sync over DisplayPort.
Rich connectivity options and fully ergonomic design.

Cons of the ViewSonic XG2760
Poor contrast ratio after calibration just like other Nano IPS panels.

Models Similar to the ViewSonic XG2760
The ViewSonic XG2760 is a good 165Hz, 1440p monitor with incredible gaming performance, but it doesn't stand out from similar monitors.
ASUS TUF VG27AQ is similar to the ViewSonic XG2760 but better than it as it has much better ergonomics, better black uniformity, and contrast, and color accuracy is significantly better out-of-box.
Conversely, the ViewSonic is G-SYNC compliant and has a faster response time that is much better than ASUS at 60Hz, better SDR color space, and better handling of reflections.

Frequently Asked Questions about the ViewSonic XG2760
Q: Is ViewSonic XG2760 good for gaming?
A: The ViewSonic XG2760 is an incredible choice for a native gaming refresh rate that can be easily overclocked to 165Hz. G-SYNC VRR is compatible with a DisplayPort connection to eliminate screen tearing. It has excellent response time, which translates into one clear movement. The input lag is remarkably low for a responsive gaming experience. It is not the best choice for gaming in a dark room because of its poor black uniformity and low contrast ratio.

Q: Does the ViewSonic XG2760 monitor have speakers?
A: This ViewSonic XG2760 is equipped with two built-in 2-watt speakers on the back of the monitor.

Final Thoughts
Thanks to its outstanding implementation of the stroboscopic backlight, the ViewSonic XG2760 delivers a pleasant and responsive gaming experience with exceptional motion clarity.
In addition, you get brilliant image quality with wide viewing angles and vivid colors, as well as a multitude of functions, including certified G-SYNC support.
Sadly, there isn't a 24-model available that would offer a higher PPI, but many gamers won't mind its lower pixel density anyway, which is why the ViewSonic XG2760 is among our best 165Hz monitors.
Check Price at Amazon