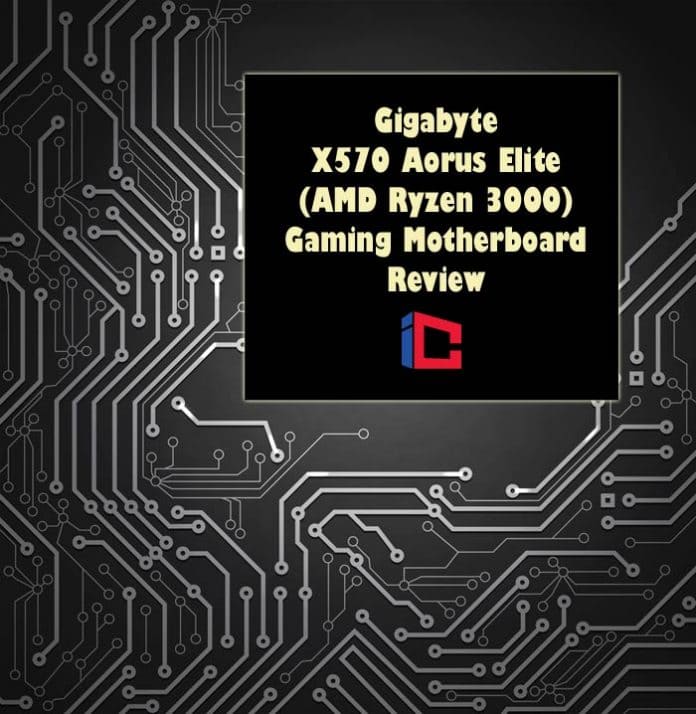 Gigabyte X570 AORUS Elite Review: Gigabyte X570 AORUS Elite is striving for a balance between high-end and budget X570 offers. The Gigabyte X570 AORUS Elite features the new Wi-Fi 6 (802.11ax), an onboard rear I/O shield, a state-of-the-art 14-phase VRM, and a sleek thermal solution.
We ♥ honesty! Info Cellar earns a commission through the following hand-picked links at no extra cost to you.
Did Gigabyte hit the mark? Can the Gigabyte X570 AORUS Elite compete in this extraordinary surge of new AMD cards? Read on.
Gigabyte X570 Aorus Elite Wi-Fi Review Summary
The Gigabyte X570 Aorus Elite offers a budget-friendly entry into the latest AMD platform. It's perfect for users looking for a gaming-centric model with seemingly decent performance and two PCIe 4.0 x4 M.2 slots. Beyond that, it handled overclocking of our Ryzen 7 3700X without complaint and did well in our tests.
Positives
Good value for money
Easy to use BIOS
Integrated I/O shield
M.2 heat sink included
Negatives
A limited number of RGB headers
No rear USB Type-C port
Check Price at Amazon
Gigabyte X570 Aorus Elite Technical Specifications
| | |
| --- | --- |
| CPU Support | AMD AM4 3rd Gen Ryzen/2nd Gen Ryzen/2nd Gen Ryzen with Radeon Vega GPU/ Ryzen with Vega Graphics Processors |
| Power Design | 10 Power Phase Design |
| Memory Power | 2 phase |
| Chipset | AMD X570 |
| Integrated Graphics | Dependent on installed CPU |
| Memory | Support Dual Channel DDR4-4400 MHz, 4x DIMM |
| BIOS | Dual AMI UEFI BIOS |
| Expansion Slots | 2x PCIe 4.0 x16 slots 2x PCIe 4.0 x1 slots |
| Storage | 6x SATA3 6 Gb/s port2x M.2 port (SATA3/PCIe 4.0 x4) |
| Networking | 1x Intel 1211AT1x Realtek RTL8125AG1x Intel 802.11ax (WiFi 6) |
| Rear Ports | 2x SMA antenna connectors1x HDMI port1x DisplayPort 1.21x Optical SPDIF out port1x LAN (RJ45) port1x USB (Gen2) Type-C2x USB 3.2 (Gen2) Type-A 4x USB 3.2 (Gen1) Type-A4x USB 2.0 Type-A5x 3.5 mm Audio jacks |
| Audio | 1x Realtek ALC1220 Codec (5.1 Channel) |
| Fan Headers | 7x 4-pin |
| Form Factor | ATX Form Factor: 12.0 in x 9.0 in, 30.5 cm x 22.9 cm12.0 in x 9.6 in, 30.5 cm x 24.4 cm |

Gigabyte X570 Aorus Elite User Manual
Here is the user manual of the Gigabyte X570 Aorus Elite: (PDF).
Suggested Reading:

Detailed Gigabyte X570 Aorus Elite Review
A) Board Layout
The Gigabyte X570 AORUS Elite has a very matte gray painted circuit board with silvery gray lines printed diagonally.
Also, the rear I/O cover is matte black with silver accents. At the same time, the chipset heatsink is brushed silver on black with the AORUS emblem in polished silver.
The processor socket is open enough to house most coolers, and the VRM heatsink seems quite capable. The Gigabyte X570 AORUS Elite has two M.2 slots.
The former sits directly below the processor socket. It operates through the processor PCIe lanes, while the latter sits between the first two PCIe 4.0 x16 slots and operates through the PCH lanes.
The M.2 outputs are equipped with heat sinks. Each heatsink uses a single screw, which itself cannot be lost, as well as a slot in the metal-wrapped M.2 socket.
This mounting system is much sleeker than most and also much easier to use. The chipset fan sits under a brushed metal plate. The plate is covered in adhesive, making replacing the fan a bit more complex than with other models.
The Gigabyte X570 AORUS Elite offers two PCIe 4.0 x16 slots, the first two of which are coated with metal reinforcements and two PCIe 4.0 x1 slots.
The card has a total of six 6Gb/s SATA ports, all at a 90-degree angle to the card. The Gigabyte X570 AORUS Elite has a superb rear I/O range, including an optical SPDIF output and a BIOS flashback USB port. Everything on the thematically integrated backplate is well labeled.
The Gigabyte X570 AORUS Elite is networked using an Intel I211AT adapter and an Intel AX200 802.11ax Wi-Fi adapter.
Suggested Reading:

B) VRM (Voltage Regulator Module) Overview
The Gigabyte X570 AORUS Elite has a 14-phase VRM in configuration 12 + 2 with Rj-45 dopplers for Vcore phases.
The ISL69138 controller supports up to two SOC phases and 6 Vcore phases. The Gigabyte X570 AORUS Elite uses IR3553 power levels designed for 40 Ampere.
Although these levels have a lower current rating than other offerings, they have a more sophisticated range of functions.
Each of the SOC phases is conditioned with two (2) 4C06N low-side MOSFETs (metal-oxide-semiconductor field-effect transistor) and two (2) 4C10N high-side MOSFETs.
While this is a more economical overall configuration than Vcore's performance tiers, it should be enough to meet SOC requirements.
The Gigabyte X570 AORUS Elite has a maximum output of 480A. While we didn't know precisely that until the Ryzen 3950X was released, that should be enough for LN2 overclocking.
Suggested Reading:

C) Onboard Software
The driver disk of this board follows a standard layout with four tabs: Special, Manual, Utilities, and Drivers.
The Gigabyte X570 AORUS Elite's software package is included in the Application Center, allowing convenient access with no cluttering of your desktop.
There are 13 applications in the suite. AutoGreen is a Bluetooth management application, and USB Blocker is a USB management app.
Cloud Station Server and Cloud Station are remote access applications. Fast Boot allows Windows to boot quickly and can be used to access BIOS settings as well.
Game Boost is hardware prioritization software. RGB Fusion controls the RGB application.
System Information Viewer (SIV) is the internal program for controlling fans and monitoring the operating system hardware.

D) Fan Control
The Gigabyte X570 AORUS Elite fan control can be accessed in the BIOS or via Smart Fan 5 in the SIV app under Windows.
Both methods deliver impulsive fan curve controls.
The Gigabyte X570 AORUS Elite has up to 7 fan headers; 3 are grouped on the processor socket, 3 are grouped along the board's right edge, and the last is grouped along the bottom edge of the board.

E) Overclocking
Like the ASUS Prime X570-Pro and the ASRock X570 Taichi, the Gigabyte X570 AORUS Elite has demonstrably little leeway when overclocking.
Our Ryzen 7 3700X achieved a maximum stable clock of 4400MHz at 1.32 Volts, which is an improvement of 200MHz and not a bad result for 12 threads and 6 cores under 100W.
Disappointingly, the Gigabyte X570 AORUS Elite does not have a postcode display but instead has debug LEDs. Also, it has a dedicated Q-Flash button for worst-case BIOS recovery.
This board turned out to be excellent in terms of memory clock stability, on par with the ASUS Prime X570-Pro.
The XMP was also stable, and we were able to squeeze 4200 MHz without needing to touch the voltages on the T-Force Xtreem kit.
We were able to enter Windows and go through multiple MemTest64 loops with no errors at this frequency.
Overall, we were impressed with the memory overclocking potential of the Gigabyte X570 AORUS Elite.

Pros of the Gigabyte X570 AORUS Elite
Attractive neutral aesthetics
Excellent memory overclock
Sophisticated VRM
Well-designed M.2 heat sinks.
The mini fan keeps the board cool.

Cons of the Gigabyte X570 AORUS Elite
Somewhat bloated software
The RGB light was a bit lackluster.
The location of the fan head is a bit awkward when using installing case fans or a larger cooler.

Models Similar to the Gigabyte X570 AORUS Elite
The Gigabyte X570 AORUS Elite is similar to the ASUS TUF Gaming X570-Plus Wi-Fi, but the ASUS slightly edges it as it comes with 8 SATA ports and 8-channel audio (driven by Realtek ALC1200 HD codec).
It's a more generous feature set for the same price. If you need additional SATA ports, the ASUS is a better option right now. However, if you don't need a complete list of SATA ports, your choice may depend on aesthetics. On this front, AORUS Elite's theme will not offend or inspire anyone.

Frequently Asked Questions about the Gigabyte X570 AORUS Elite
Q: Does the Gigabyte X570 AORUS Elite Have USB-C?
Yes, the USB Type-C header is just below the onboard RAM models. However, you do need an adapter cable to use it with USB-C. Gigabyte designed this header to work with their ATX case like AORUS C300 glass. The C300 Glass contains the cable for using the USB-C on the front of the case.

Q: How to Flash the Gigabyte X570 AORUS Elite with Q-Flash Plus?
The Q-Flash Plus is a feature that allows you to update the BIOS without having any processor, RAM, or graphics card installed. The most prevalent reason you need/want to do this is when you have a new processor that is not compatible with the existing BIOS version on your motherboard. To flash the Gigabyte X570 AORUS Elite with Q-Flash Plus, follow the steps below:
Download the appropriate BIOS file from the Gigabyte website.
Extract the downloaded zip file.
Make sure you enable file name extensions in Windows Explorer.
Rename the BIOS file to gigabyte. bin.
Ensure you have a small capacity USB 2.0 flash drive.
Make sure the flash drive is formatted with the FAT32 file system.
Copy the renamed BIOS file to the root directory of the flash drive.
Connect the 8-pin and 224-pin power connectors to the motherboard.
Insert the flash drive into the correct USB port on the motherboard.
Plug in the AC adapter and turn it on.
Press the Q-Flash Plus button (don't use the regular power button).

Final Thoughts
The Gigabyte X570 AORUS Elite is an elegant, simple, and attractive motherboard. VRM may not be built like some of its competitors, but it makes up for its "lack" of current output with more elegance.
The onboard rear I/O shield is a great touch that adds to the sophistication of the board, and the screw-in attachment of the M.2 heat sinks is captive, so it doesn't get lost. The design is very well thought out. The fan is almost silent, and the chipset heatsink is reasonably sized.
Check Price at Amazon