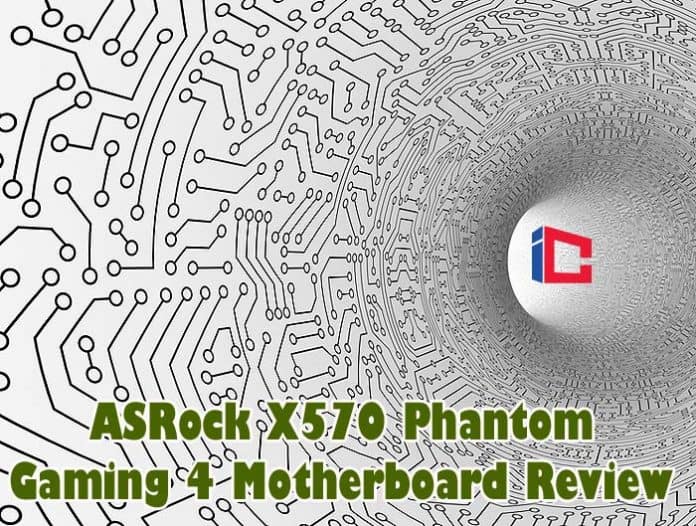 ASRock X570 Phantom Gaming 4 Review: This is the most value-oriented model of the three X570 models from the Phantom Gaming brand. The X570 Phantom Gaming 4 retains many features similar to other models and focuses more on value for money with a combination of high-quality components and simple but effective aesthetics.
We ♥ honesty! Info Cellar earns a commission through the following hand-picked links at no extra cost to you.
The overall design comprises a gray and black PCB with an actively cooled gray and black chipset heat sink and a gray PSU heat sink that helps keep the VCore processor area cool.
So it has the features and the looks, but does it have the performance to be the best motherboard in a range of great motherboards? Read on.
ASRock X570 Phantom Gaming 4 Review Summary
The ASRock X570 Phantom Gaming 4 performed well in our overclocking and stock tests. For gamers who need a Thunderbolt 3 port, this is among the few cards that offer it. The chipset fan was audible in the stock configurations. But for the price tag, this little card is a complete and impressive solution for a small build.
Positives
Robust Voltage Regulator Module (VRM)
Integrated rear I/O shield
Excellent aesthetic
Great implementation of RGB LEDs
Check Price at Amazon
ASRock X570 Phantom Gaming 4 Technical Specifications
| | |
| --- | --- |
| CPU Support | AMD AM4 Socket Ryzen 2000 and 3000 Series Processors |
| Power Design | 10 Power Phase Design |
| Memory Power | 2 phase |
| Chipset | AMD X570 |
| Integrated Graphics | Dependent on installed CPU |
| Memory | Support Dual Channel DDR4-4066+(OC) MHz, 4x DIMM |
| BIOS | AMI UEFI BIOS |
| Expansion Slots | 2x PCIe 4.0 x16 slots 2x PCIe 4.0 x1 slots |
| Storage | 8x SATA3 6 Gb/s port2x M.2 port (SATA3/PCIe 4.0 x4) |
| Networking | 1x Intel 1211AT1x Realtek RTL8125AG1x Intel 802.11ax (WiFi 6) |
| Rear Ports | 3x Antenna ports1x HDMI port1x PS/2 Mouse/Keyboard Port1x DisplayPort 1.21x Optical SPDIF out port1x LAN (RJ45) port2x USB 3.2 (Gen2) Type-A ports6x USB 3.2 (Gen1) ports5x 3.5 mm Audio jacks1x PS/2 Mouse/Keyboard combo port |
| Audio | 1x Realtek ALC1220 Codec |
| Fan Headers | 3x 4-pin |
| Form Factor | ATX Form Factor: 12.0 in x 9.0 in, 30.5 cm x 22.9 cm |

ASRock X570 Phantom Gaming 4 User Manual
Here is the user manual of the ASRock X570 Phantom Gaming 4: (PDF).
Suggested Reading:

Detailed ASRock X570 Phantom Gaming 4 Review
A) Board Layout
This motherboard 4 follows the concept of its Z390 counterpart. This matte black circuit card is nearly entirely covered by the massive heatsink covering the 3 M.2 slots and chipset, as well as an integrated I/O shield and a rear I/O cover.
The back of the ASRock X570 Phantom Gaming 4 is also black but not white, as a large backplate occupies over half of the back of the plate.
The backplate adds structural integrity when heat sinks are mounted on it.
ASRock has put several drivers on the back of this card, especially for the 2.5Gb/s LAN.
The ASRock X570 Phantom Gaming 4 is very sharp and looks modern, with an excellent level of detail. The processor socket is open enough to house most coolers, and the VRM heatsink seems quite capable.
Although it is not a very complex part, the finishing and machining of the heatsink are absolutely magnificent. The Torx screws are an exciting twist, although we wish they had been used throughout instead of the M.2 heatsink screws.
The upper M.2 heatsink overlaps the chipset heatsink, and the two are connected with a thermal pad.
The ASRock X570 Phantom Gaming 4 offers 2 PCI-E 4.0 x16 slots, all enclosed in steel armor, as well as 2 PCI-E 4.0 x1 slots. In addition, the card has a total of 8 SATA3 6Gb/s ports, all at a 90-degree angle to the card.
The ASRock X570 Phantom Gaming 4 has an excellent rear I/O offering with 1 LAN port and a PS/2 Mouse/Keyboard Port.
In combination with the WiFi 6, the ASRock X570 Phantom Gaming 4 has a lot of network power.
Suggested Reading:

B) VRM Overview
The ASRock X570 Phantom Gaming 4 features 10-phase VRM in a (1 x 2) + (6 x 2) setup.
The fundamental components are mainly similar to the current ASRock X570 Taichi but with a slight adjustment to the power, levels used.
The PWM controller supports up to 5 phases in different configurations.
To perform 10 phases, ASRock employs 4 Intersil ISL6617A Dopplers located at the board's rear. To fill in more Vcore phases, ASRock also opted for Doppler in SOC.
The ASRock X570 Phantom Gaming 4 uses SiC654 power amplifiers for all 10 phases (2 for SOC and 12 for Vcore).
The two stages are pretty similar, and both offer a maximum current output of 50A. Still, the SiC654 of the Phantom Gaming 4 also offers protection against overheating and overcurrent with low loss of efficiency (90% vs. 95% of maximum efficiency).
The ASRock X570 Phantom Gaming 4 has a maximum output of 600A, much higher than what a Ryzen 3000 processor could consume. As a result, this VRM is definitely considered oversized.
Suggested Reading:

C) Software
On the software aspect, ASRock offers users some valuable apps for overclocking and system monitoring with the RGB control, Phantom Gaming Tuning program, and even an "App Store" for easy download and installation of ASRock applications and other third-party applications.
ASRock's App Store is a small footprint app that gives users easy access to their applications, including the XFast LAN, Full Color RGB LED utility, Restart to UEFI, and Application Loader.
Besides ASRock apps, some 3rd-party apps such as Norton Security and Chrome can also be downloaded here.
This application also provides access to the BIOS and the latest drivers for the system. This section shows a list of BIOS/drivers and the latest version and indicates the most recent version available.
Just select which one you want to update, and your drivers will be updated. Overall, the app was helpful for an initial upgrade and its functionality for a full upgrade.

D) Overclocking
Overclocking the Ryzen 7 3700X processor on this motherboard generated a clock rate of 4.25 GHz with 1.325 Volts in the BIOS).
Switching to the next multiplier at the same voltages resulted in a default value.
More voltage resulted in throttling, while less voltage in a much faster time was a fail.
It's just the end of the road for this room-cooled processor. It has been shown that the VRM sends relatively stable voltages (depending on the software).
When using optimized presets, it reads like level 3, but with a fixed voltage, it changes automatically to level 1, the highest.
To put it in a nutshell, the ASRock X570 Phantom Gaming 4 handled the manual tuning of the GSkill Neo-Sticks to DDR4 4066 CL16 and the XMP tuning to DDR4 3600. This was also done with the 1: 1 ratio for optimal performance.
Overall, this motherboard could achieve the same clocks on the CPU as competing motherboards with a similar voltage.

E) Audio Quality

Pros of the ASRock X570 Phantom Gaming 4
Minimalist board with an intuitive design.
Excellent cooling for MOSFET and chipset.
10 power phase design.
Above-average load-out of SATA and USB ports.
Support for WiFi 802.11ax over WiFi-6 certified Intel silicon.

Cons of the ASRock X570 Phantom Gaming 4
All-in-one heat sinks over M.2 slots and chipset make it challenging to upgrade memory on an integrated PC.
Lacks a USB-C port.

Models Similar to the ASRock X570 Phantom Gaming 4
The ASRock X570 Phantom Gaming 4 and the ASUS TUF Gaming B550M-Plus have similar general performance, but they have some notable differences.
The ASUS TUF Gaming B550M-Plus has a higher memory frequency at 4400 MHz and a better network adapter speed at 2500Mb/s than ASRock's 1, 000Mb/s.

Frequently Asked Questions about the ASRock X570 Phantom Gaming 4
Q: Does ASRock X570 Phantom Gaming 4 have USB C?
A: This model does not have a USB Type-C port, but it has an Intel I211-AT LAN port and three color-coded 3.5mm audio jacks powered by a 7.1 CH HD Audio from Realtek.

Q: Does ASRock X570 Phantom Gaming 4 have WiFi?
A: The ASRock motherboard is equipped with a new generation Intel WiFi 6 802.11ax adapter. The speed will be up to 2.4Gb/s, and it will also work natively at 2.4GHz and 5GHz at the same time.

Q: Does the ASRock X570 Phantom Gaming 4 have RGB?
A: This ASRock X570 Phantom Gaming 4 has built-in RGB headers, and an addressable RGB header which allows the motherboard to connect to supported LED devices such as strips, coolers, cases, CPU fans, etc.

Final Thoughts
Overall, the ASRock X570 Phantom Gaming 4 is a more modest variant with a Gigabit Ethernet port, a slightly lightweight 7.1 CH HD Audio from Realtek, and 2 PCIe 4.0 slots. However, its price point makes it ideal for entry-level gamers.
Check Price at Amazon