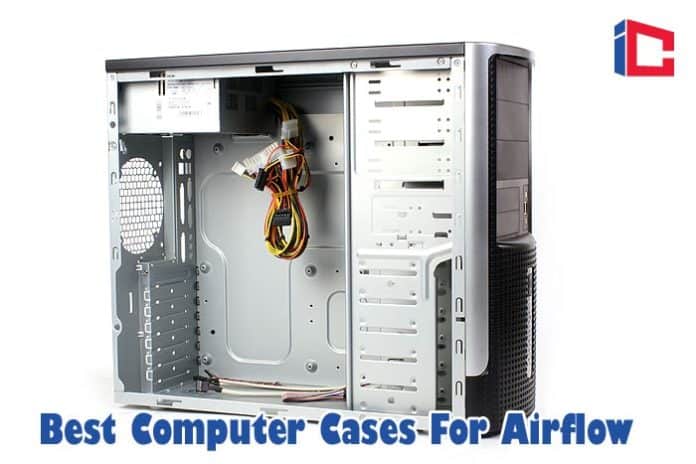 Powerful computers generate heat. The only way to get this heat out of the system is to pass it on to the surrounding air. Whether you're doing it through air coolers and heat pipes or using a liquid circuit somewhere, you ultimately need a flow of air to carry that heat. This page explores some of the best computer cases for airflow on the market.
Sale
Best Computer Cases For Airflow
Our Pick
With 7 fan mounts, multi-radiator liquid cooling, and optimized open-air interior design for ample airflow, the Fractal Design Meshify C Computer Case is our pick for the best computer cases for airflow.
We ♥ honesty! Info Cellar earns a commission through the following hand-picked links at no extra cost to you.
Best Computer Cases For Airflow – Comparison Table
Motherboard Support
Mini-ITX, Micro-ATX, ATX, E-ATX
Mini-ITX, Micro-ATX, ATX, E-ATX
Mini-ITX, Micro-ATX, E-ATX, ATX
Card length Supported (mm)
Max CPU Cooler Height (mm)
Internal Bays (inches)
4x 2.5 SSDs and 2x 3.5 HDDs
2x 2.5/3.5 SSDs and 3x 2.5 HDDs
2x 3.5 HDDs and 2x 2.5 SSDs
2x 3.5 HDDs and 3x 2.5 SSDs
2x 3.5 Hot Swap Bays 4x 2.5 tool-free SSD Drive Cages

Why is Cooling System Important for a Computer?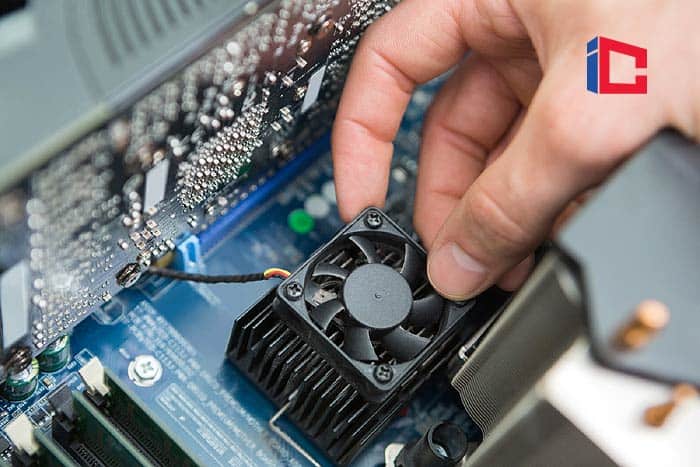 While computer cases' greatest attraction is usually their aesthetics, cases play an essential role in your computer's cooling process.
Cooling components are obviously an important aspect of maintaining and building a computer.
The cooler your components are, the longer they will last, and the fewer issues there will be.
The best PC cases for airflow add (or hinder) the cooling process because of the airflow they offer (or cannot offer).
Your computer case also determines what type of processor cooler you can opt for.

Does Airflow Affect Computer Performance?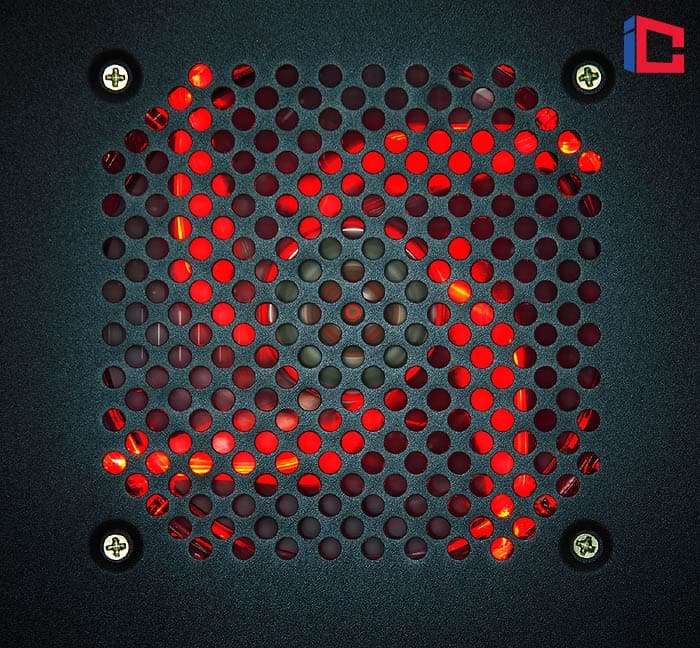 Airflow is a vital component in the cooling equation for a custom gaming computer. Without adequate airflow, critical internal components are prone to overheating complications. The basics of airflow can be summarized as fans, which create air movements in the case. The first starting point is the direction in which the fans move the air.

A) Blades and Air Direction
The fan blades on the PC cases are stowed away. The concave side of the fan points in the direction the air is moving.
This means that fans with blades facing the inside of the case are inlet fans, and fans with blades facing out are outlet fans.
Knowing the direction the air is moving in will help you create the correct air pressure in the case. Ideally, the case pressure should be positive but as close to idle as possible.
It's ideal for the air to circulate freely on the computer. Placing the fans along the case should help with this.
Suggested Reading:

B) Air Volume Displaced
In addition to the fan's direction and location, the CFM (Cubic Feet Per Minute) rating is essential.
This calculation describes the number of cubic feet of air the fan can move in one minute.
Knowing the numbers of the fans used in the case can help you perform calculations to determine precisely how many inlet and outlet fans a particular build will require. There are plenty of resources online to help you calculate this.
Suggested Reading:

How Much Airflow Does a PC Need?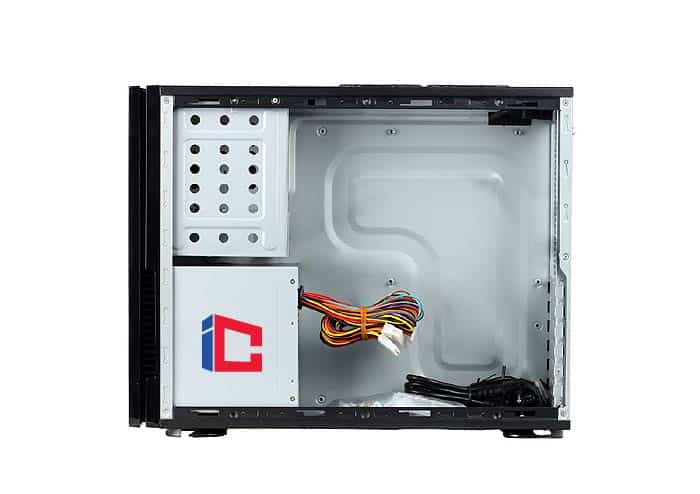 When it comes to airflow for your PC, 2-inches from any surface is an ideal minimum to take into account.
The most important consideration is to keep the exhaust out of the inlet.
If you want it as close to the wall as possible, install a 2-inch standoff somewhere inside the computer case frame to keep the case from getting more than two inches closer.
Additionally, we recommend buying cases with at least three fans (or at least slots to add them yourself) for gaming systems.
Suggested Reading:

Does Airflow Matter in a Case?
In most cases, it won't make much difference as long as the air is circulating and fresh air is coming in. However, variations in individual settings can cause exceptions.

Do NZXT Cases Have Bad Airflow?
The NZXT case is not a bad PC case, but you'll definitely want to update the default fan settings a little. It is equipped with just one inlet (top) and one outlet (rear), so we recommend adding 2 x 120mm or 140mm fans at the front for a front-to-back airflow setup. The front has side vents through which cold air can enter, so there should be no cooling problems.

How Important is Upward Airflow in PC?
Typically, it is recommended that the airflow in a PC case go upward, with the outlet at the top and the inlet at the bottom. The primary reasoning behind this is because hot air typically rises. So channeling the air in the upwards direction allows you to work with the natural airflow and not against it.

Does PC Case Affect Temperature?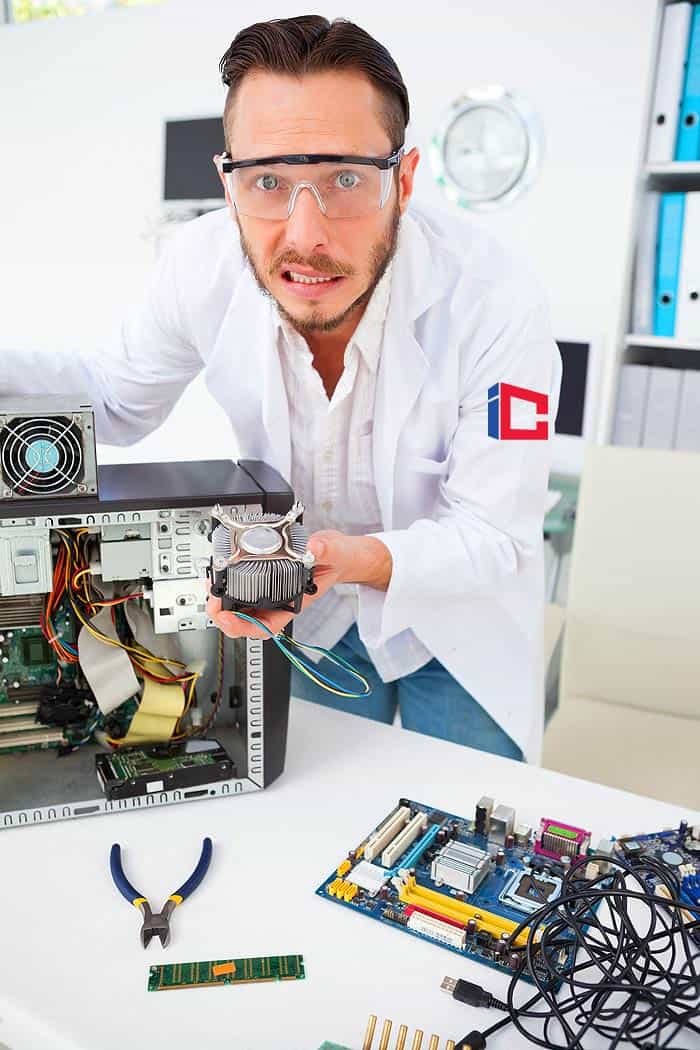 The PC case of a build makes a big difference in the temperature, not only in terms of noise but also in terms of performance.
A case with good airflow can make a 15 degrees difference in processor and graphics card temperatures compared to a restricted airflow case.
CPU and GPU temperatures aren't the only components affected. The hard drive, motherboard, RAM, and even the power supply all suffer in terms of lifespan, stability, and performance.
However, having suitable temperatures also requires an efficient thermal design. A PC case full of fans doesn't matter if the design isn't efficient.
It can have eight fans, but if the air close to the main components does not use all the airflow, it will be unusable.
You can buy a small, highly efficient, well-ventilated case with a small form factor and perfect temperatures.

What to Look for?
There are always certain things to keep in mind when purchasing a new hardware piece to ensure that it meets your specific needs. The humble computer case is no different at all, which brings several different considerations to the table, especially when your build is designed for airflow and cooling.
Because of this, we will outline the top factors to consider when buying the best computer case for airflow.
A) Case Fan Configurations
When it comes to your PC case's internal airflow, your case fans are the number one driving force.
Case fans create a flow of air, forcing air over your components and through your case, and lowering the overall temperature to a more efficient level. In this sense, not all cases are structured in the same way.
Some offer great fan configurations that adapt to the airflow, while others only offer a fan slot. There's a big difference.
If you are looking to purchase an airflow-friendly case, you should find one that offers multiple mounting areas for the case fan.
Typically, 3 by 120mm at the front, 3 by 120 mm at the roof, and 1 by 120 mm at the rear.
This gives the user the freedom to operate a fan configuration that best suits their build's airflow needs.

B) Interior Space and Case Form Factor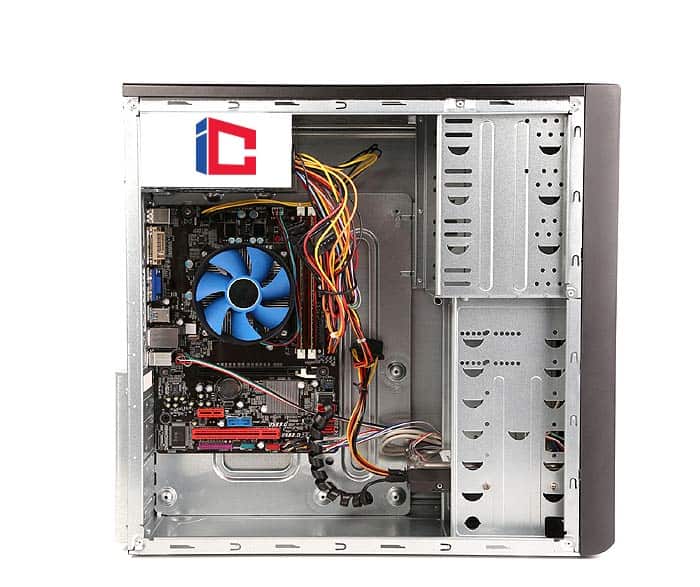 Another critical factor to consider when shopping for the best computer cases for airflow is the form factor.
When we look at the form factor of a case, we usually think about what components it contains and whether the PC case can accommodate them.
A similar philosophy is also employed here. If your computer case only fits your components, you're not leaving a lot of room for airflow.
If your PC build has lots of cables, a large graphics card, and extra hard drive bays, airflow in your case can be stunted.
If you choose a case that has a lot of space, your case can create good air circulation.

C) Cable Management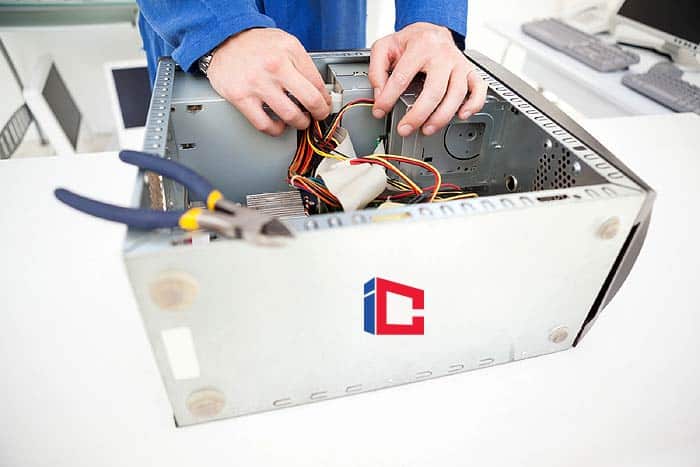 It does not matter if your next computer build is for workflows, gaming, or just general surfing; ultimately, cable management has an enormous impact on your case's performance, not only from a thermal point.
While cable management is essential for dust and aesthetic reasons, we mainly focus on the effects airflow can have if not done correctly.
Fortunately, all the computer cases in this guide provide reasonable cable management options so that the builder can re-route cables to not interfere with the airflow of the case.

Best Computer Cases for Airflow
Here are the top 6 best computer cases for airflow on the market today:
1. Cougar MX660 Mesh RGB Mid-Tower Case Review
The MX660 Mesh RGB is a mid-tower case that maintains the iconic COUGAR styling. The solid mesh front with fold angles ensures better airflow performance.
With 3 ARGB VK120 fans and a left frame made of clear tempered glass, you can freely see your computer's internal components.
This computer case combines COUGAR's powerful airflow and industrial style. So, it not only ensures your critical hardware receives the maximum amount of cooling, but it also helps to create a fantastic build.
The built-in light button and ARGB VK120 fans with a built-in LED driver allow this computer case to display impressive lighting effects.
To deliver top-notch performance, the MX660 Mesh RGB can fit into a robust build. Its support for E-ATX motherboards and graphics cards up to 410mm in length gives you unmatched hardware freedom.
Thanks to the USB 3.0 and USB 3.1 Gen-2 Type-C ports, the MX660 Mesh RGB can connect to the latest devices.
Also, it offers high-speed connections to meet the massive data transfer needs of PC enthusiasts.
Pros
Delivers powerful airflow
Built-in lighting button
Massive tempered glass
Easy access to connect all your devices.
Cons
Uneven feet because of bent/warped/unevenly cut metal.
Check Price on Amazon

2. Corsair 5000D Airflow Mid Tower ATX PC Case Review
The CORSAIR 5000D Airflow is a mid-tower ATX PC case that shows off your build, not its cables.
An airflow-optimized front panel and hidden cable management make it easy to set up a clean and cool PC.
The 5000D makes it easy to build an impressive PC. With the flexibility to mount several 360mm radiators and the space it takes up, it's even easier to keep it cool.
Beyond that, an optimized steel faceplate ensures massive airflow to your build for efficient cooling.
The RapidRoute cable management system in this best mid tower case for airflow makes it quick and easy to route main cables via a single concealed channel.
The easy-access hinged door and spacious 25mm clearance behind the motherboard provide room for all your cables.
The CORSAIR AirGuide fans use vortex blades to concentrate airflow and improve cooling.
Pros
High airflow front panel.
Two 120mm fans are included.
Maximum cooling potential
Easy and simple cable routing.
Cons
Higher price than other computer cases.
Check Price on Amazon

3. Fractal Design Meshify C Mid-Tower Computer Case Review
Fractal offers a versatile and well-thought-out design geared towards ease of use. Meshify C offers a very enjoyable and pleasant building experience.
Whether you're using this PC case as part of a build where you just want to provide lots of airflows, a server, a workstation with lots of hard drives, or premium custom liquid cooling, the Meshify C will find a way to suit your build.
The Meshify C does not try to reinvent the wheel in terms of case design but rather carefully chisels it to optimize the experience.
This lovely PC case is an ITX, Mini-ATX, and ATX form factor compatible case. It offers a highly optimized open-air interior design making room for the most popular component setups.
The Meshify C has a compact footprint with high-end component support for a larger tower.
With 7 fan mounts and multi-radiator liquid cooling capability, it has the cooling capacity to match your build.
Overall, it's a very cool-looking PC case with a nice design and delivers an outstanding performance.
Pros
Excellent cooling performance
Interior brilliance
Easy dust filters and panel removal.
Cons
Overkill for modest PC builds.
Check Price on Amazon

4. Corsair iCUE 220T RGB Airflow Smart Case Review
The Corsair iCUE 220T RGB Airflow not only has a fantastic look but also delivers impressive cooling features.
It differs from the regular 220T in that the tempered glass faceplate is replaced by a ventilated steel plate with a filter.
The faceplate also features an unusual pattern that highlights the unique RGB lighting. There are 3 RGB fans with 8 LEDs each behind the front panel.
The LEDs can be controlled via the iCUE application and synchronized with your mouse, headphones, or other devices.
The 220T RGB Airflow has a large tempered glass window on the side and a hidden panel to conceal the power supply.
There is space for 4x 140 mm fans, 6x 120 mm fans, or one 360 ​​mm radiator.
This PC case isn't very spacious, so it's a good idea to measure the graphics card, power supply, and other larger components before buying.
Pros
Solid steel construction
High airflow cooling
Easy to remove the front panel.
Fits up to 4x 140mm drive bays.
Check Price on Amazon

5. MUSETEX RGB Mid-Tower PC Case Review
The Musetex RGB is an inexpensive mid-tower PC case that comes with high-quality airflow.
This computer case comes with 6 pre-installed fans and vents on the bottom, back, and top.
There are 3 120mm fans in the front, 2 on top, and one in the rear. The fans all come with RGB lighting. You can easily control the different color modes via a button or the supplied radio remote control.
Furthermore, you can adjust the lighting to match the sounds of your music or game.
This PC case is enormous and has room for all components with two 3.5-inch drive bays, three 2.5-inch drive bays, and 7 expansion slots.
The faceplate has 2 USB 2.0 ports, 2 USB 3.0 ports, and audio ports.
Also, it has RGB, reset, and power buttons, but it doesn't support USB-C. The Musetex RGB Mid-Tower PC Case is ideal if you want a unit with multiple pre-installed fans.
Pros
6 Pre-installed fans for ample airflow.
Tempered glass panel
Efficient cable management
Dust-proof design
Cons
It doesn't support USB-C ports.
Check Price on Amazon

6. Corsair Carbide Series Air 540 High Airflow Computer Case Review
The Corsair Carbide Series Air 540 High Airflow Computer Case has a dual-chamber design that allows you to cool temperature-sensitive components on one side and store the rest of your components on the second side.
This design improves airflow to cool the processor and graphics cards when moving cables to another chamber.
Additionally, this unit supports a liquid cooling solution and comes with 3 140mm case fans.
The Carbide Air 540 series offers enough space for an E-ATX, ATX, Micro-ATX, or Mini-ITX motherboard.
You can install up to 2 optical drives and up to six 2.5-inch storage drives in the external and internal drive bays.
Additionally, the 2 internal 2.5-inch bays can accommodate 3.5-inch drives instead. This case has 8 expansion slots and supports graphics cards up to 12.6 inches long.
Corsair offers tool-less installation of PCIe cards and storage drives so you can build easily and quickly.
Also, you can see all of your components in this case through the large tinted recessed side window.
Pros
Dual chambers deliver outstanding cooling.
Space-saving design
Quiet operation
Quick and easy to assemble.
Cons
Slightly loud fan motors.
Check Price on Amazon

Sale
Top-Rated Computer Cases For Airflow
Our Pick
Our pick for the best computer cases for airflow is the Fractal Design Meshify C Mid Tower Computer Case.
This excellent computer case is an ITX, Mini-ATX, and ATX form factor compatible case. It provides a highly optimized open-air interior design which creates vast room for the most popular component setups.
With 7 fan mounts and multi-radiator liquid cooling capability, it has the cooling capacity to match your build.
Whether you are building a workstation or a Gaming PC, one of your top priorities should be to keep your shiny new components cool.
We hope this guide has made shopping for your next computer case for airflow a bit easier and gives you an in-depth understanding of thermal and cooling settings you may not be familiar with.

Key References
"Case airflow | AVADirect". Accessed April 08, 2021. Link.
"Does case airflow really matter much? – Power Supplies – Linus Tech Tips". Accessed April 08, 2021. Link.