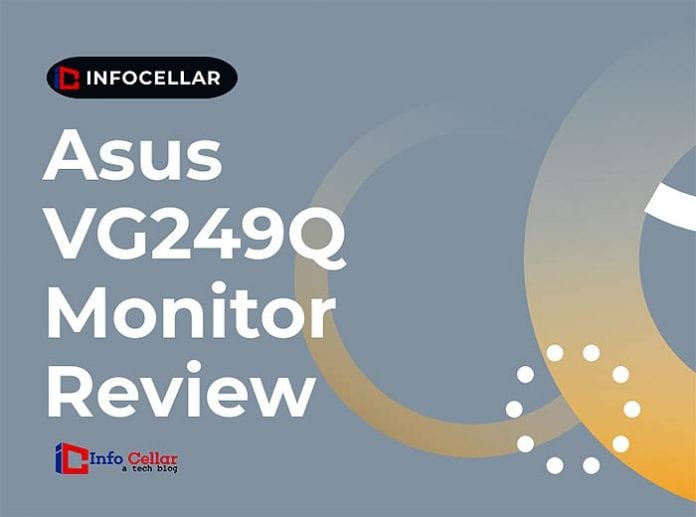 Asus VG249Q Review: The ASUS VG249Q Monitor from the TUF Gaming range offers a vivid 144Hz IPS panel in a budget-friendly package. This is the cheapest 23.8-inch 1080p 144Hz IPS monitor on the market and is based on PANDA's IPS panel. However, its image quality and performance are on par with some more expensive alternatives.
Find out if it's worth it or if you should invest in an alternative!
We ♥ honesty! Info Cellar earns a commission through the following hand-picked links at no extra cost to you.
ASUS VG249Q Monitor Review Summary
The ASUS VG249Q is an affordable 23.8-inch IPS gaming monitor with 1080p, 144 Hz. It offers smooth performance, exceptional image quality, and many helpful features for the price. There are better alternatives (albeit a bit more expensive), but if you're on a budget, you won't be disappointed with the VG249Q.
Positives
Inexpensive
Accurate and consistent colors
AMD FreeSync and MBR up to 144Hz
Wide viewing angles
Low Input Lag
Robust Design
Negatives
Tilt-only stand
Pixel Response Time Could Improve
Check Price at Amazon
ASUS VG249Q Monitor Technical Specifications
| | |
| --- | --- |
| Screen Size | 23.8-inch |
| Panel Type | IPS |
| Resolution | 1920×1080 (Full HD) |
| Aspect Ratio | 16:9 (Widescreen) |
| Refresh Rate | 144Hz |
| Response Time | 4ms (GtG) |
| Response Time (ELMB) | 1ms (MPRT) |
| Adaptive Sync | FreeSync (48Hz-144Hz) |
| Speakers | 2x2W |
| Ports | DisplayPort 1.2, HDMI 1.4, VGA |
| Contrast Ratio | 1000:1 (static) |
| Brightness | 250 cd/m2 |
| Colors | 16.7 million (6-bit + FRC) |
| VESA | Yes (100x100mm) |

ASUS VG249Q User Manual
Here is the ASUS VG249Q user manual guide: (PDF).
Suggested Reading:

Detailed ASUS VG249Q Review
A) Design
The ASUS VG249Q offers a familiar aesthetic that just works and can be found on most of its gaming display variants.
The monitor has a matte black body that is easy to maintain and protect from smudges, fingerprints, or dust.
The screen is unframed on three sides, allowing users to enjoy the view with lesser distractions.
Additionally, the ASUS VG249Q offers a familiar form factor and is not overbearing in terms of weight and size. The 23.8-inch model fits on most desktops and has plenty of room for other peripherals.
The build quality of the ASUS VG249Q is excellent, although it belongs to the budget section of gaming monitors.
ASUS hasn't skimped on material costs, making the product just as durable as its higher-priced siblings across the portfolio.
There are no cosmetic flaws, and the stand will not wobble uncontrollably even if you're a heavy typist.
One of the biggest drawbacks we've seen with the ASUS VG249Q is the use of OSD buttons rather than the typical joystick controls you'll find on the pricier variants of the brand.
The buttons are responsive and displayed in red, but you don't have a direct line of sight to them unless you tilt the screen up.
It's still pretty easy to accidentally press keys, so it may be appropriate to practice them.
Suggested Reading:

B) Image Quality
Based on a 23.8-inch IPS panel from PANDA, the ASUS VG249Q monitor offers a 178-degrees viewing angle, a maximum brightness of 250 nits, support for 8-Bit dither color depth, and a 1000: 1 static contrast ratio.
These specifications are standard for gaming monitors in this price range. Maximum brightness of 250 nits may seem low on paper, but under normal viewing conditions, the screen is bright enough. In fact, you probably want to reduce the brightness from the maximum setting.
Of course, VA panel monitors in this price range have a higher contrast ratio, so the black spots on the ASUS VG249Q are not as deep, but the IPS technology offers other features.
The benefits include wider viewing angles, more vivid color reproduction, and generally faster pixel response time.
Also, the monitor has a color gamut of 72 percent NTSC, which corresponds to about 99 percent sRGB. This means the colors are vibrant, consistent, and accurate.
Finally, the monitor has a flutter-free backlight and a built-in low blue light filter with four (4) different reduction levels, which can help prevent eyestrain and headaches caused by prolonged monitor usage.
Suggested Reading:

C) Performance
Input lag is the time it takes for a monitor to respond and display your commands. The input lag on the ASUS VG249Q is about 4ms at 144Hz, which means you won't notice any lag.
Response time is the time it takes for pixels to change from one color to another. ASUS reports a pixel response time of 4ms (gray to gray transition), but this is not the actual average response time.
As a result, in fast-paced video games, you may notice slight trailing and motion blur behind fast-paced objects. The amount of visible ghosting is quite tolerable, and there is not as much black spot as on some VA panel monitors. While there are faster IPS monitors available, they are more expensive.
In general, the ASUS VG249Q is quite fast for competitive gaming. However, if you're very sensitive to motion blur and can't afford the pricier IPS models, consider an alternative to the TN panel.
Note that TN panels do not have as splendid colors or viewing angles as IPS. The good news is that the monitor supports AMD FreeSync over HDMI and DisplayPort with a variable refresh rate (VRR) range of 48 to 144 Hz.
This technology enables the monitor to synchronize its refresh rate with the frame rates of the GPU, thus eliminating screen stuttering and tearing with marginal input lag.
Although the VG249Q isn't certified as G-SYNC compliant by NVIDIA, VRR performs well when used with supported NVIDIA graphics cards (GTX 10 series or later).
You can also use Extreme Low Motion Blur (ELMB) technology. When enabled, ELMB activates the monitor backlight, reducing perceived ghosting and providing smoother movement clarity.

D) Features
On the lower panel on the right side of the monitor, there are two (2) shortcut buttons, one power button, and four (4) hotkeys you can use to navigate the OSD menu.
Other valuable features include customizable crosshair overlays, pre-calibrated picture presets, an FPS counter, an on-screen timer, and Shadow Boost, which enhances the visibility of objects in shadow.
In addition, you'll also find the standard image adjustment tools such as color temperature, contrast, brightness, as well as sharpness and saturation settings.
However, no gamma presets are available. For better picture quality, ensure ASCR and VividPixel options are turned off.
The Trace Free function adjusts the monitor's pixel response time saturation in 20 increments from 0 to 100.
We recommend you set it to "60 " because "80" and "100" introduce excess pixels (inverse ghosting).

E) Connectivity
Connectivity options on the ASUS VG24Q include DisplayPort 1.2, HDMI 1.4, VGA, and a headphone jack for the two built-in 2W speakers. DisplayPort and HDMI inputs support 144Hz at 1080p and FreeSync. For NVIDIA cards, FreeSync only supports DisplayPort.
Suggested Reading:

Pros of ASUS VG249Q Monitor
Uses a generic power cord, no AC adapter required.
Comes with a DisplayPort cable.
You can turn off the power indicator during use.
Excellent image quality
Calibration out of the box is decent (particularly 2.24 gamma is good).
Good contrast for IPS (1000: 1 ready to use).
The backlight is not bleeding on my device.
Almost no overshoot in any of the overdrive settings.

Cons of ASUS VG249Q Monitor
The pixel response time could be faster.
Joystick for OSD navigation would have been better than the buttons included.

Models Similar To ASUS VG249Q
The ASUS VG249Q is similar to the ASUS VP249QGR but with an adjustable MBR technology, fully ergonomic design, and a wider gamut for even more vivid colors.The ASUS VP249QGR is also available with a fully ergonomic stand like the ASUS VG249Q, although it is relatively pricier. If you want a faster 1080p 144Hz monitor, take a look at the BenQ EX2510, which features a 24.5-inch IPS panel from AU Optronics.

Frequently Asked Questions about ASUS VG249Q
Q: Is the VG249Q 1ms?
A: The ASUS VG249Q was developed for intense and fast-paced gaming. So it is a 23.8-inch IPS gaming display with a 1ms response time and an incredible refresh rate of 144 Hz.

Q: Can you overclock ASUS VG249Q?
A: The ASUS VG249Q's overclocking performance is quite decent. According to our tests, there is no frame skipping even with 120Hz and 144Hz overclocked.

Final Thoughts
The ASUS VG249Q is an affordable option for gamers looking for a vivid IPS display with up to 144Hz. Its picture quality is fantastic for a budget option. It gives us an accuracy rating that you would typically find on prosumer options. There are some drawbacks to the monitor's design. However, the reliability and durability we have come to expect from this brand are still there.
Check Price at Amazon